Bahrain Crackdown Widens as Seven Prominent Opposition Activists Arrested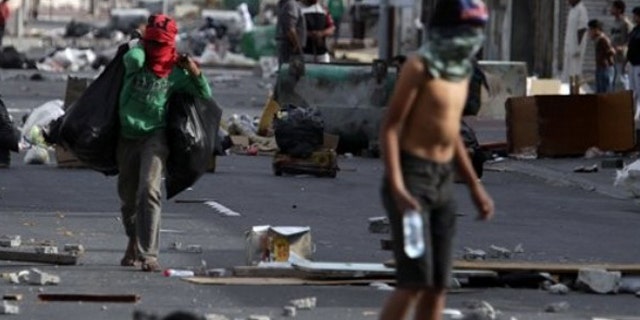 MANAMA, Bahrain -- Bahrain's Sunni monarchy detained at least seven prominent opposition activists Thursday, and Iran recalled its ambassador to protest the Gulf troops backing the government against the Shiite protests that forced martial law-style rule in the island nation.
Bahrain's government is gambling that it can survive the sectarian faultlines that splinter the region, with Sunni leaders in the Gulf sending forces to bolster a regime that they -- and the U.S. -- see as a bulwark against Shiite Iran's expanding military ambitions.
The Sunni monarchy and its backers are using everything at their disposal to retain power, while Shiites hope their overwhelming population advantage will be their most potent weapon to bring the leadership to its knees. Clashes broke out in a village on the outskirts of the capital Manama.
In Brussels, the European Union and NATO urged Bahrain's authorities to refrain from violence and try to settle the crisis through dialogue.
But Bahrain's ruling system -- which once appealed for negotiations -- now appears to be shifting to efforts to crush the opposition.
Bahrain's crackdown widened with the detention of at least seven activists, a rights group and relatives of the arrested said. Bahrain has imposed a three-month emergency rule that gives the military wide powers to battle the pro-democracy uprising that began in mid-February in the strategic nation, which hosts the U.S. Navy's 5th Fleet.
Security forces had an overwhelming presence in parts of central Manama, a day after overrunning a protesters' camp in the capital and clashing with Shiites elsewhere. At least five people were killed -- two policemen and three protesters -- in Wednesday's assault on the encampment in Pearl Square, according to opposition groups and the government.
The Bahrain Youth Society for Human Rights said those taken into custody in the pre-dawn raids Thursday include Hassan Mushaima and Abdul Jalil al-Sangaece -- who were among 25 Shiite activists on trial on charges of trying to overthrow the nation's Sunni rulers.
The case was dropped to calm tensions last month, but the latest sweeps suggest authorities have abandoned efforts at dialogue and are trying to silence opposition leaders.
Riot police fired tear gas on several dozen protesters trying to organize a march in the mostly Shiite Manama suburb of Jidhafs, which is less than a half mile (one kilometer) from Pearl Square. As the clash unfolded, residents tried to block police vehicles with makeshift barricades including metal tables, pieces of wood and even gym weights.
The Youth Society group said the detained include Shiite activists Abdul Wahad Hussein and Hassan Hadad and Sunni liberal leader Ibrahim Sharif, who had joined with Bahrain's majority Shiites to demand the Sunni monarchy loosen its grip on power.
"I saw men in black pointing a machine gun at my husband saying just one thing: `We are from the state security,"' said Sahrif's wife Farida Guhlam.
A senior opposition leader, Abdul Jalil Khalil, also said Abdul Hadi al-Mokhdar of Wafa was taken into custody. Also in custody was Saeed al Nouri from the Haq movement.
U.S. Secretary of State Hillary Rodham Clinton told CBS News that the introduction of Gulf forces was "the wrong track."
It was a rare hint of agreement with Iran, which has called the Saudi-led reinforcements in Bahrain "unacceptable."
In mostly Shiite southern Iraq, more than 3,000 demonstrators marched in the holy city of Karbala in the second consecutive day of rallies against the outside forces in Bahrain.
Tanks and armored personnel carriers outfitted with machine guns watched over strategic intersections. Soldiers, wearing black ski masks and helmets, manned checkpoints and searched cars. Agents in civilian clothes patrolled wearing green vests and masks.
The remnants of the protesters' barricades -- barrels, plywood and trash bins -- were strewn over some streets. Nearly all stores and banks were closed and traffic was light. Very few people were walking the streets in the center of the capital.
An 8 p.m. to 4 a.m. curfew was in force and movement was restricted around the country.
Doctors at the country's main hospital said the facility was controlled by security forces, blocking physicians from leaving. The Salmaniya hospital complex has become a political hotspot. The mostly Shiite personnel are seen by authorities as possible protest sympathizers. The staff claim they must treat all who need care.
"We are under siege," said Nihad el-Shirawi, an intensive care doctor who said she had been working for 48 hours. "We cannot leave, and those on-call cannot come in."
Officials in the hospital said they took in more than 400 people injured in violence Tuesday and Wednesday. The officials spoke on condition of anonymity because they were not authorized to speak to reporters.
Britain has urged all its citizens to leave Bahrain unless they have a "pressing reason" to remain. Charter flights were arranged to Dubai.