Baghdad bombs targeting Shiite areas kill 17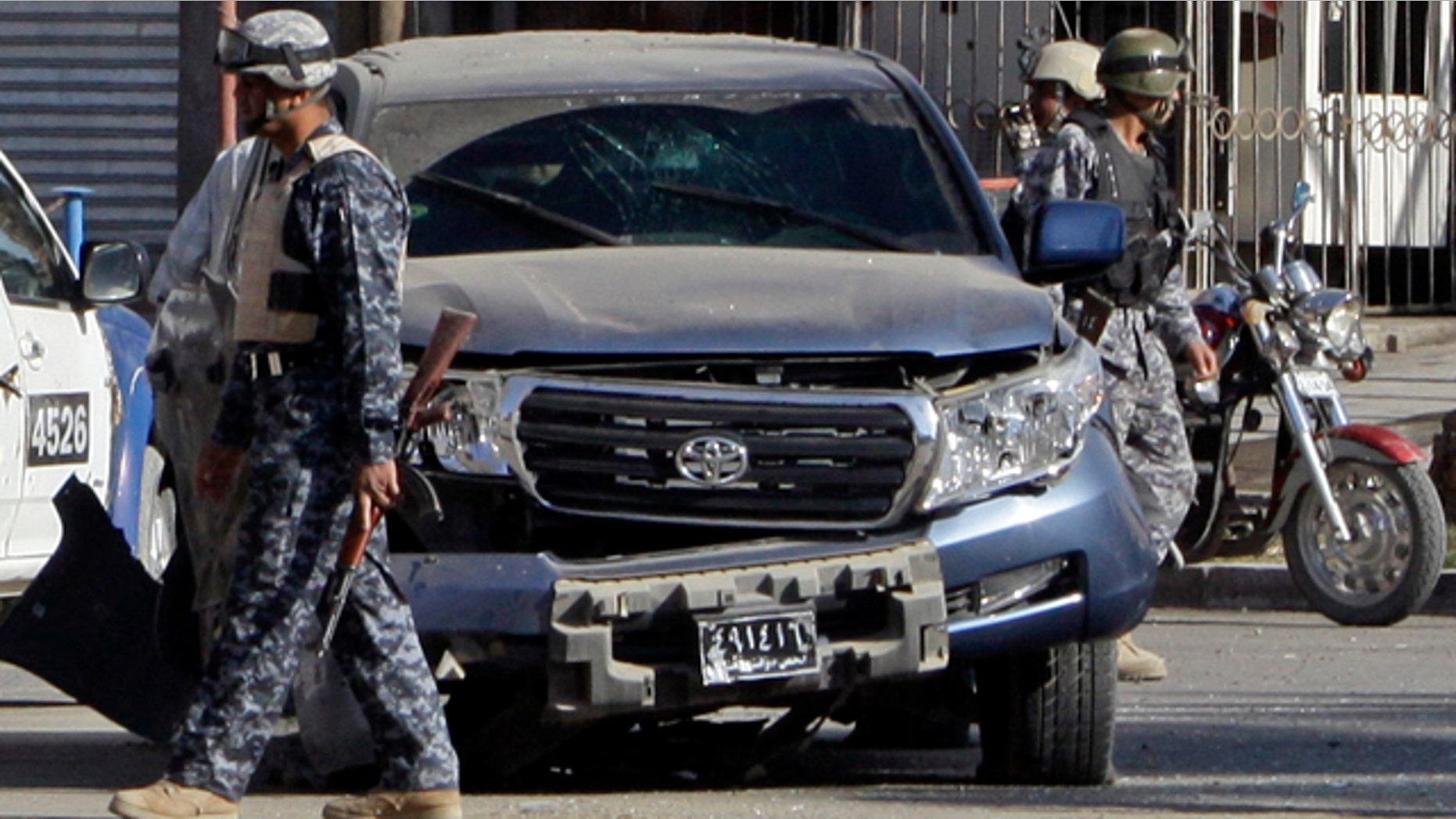 BAGHDAD – A string of bombings killed 17 people across Iraq's capital on Saturday, including Iranian pilgrims near a revered shrine and shoppers at a Shiite neighborhood market, authorities said.
The attacks — several roadside bombs and cars packed with explosives — wounded more than 100 people. Most of the casualties were likely Shiite Muslims, a frequent target of Sunni insurgents who have long sought to provoke civil war in Iraq.
Police said the deadliest strike targeted a marketplace in Baiyaa, a Shiite district in southwestern Baghdad. A car parked outside a shopping area exploded around midday, killing six people and wounding 42. Hospital officials confirmed the casualties.
"We were terrified," said Ali Tuma al-Nidawi, 30, a government employee was shopping with neighbors when he heard three explosions within minutes of each other. "Shops and people were burning, and people were running everywhere. I did mouth-to-mouth resuscitation to many people who were not breathing because of the smoke."
Near-simultaneous blasts also hit two groups of Iranian pilgrims near the gold-domed Moussa al-Kadhim mosque in the Shiite neighborhood of Kazimiyah, according to security forces. A pair of bombs killed five pilgrims resting near the shrine. A car exploded next to a bus carrying Iranian pilgrims in the nearby Shiite area of Shula, killing another three people.
Police and medical officials said those two attacks wounded 52 people.
Attacks by Sunni extremists on Shiite pilgrims and Iraqi Shiites helped fuel a surge of violence between the two main Islamic sects during the height of Iraq's bloodshed between 2005 and 2007, as the insurgency against U.S. forces gave way to sectarian fighting.
Shiite pilgrims come from all over the world to visit shrines and mosques in Iraq that are revered by Shiites. The vast majority of those who make the pilgrimage come from neighboring Iran.
Earlier, police said a roadside bomb targeting a judge's security convoy in downtown Baghdad killed three people, including two guards, and wounded seven passers-by. The judge was not in the convoy as it drove through Karradah, an area of mixed-ethnicity.
All officials spoke on condition of anonymity because they were not authorized to brief the media.
The bombings came as German Foreign Minister Guido Westerwelle led a group of German lawmakers and business leaders on a one-day trip to Iraq for meetings with senior leaders, including President Jalal Talabani and Prime Minister Nouri al-Maliki. German investment in Iraq's railways was among the business opportunities that both nations discussed.
Westerwelle told reporters that Berlin considers Iraq "an important partner, and we are determined to continue this support."
Germany vigorously opposed the 2003 U.S.-led invasion of Iraq but began boosting relations with Baghdad over the past few years. Berlin has supported Iraq's reconstruction with some euro400 million ($535 million) and granted debt relief worth some $6.4 billion.
Westerwelle and al-Maliki also discussed the plight of Iraq's dwindling Christian community, which was devastated by an Oct. 31 attack on a Catholic church in Baghdad that left 68 dead. Since 2003, Germany has granted asylum to 2,500 Iraqi Christian refugees.
In a statement after the meeting, al-Maliki said he assured Westerwelle "that Christians are our brothers and have the same rights enjoyed by the general populace."
"We do not accept their departure from our country, and we offer all possible means of protection for them to live in security, stability and prosperity," al-Maliki said.
___
Associated Press writers Sinan Salaheddin in Baghdad and Juergen Baetz in Berlin contributed to this report.