Austin wakes up to flood of 'White People only' stickers posted on dozens of storefronts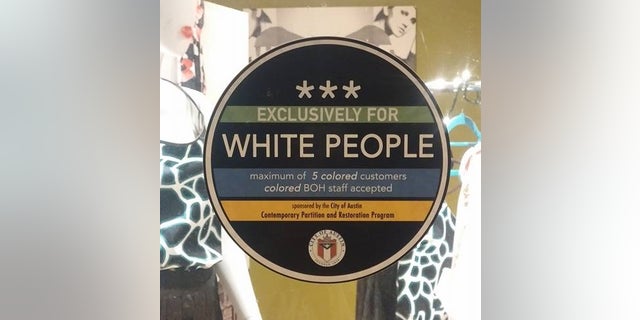 NEWYou can now listen to Fox News articles!
Austin, Texas – Austin police are looking for vandals placing racist stickers on some businesses.
The "Exclusively for White People" stickers were found on several storefronts in east Austin. They also include the city of Austin's logo and say there is a "Maximum of 5 Colored Customers."
The stickers started appearing between midnight Tuesday and early Wednesday.
"It was kind of at first off putting. I didn't know if it was a sign from the city or what it was exactly," said April Jensen, who had a sticker posted in front of her business.
Austin Mayor Steve Adler called them appalling and an offensive display of ignorance.
People in the neighborhood are wondering if the stickers are a prank or a form of protest.
"If somebody wanted to make a point this would be the perfect way to do it. But I think also the consequences are too great for pranks in this city and this country. There's too much tension," said Nelson Linder, president of the Austin NAACP.
There is no surveillance video from any of the businesses that were targeted.
Among the businesses tagged with the stamps – presumably some kind of ironic protest against gentrification – were the Rare Trends clothing store, El Chilito Tacos y Café, Windmill Bicycles, and Sugar Mama's Bakeshop.
In addition to the declaration "exclusively for WHITE PEOPLE," the signs supposedly limit "a maximum of 5 colored customers" and allow only "colored BOH [back of house] staff accepted."
Austin is one of the fastest-growing cities in the U.S. and is confronting increasing questions about economic and racial segregation as real estate prices skyrocket around its urban core.
Raul Alvarez, board president for the East Austin Conservancy, said the stickers are likely in response to gentrification in the area on Austin's east side.
"I certainly share the concerns about the history and culture and affordability that's being lost because of the rapid development, but our organization tends to focus on what it is we can do to preserve what makes East Austin unique and not focus on strategies that divide the community," he told the Austin American-Statesman newspaper.
Several business owners and employees said the stickers unnerved them.
April Jensen, who works at the Sugar Mama's Bakeshop, told the newspaper "it kind of hurt" when she read the sticker.
"I don't really understand the message behind it," said Jensen, who is African-American. "All types of customers come in here."
Bryce Bencivengo, spokesman for the city of Austin, tells the San Antonio Express-News that city officials along with the Austin police are investigating the stickers' origin.
Nelson Linder, president of Austin NAACP, called the stickers "absolutely stupid."
The Associated Press contributed to this report.