At least 28 dead in Iraq bombings as al Qaeda closes in on Baghdad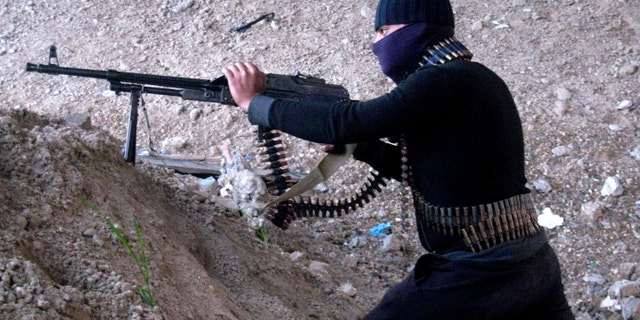 NEWYou can now listen to Fox News articles!
BAGHDAD – A series of bombings in central Iraq killed 28 people on Monday, as a government official claimed that al Qaeda-linked fighters have dug in to a city they seized last month and possess enough heavy weapons to storm into the country's capital.
The bombings, mainly in Baghdad targeting marketplaces and court buildings, came as the army presses an all-out offensive announced Sunday to retake the area, but has come up against heavy resistance.
Since late December, members of Iraq's al Qaeda branch -- known as the Islamic State of Iraq and the Levant -- have taken over parts of Ramadi, the capital of the largely Sunni western province of Anbar. They also control the center of the nearby city of Fallujah, along with other non-al Qaeda groups that also oppose the Shiite-led government.
"The weapons that were brought inside Fallujah are huge and advanced and frankly enough to occupy Baghdad," Deputy Interior Minister Adnan al-Asadi said in a speech, adding that Iraqi forces are still fighting "fierce battles" there and in Ramadi. He did not elaborate on the type or quantity of the weapons.
Inside Ramadi, police said a roadside bomb hit a police convoy, killing two policemen and a local television cameraman who had been accompanying the police during the clashes.
The deadliest of Monday's blasts hit an outdoor market south of the capital, killing seven people and wounding 13, police said. A bomb in a nearby commercial street killed two more, while another three died and seven were wounded in a southeastern district. Another bomb in a northern suburb killed three and wounded six.
Two separate car bombs near court buildings also killed seven and wounded 22, said police. Later, a car bomb went off in a commercial street in western Baghdad, killing three people and wounding nine others.
Hospital officials confirmed the death toll for all attacks. All officials spoke anonymously because they were not authorized to talk to media.
There has been no claim of responsibility for the latest attacks. Al Qaeda's Iraq branch, which has been gaining strength in recent months, frequently attack soft targets such as cafes and markets in an effort to undermine the Shiite-led government in Baghdad.
Tuesday's attacks bring the death toll for this month to at least 387, according to an Associated Press count. Many attacks may go unreported.