Assad says UN truce plan for Aleppo 'worth studying'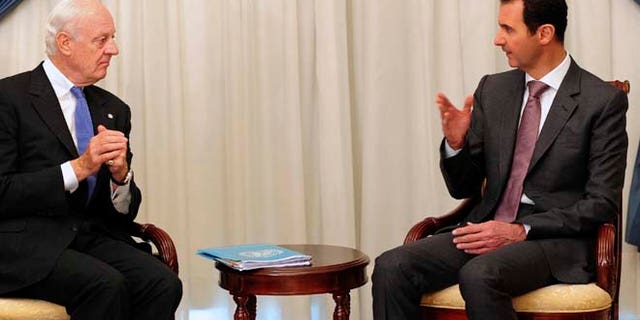 DAMASCUS, Syria – Syrian President Bashar Assad said Monday that the U.N. envoy's proposal to implement a cease-fire in the embattled northern city of Aleppo was "worth studying."
The envoy, Staffan de Mistura, first raised the idea of small-scale, localized and negotiated truces in Syria at the United Nations in New York late last month. The proposal would involve freezing the fighting in certain areas to allow for humanitarian aid and local steps as part of a push toward a wider peace in Syria's 3 1/2-year civil war that has killed more than 200,000.
His plan drew an immediate backlash from Syrian media outlets considered mouthpieces for the government, which warned that the veteran diplomat was being "hasty" and overstepping his authority.
On Monday, de Mistura met with Assad in Damascus for talks that touched on the idea of a local cease-fire in Aleppo, Syria's former commercial hub and the last major city where rebels still hold large areas as they battle government forces.
"President Assad ... considered that the initiative of de Mistura was worth studying and trying to work on to achieve its goals of returning security to the city of Aleppo," said the statement, published by the state-run SANA news agency.
It was not immediately clear whether Assad's remarks reflected a change in the government's stance, or an attempt to appear open to the idea without committing to it.
De Mistura, who is a on a three-day trip to Syria aimed at reducing the violence, also traveled Monday to the central city of Homs, where he visited mosques and churches that were once in rebel-held districts before a local cease-fire agreement earlier this year brought an end to the fighting. He also was expected to meet with a delegation representing armed groups from Waar, the last rebel-held part of the city.
In a statement to reporters following his meeting with the Homs governor, de Mistura said he believes that the solution to Syria's conflict is "peaceful and political, and not a military one."
Also Monday, activists and a pro-government website reported that four Syrian nuclear scientists were killed Sunday night near Damascus. The men were gunned down on a bus in an area where there was no fighting, suggesting they were the target of the attack.
Rami Abdurrahman of the Syrian Observatory for Human Rights, a Britain-based group that relies on activists inside Syria, said an Iranian nuclear scientist was also killed in the attack. The pro-government Facebook group "Damas Now" also said a fifth person was killed, but that the person's identity was unknown.
The pro-government newspaper Al-Watan said only that four "nuclear scientists and electrical engineers" were killed.
Al-Watan said the men were on a bus heading to the Scientific Research Center near the Syrian capital when they were attacked on Sunday. The paper suggested the Al Qaeda-linked Nusra Front was behind the killings.
Abdurrahman said there was no fighting in the area where the men were killed, near a bridge on a highway just north of Damascus. "There were no clashes there at all. It was an operation to assassinate them," he said.
Another Syrian activist, who goes by the name Abu Akram al-Shami, also said there were no clashes in the area -- which is a mix of rebel and government-held neighborhoods. Al-Shami said the area tends to be quiet because of locally-negotiated truces.
It was unclear why the men were gunned down, but Syrian facilities suspected of being used for military and nuclear research have been targeted in the past.
An Israeli airstrike struck a military and scientific research center near Damascus last May. The nature of the research center was unclear. In January, Syrian officials accused Israel of striking another scientific research center northwest of Damascus.
In 2007, Israel bombed a suspected Syrian nuclear reactor -- an attack confirmed by U.S. officials. Israel has never commented on the incident.
Syrian, Iranian and Israeli officials could not immediately be reached for comment on the killing of the scientists.
The U.S. military, meanwhile, said the American-led coalition against the Islamic State group has carried out 23 airstrikes against the extremists in Syria since Friday. It said 13 of the strikes targeted Islamic State militants near the embattled Kurdish town of Kobani, while the rest targeted Islamic State group oil facilities in Deir el-Zour province bordering Iraq.