Arrest warrant issued for former Ecuador president Mahuad, accused of corruption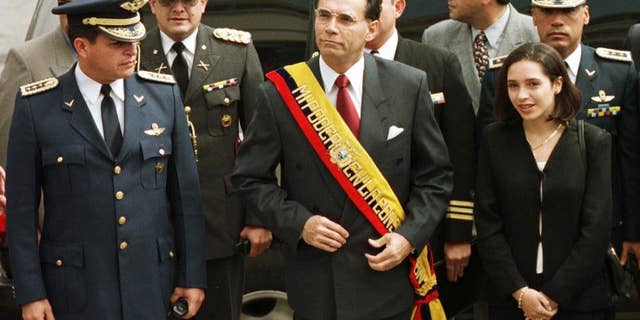 QUITO, Ecuador – Ecuadorean authorities announced on Tuesday that an arrest warrant has been issued for former President Jamil Mahuad for allegedly misappropriating public funds during the country's late 1990s banking crisis.
Interior Minister Jose Serrano said via Twitter that the international police agency Interpol had issued a so-called red notice about the warrant based on "the meticulous work we have been doing on the information that led to this action."
Serrano did not offer any details about Mahuad's alleged crime, or say when the warrant was issued. Mahuad has been on trial, in absentia, for more than 13 years in Ecuador.
In December 2012, Ecuador asked Interpol to issue a red notice on Mahuad but the agency denied the request. The presiding judges in the case have decided to halt the trial without Mahuad.
Mahuad, 64, was president in 1998-2000 and fled Ecuador during a coup, settling in the United States, where he has taught classes at Harvard University.
A telephone message left at a Massachusetts phone number registered in Mahuad's name was not returned.
During a severe 1999 financial crisis Mahuad declared a bank holiday, freezing accounts and replacing Ecuador's sucre with the U.S. dollar.
Half of Ecuador's 42 banks shut down during the crisis and many bankers were accused of absconding with depositors' funds.
Ecuador is seeking to extradite from the United States two bankers, William and Roberto Isias, who fled in 2001 after the collapse of Filanbanco, which they owned. Both have been sentenced in Ecuador to eight years in prison for embezzlement.
___
Associated Press writer Frank Bajak contributed to this report.