Army killed six Thais shot in 2010 rallies: court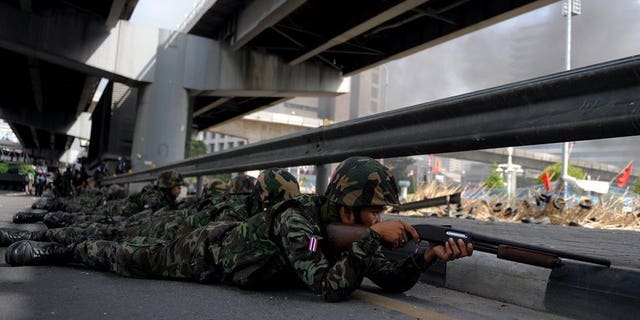 BANGKOK (AFP) – Six Thais, including a nurse and two rescue volunteers, shot dead while sheltering in a Bangkok temple declared a safe zone during 2010 protests were killed by army bullets, a court ruled Tuesday.
Soldiers firing from elevated train tracks in the Thai capital gunned down five of those killed, while the sixth was shot by security forces on the ground during a bloody army crackdown on anti-government "Red Shirt" rallies, an inquest found.
"The court ruled that they were killed during the day on May 19 in Pathum Wanaram temple by bullets which were fired from the direction of security forces stationed on (train) rails and in front of the temple," Bangkok's Southern Criminal Court said in a statement.
It said troops employed "high velocity machine gun" fire to target the victims, including 25-year-old Kamonkate Akkahad -- dubbed "Nurse Kate" in a high profile campaign by her family to find answers about her death as she gave medical help to an injured protester.
The court said soldiers were acting on orders from a taskforce put together by the then government.
More than 90 people, mostly civilians, were killed and nearly 1,900 were injured in Thailand's worst political bloodshed in decades.
At their peak the two-month demonstrations drew 100,000 red-clad protesters, mainly rural and working class supporters of ousted premier Thaksin Shinawatra calling for immediate elections.
The court decision comes at a sensitive time in Thailand's turbulent politics, as opponents of the country's current Thaksin-allied government prepare to demonstrate near parliament on Wednesday as the legislature begins debate over a proposed amnesty for political unrest.
The controversial bill would scrap charges against anyone involved in political violence between the September 2006 coup that unseated Thaskin to May 2012 -- barring leaders.
So far of the 15 deaths ruled on by the courts, 13 people were said to have been killed by the army with the two other fatalities attributed to unknown causes.
Abhisit Vejjajiva, who was prime minister at the time of the Red Shirt rallies, is facing murder charges in connection with the deadly crackdown. No military officials have been prosecuted.
Abhisit, whose party is now in opposition after losing an election in 2011 to Thaksin's sister Yingluck, on Tuesday gave evidence at a separate hearing into the death of Japanese cameraman Hiroyuki Muramoto of the Thomson Reuters news agency as he filmed the protests in April 2010.
He told the court that he believed the journalist was not killed by army bullets, citing a Thai Senate report from earlier this year.
"There were shots fired into a group of army officials, which led to clashes between protesters and security officials. That led to the loss of people's lives and many injured," he said.
He added that his government's aim was only to reclaim the area for traffic and that it had not intended to disperse the demonstration.