Arizona taxpayers to foot bill for Latinos illegally detained during Arpaio's defiance of court order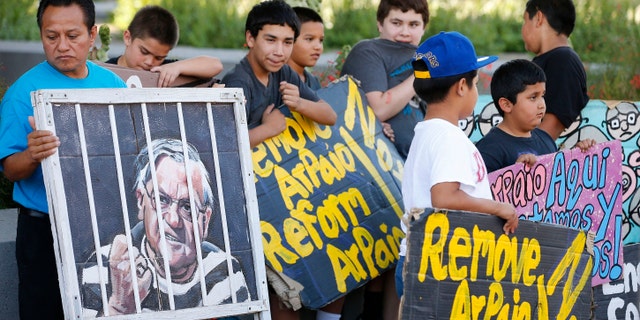 PHOENIX (AP) – Taxpayers already on the hook for $54 million in a racial profiling case against the longtime sheriff of metro Phoenix are about to get walloped with another worrisome cost.
Hundreds of Latinos will be able to seek money from the county government in the future for being illegally detained when Sheriff Joe Arpaio disobeyed a judge's order to stop his immigration patrols.
Two weeks ago, a federal judge concluded that the lawman knowingly ignored the 2011 order because he believed continuing his immigration enforcement efforts would help his 2012 re-election campaign.
Even though the judge says hundreds of Latinos at a minimum were harmed by the sheriff's defiance, the difficulties of finding victims might keep down the costs to taxpayers.
Some victims are immigrants who have returned to their home countries or moved on to jobs elsewhere in the United States. And many sheriff's deputies didn't keep records for the detentions in question.
Emilia Banuelos, an immigration attorney in Phoenix who isn't involved in the profiling case, said some victims won't likely come forward out of fear of retaliation from Arpaio's office or resignation that unwarranted detentions are an unfortunate reality in their lives.
"People are scared. They don't believe in the system," Banuelos said.
The lawyers who pressed the case against Arpaio have searched for victims by getting help from foreign consulates, watching traffic-stop videos and poring over arrest and other police records. They say at least 190 people were detained in violation of the order.
The sheriff's second-in-command, Jerry Sheridan, said the agency has held off on looking for victims to avoid appearances of interfering with the search.
But he said a team of detectives will be ready to search for victims in the future. "We are just waiting for this process to work its way out," Sheridan said.
Lawyers on both sides are in negotiations to determine a formula and claims system for paying victims. U.S. District Judge Murray Snow is expected to ask the attorneys at a hearing Tuesday how victims should be compensated.
The attorneys who won the profiling case want each victim to get $1,500 for illegal detentions lasting up to an hour, with $1,000 for each additional 20-minute increment. They say Arpaio should be required to pull $300,000 out of his own pocket to help taxpayers compensate victims.
The county and sheriff want a base compensation of $500 for each detention, with $35 for each additional 20 minutes.
An advertising campaign is expected to be launched in a bid to locate victims. It will focus heavily on Spanish-language media and target Latinos in metro Phoenix, Mexico and along the nation's southern border.
The profiling case that Arpaio lost three years ago morphed into contempt-of-court proceedings after Snow accused the sheriff and some of his aides of violating court orders.
Snow ultimately found Arpaio and Sheridan in civil contempt for knowingly violating the order to stop the patrols. The decision could lead to a criminal contempt case that could expose them to fines and even jail time.
Taxpayers have spent $41 million in the case over the last eight years, covering legal fees, training for officers, a staff to monitor Arpaio's office on the judge's behalf, and other costs. Another $13 million is set aside for the coming year — and the total doesn't include any money for paying victims.
Arpaio, who earns $100,000 a year as sheriff and owns more than $2 million in commercial real estate, has never had to pull money from his own pocket to pay legal costs directly tied to his official duties as sheriff over the last 23 years.
An attorney representing Maricopa County has said the county may not be financially responsible for intentional contempt violations.
Clint Hickman, chairman of the county board that votes on the sheriff's budget, said the county hasn't estimated the costs of the illegal detentions, but he personally believes the figure would be more than $1 million.
"It's upsetting," Hickman said of the spending. "Things could have probably been done differently. Changes could have been done earlier, and it's now up to the county taxpayer to pay for it."
The judge said Arpaio was well aware of his order barring his immigration patrols yet violated it for the next 18 months.
At the time, the sheriff publicly insisted he could still enforce immigration law. His office produced news releases that publicized its attempts to get federal authorities to take custody of people who weren't suspected of committing crimes but were believed to be in the country illegally.
Like us on Facebook
Follow us on Twitter & Instagram