Argentina's embattled vice president back in court for new case, adding to government woes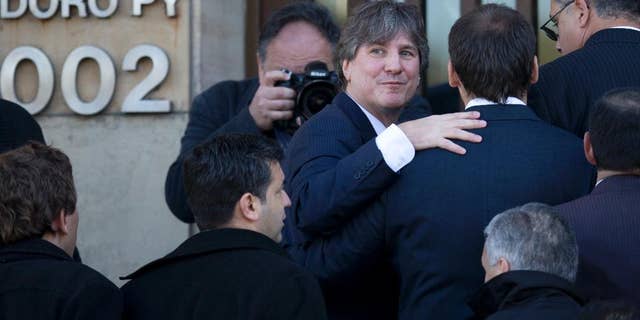 BUENOS AIRES, Argentina – Argentina's embattled Vice President was back in court Wednesday, this time over false data in documents for an old car that he bought about 20 years ago.
Amado Boudou appeared before a federal judge and presented a written statement instead of speaking in his defense. Boudou is accused of transferring a Honda CRX automobile to his name irregularly in 2003.
The judge is expected to decide in 10 days whether to charge Boudou or dismiss the case for lack of evidence.
In a separate case, the vice president was charged last month with bribery and conducting business incompatible with public office. He is accused of using shell companies and secret middlemen to gain control of a company that was given contracts to print Argentine currency as well as material for President Cristina Fernandez's election campaign.
Boudou is the first sitting Argentine vice president to face such charges. If convicted, he could be sentenced to between one and six years in prison and be banned for life from elective office.
The charges against the vice president come as Fernandez is struggling to curb double-digit inflation and court rulings in the United States that threaten to force Argentina into default on its debts.
Fernandez has remained loyal to Boudou even as the allegations have made him Argentina's least popular politician. His falling fortunes have left the government without a clear presidential successor ahead of next year's elections. Fernandez has yet to speak publicly about the cases.