Anti-US Cleric Returns to Iraq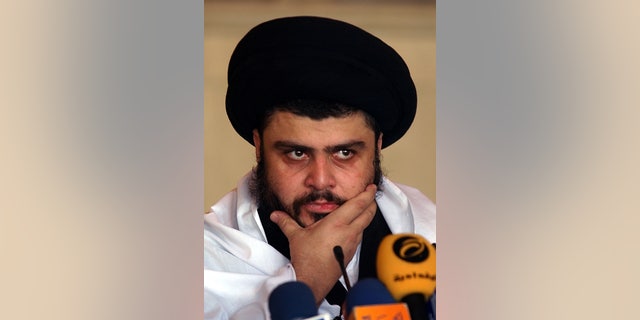 BAGHDAD -- Anti-American cleric Muqtada al-Sadr, who led several Shiite uprisings against American forces in Iraq before traveling to neighboring Iran at least three years ago, has returned to Iraq, officials said Wednesday.
Al-Sadr's return caps another dramatic rise to prominence for him and his followers after they were routed by Iraqi and U.S. forces and appeared to fade from power just a few years ago. The strong showing by his bloc in last year's parliamentary elections and his key support for Prime Minister Nouri al-Maliki paved the way for Wednesday's return.
It was not immediately clear how long al-Sadr would stay in Iraq or whether the return marked a permanent decision to remain in the country, where his presence would certainly mark a seismic shift in Iraqi politics.
A Sadrist official in Baghdad, Mohammed al-Kaabi, said al-Sadr was in the holy city of Najaf south of Baghdad at his family home and that he was on his way to visit the 36-year-old cleric.
An official with al-Maliki's office confirmed a plane carrying al-Sadr flew into the southern city earlier Wednesday afternoon. He did not want to be identified because of the sensitivity of the situation.
Hundreds of al-Sadr's followers were gathering at his house, while others gathered at a key holy shrine.
Al-Sadr has not been seen publicly in Iraq since 2007. He left the country and has been living in Iran. His militia, called the Mahdi Army, has presented some of the main opposition to the U.S. since the 2003 invasion, and al-Sadr has made opposition to any continued American military presence in Iraq a cornerstone of his ideology.
Although al-Sadr eventually backed al-Maliki for prime minister after months of political negotiations, it was only out of pressure from neighboring Iran, which would like to solidify Shiite control of Iraq.
Hundreds of al-Sadr's followers were jailed -- at one point an arrest warrant even hung over al-Sadr's head -- during Iraqi and U.S. operations in his Baghdad stronghold of Sadr City and the southern city of Basra in 2008. Emnity between al-Sadr and al-Maliki's government runs very deep, and al-Sadr's return would pose a challenge to al-Maliki.