After 4th death in violent anti-mining protests, Peru suspends civil liberties in region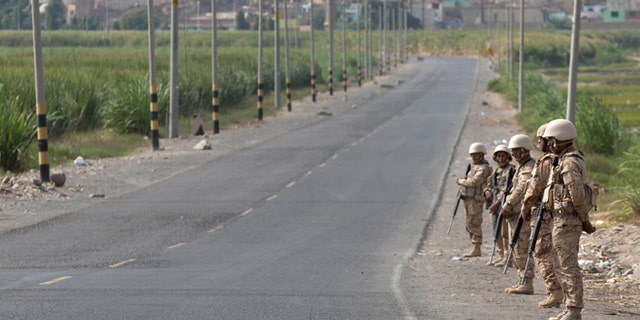 LIMA, Peru (AP) – Peru's government said it was suspending civil liberties in a southern coastal valley after a fourth death in violent anti-mining protests against a Mexican-owned copper mining project.
Cabinet chief Pedro Cateriano said the 60-day emergency would take effect Saturday, with troops ordered into the streets to support more than 2,000 police in the rice-growing Tambo valley.
He said Friday night that suspended rights would include freedom of assembly, freedom of movement and protection warrant-less searches.
One protester was killed and four injured Friday in clashes, which have escalated since farmers mounted resistance two months ago to the $1.4 million project owned by Southern Copper, a subsidiary of Grupo Mexico.
Local medical director Walter Vera told The Associated Press that a 55-year-old man was killed in Friday's violence in Cocachacra, epicenter of the violence. He did not specify the cause of death. Three of the four men killed in clashes since mid-April have been protesters, the fourth a police officer whose skull was fractured.
People in the 40,000-population valley, backed by local mayors, fear the open-pit mine will contaminate their crops. The mining company claims it will use desalinated water from the nearby Pacific Ocean in processing and pipe it back to the sea.
Sixty-two percent of Peru's export revenues come from mining. It is the world's No. 3 copper producer.
Peru's government last declared a state of emergency in 2012 after violent protests against the Conga gold mining project in the northern region of Cajamarca claimed five lives. The project is majority-owned by Colorado-based Newmont Mining Corp.
Like us on Facebook
Follow us on Twitter & Instagram