African hopes slowly, surprisingly growing in Brazil; 4 out of 5 in contention for last 16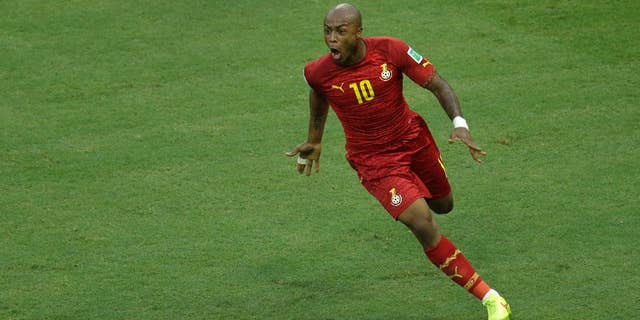 NEWYou can now listen to Fox News articles!
RIO DE JANEIRO – It looked like the same sad old story at the World Cup for Africa, the continent which still hasn't quite done it on the big stage.
Africa has never had a semifinalist — never mind a real contender for the title — and initially appeared out of its depth again at the start in Brazil.
Cameroon was terrible in the first round of matches, African champion Nigeria couldn't even beat Iran and Ghana lost to the United States. After some early promise, Algeria was overrun by Belgium, playing up to the football stereotype that African teams can be exciting but also careless and naive.
Even Ivory Coast, with world-class talent like Yaya Toure, Didier Drogba and Gervinho, couldn't put it together and initially struggled against Japan.
Pele's prediction years ago that, with a football obsession rivaling even Brazil's, Africa would emerge as the game's new force still appeared way off. It probably still is.
But with the exception of Cameroon, the Africans have shown grit and skill to fight back. Now there's a chance that four of their five teams will make the second round, something that has never happened before. Never has more than one African team advanced past the group stage.
Four years after hosting the World Cup, African players are ready to start having more of an impact on the tournament.
"It's something awesome for Africa," Nigeria goalkeeper Vincent Enyeama said after his country beat Bosnia-Herzegovina to get back on track in Brazil. "Africa needed that win, something to boost the confidence back home."
Three of the countries — Nigeria, Ivory Coast and Algeria — are second in their groups heading to the final games and have good chances of qualifying, while Ghana has an outside shot. After a forgettable first round, Nigeria's win, Ghana's fighting 2-2 draw with Germany and Algeria's all-out attacking show in a 4-2 victory over South Korea has revived the Africans.
"Ghana really threw everything they had at us," Germany coach Joachim Loew said, praising the West Africans for their rapid counterattacks and underlining how African teams — often big, strong and fast — are capable of upsetting the rhythm of the best lineups in the world.
Just ask Argentina's World Cup holders, who lost to Cameroon in 1990. Or France's defending champions in 2002, beaten by Senegal.
Now if only for some consistency. If there's one thing African teams have struggled with, it's being able to build on their small successes at the World Cup.
Following Monday's loss to Brazil, Cameroon has won just one game in five World Cups since it broke through to reach the quarterfinals in 1990. Senegal was the second African country to make the last eight in 2002, and yet has failed to qualify for another World Cup. Ghana followed up its run to the quarters last time in South Africa with a surprise loss to the U.S. in its opener in Brazil.
The roller-coaster rides with rare, unexpected highs and plenty of lows are partly because it is never simple in African football, where organization can be shambolic and teams have all sorts of challenges to overcome — many their own making.
Cameroon's 2014 campaign has been disastrous from the moment the squad refused to board a plane for Brazil over a bonus dispute. Nigeria has also had issues over player payments and Ghana's buildup to its crucial final group game against Portugal is being overshadowed by British media linking the Ghana Football Association to an alleged match-fixing plan.
Algeria coach Vahid Halilhodzic decided to rant at Algerian reporters when his team had just beaten South Korea for its first win at the World Cup since 1982.
"You journalists have always criticized me," Halilhodzic said. "It's a pity for you. I'm sorry for you."
Yet the majority of African teams are still alive at the World Cup — unlike Spain and England — and their equations to make the second round aren't crazily difficult.
Ivory Coast should beat Group C strugglers Greece, but even a draw won't hold them back as long as Japan doesn't upset Colombia.
Nigeria plays Argentina last and will qualify with a point or even a loss if Bosnia beats or draws with Iran in the other Group F game.
Algeria can afford a draw against Russia if South Korea doesn't win against Group H leader Belgium. A win and the North Africans sail through.
Ghana's chances are a little more remote.
But three teams in the last 16 would finally signal some progress 24 years after Roger Milla and Cameroon danced their way to the quarterfinals in Italy, first prompting Pele and the world to take notice of African football.
___
Gerald Imray is on Twitter at www.twitter.com/GeraldImrayAP