Abuse of power? Japan photographer says passport confiscated over plan to visit Syria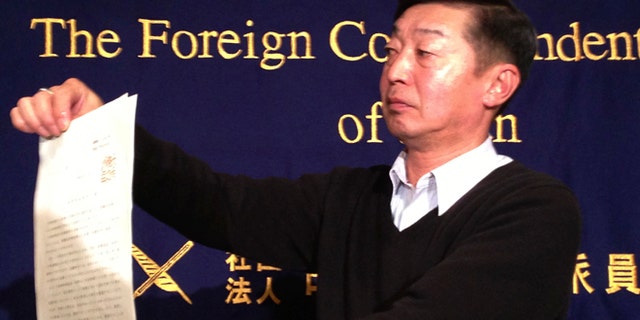 TOKYO – A Japanese freelance photographer said Thursday that government officials forced him to give up his passport because he planned a reporting trip to Syria, where two Japanese were killed in a recent hostage crisis.
Yuichi Sugimoto, a journalist who has covered the Middle East and other war zones on and off for the past 20 years, said the confiscation violated his constitutional right of travel and press freedom and prevented him from working.
Japan is still in shock from the recent hostage crisis, in which two Japanese were allegedly beheaded by militants from the Islamic State group. The government has raised its travel warning for Syria to its highest level, urging citizens not to visit the country, but the advisory is not legally binding.
Sugimoto, 58, told a news conference that he handed over his passport after police and Foreign Ministry officials visited his home over the weekend to demand he surrender it. He said one official gave him an order signed by Foreign Minister Fumio Kishida, a copy of which he provided to The Associated Press.
News of his planned trip to Syria had been published in local media.
Top government spokesman Yoshihide Suga defended the confiscation of Sugimoto's passport, the first such case under the passport law, given the risk in Syria and the government's responsibility to protect its citizens.
Kishida told parliament on Thursday that the government is compiling a set of measures to improve the safety of Japanese abroad, without elaborating. He said stopping extremism and restoring stability in the Middle East is imperative, and pledged "all possible non-military support to moderate Islamic nations."
Sugimoto said the passport confiscation was an abuse of government power and that he feared similar steps might be taken against other journalists.
"Losing my passport means a loss of my work as a freelance photographer. I feel my entire life is being denied," he said, adding that it would set a "bad precedent" for interference in the work of journalists.
In Japan, where conformity often takes precedence over individuality and individuals are expected to act in line with national interests, Sugimoto's case created little public outcry.
The confiscation came days after he twice rejected requests from officials to stop his planned trip. Sugimoto said he explained that he planned only to visit refugee camps near the Turkish border and had no plans to go further into militant-controlled areas.