A look at senior Lebanese Hezbollah figures killed in Syria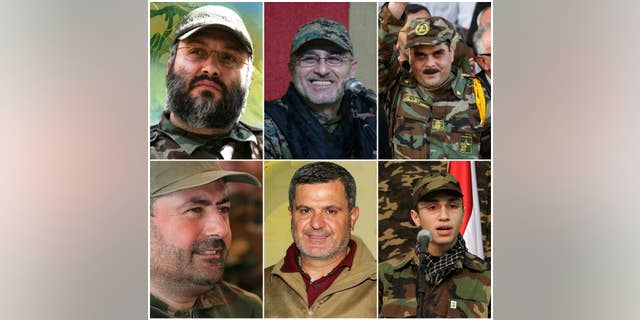 NEWYou can now listen to Fox News articles!
BEIRUT – Since the Lebanese militant Hezbollah group joined Syria's civil war in 2012 to support President Bashar Assad's forces, it has lost several prominent members in combat and has gained a broader range of enemies. More than 1,000 of its foot soldiers have been killed in the Syrian conflict, which began in 2011, compared to the 1,276 fighters killed during its 18-year guerrilla war with Israeli forces that occupied southern Lebanon until 2000.
Here is a look at senior Hezbollah figures killed in Syria:
2016:
— Mustafa Badreddine, Hezbollah's top military commander, was killed in a blast in the Syrian capital of Damascus. Hezbollah, which announced his death on May 13, says he was killed by rebel shelling near Damascus.
— Ali Fayyadh, better known as Abu Alaa Bosna, who led some of Hezbollah's military operations in Lebanon, Syria, Iraq and Bosnia, was killed in February during battles with the Islamic State group near the town of Khanaser in the northern Syrian province of Aleppo.
2015
— Samir Kantar, who spent 30 years in an Israeli prison for the 1979 killing of an Israeli man, his daughter and a policeman, was killed in December along with eight others in a suspected Israeli airstrike on a residential building in Jaramana, a Damascus suburb.
— Hassan Hussein al-Haj, a top Hezbollah commander, was killed in October while fighting al-Qaida-linked militants in the northwestern Syrian province of Idlib. A week later, his replacement, Mahdi Hassan Obeid, was killed during fighting in the same province.
— Jihad Mughniyeh, killed by an Israeli airstrike in southern Syria along with five other Hezbollah fighters in January. Mughniyeh, the son of slain Hezbollah military chief Imad Mughniyeh, was apparently in charge of operations in the Golan Heights. Mughniyeh senior, who was one of the world's most elusive militants, was killed in February 2008 when a bomb planted in his car exploded in Damascus. Hezbollah blamed his killing on Israel.