A Latina Conquers the Last Frontier (or Two)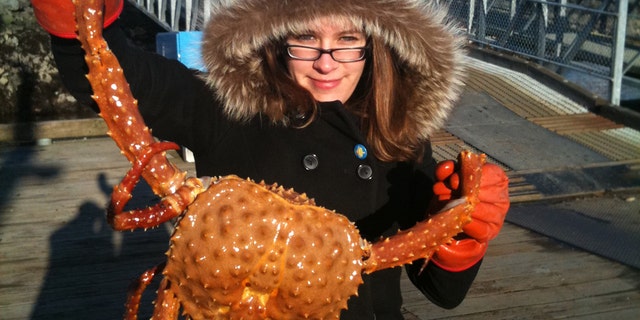 They say books can change lives. But in the case of Jacqueline "Jackie" Rosa Fernandez, it was a stint in a bookstore that set her on the path to her current job as a museum curator in far-flung Sitka, Alaska.
Fernandez and her twin sister, Marilena, were born in Boston, Massachusetts, the product of a cross-hemisphere marriage: Their mother, Marilyn, is Canadian and their father, Roberto, is originally from Buenos Aires, Argentina.
Growing up, Fernandez heard Spanish at home and enjoyed Argentinean dishes, but didn't really feel connected with her Hispanic heritage. That changed when she was 15, after her paternal uncle passed away and her father decided the family should move to Buenos Aires to be closer to his relatives.
Fernandez hadn't visited Argentina since she was a toddler, and she was anxious about leaving her friends and going to a new school—not to mention mastering Spanish. In the end, though, her family spent 13 months abroad and she "loved it." Not only did she master the language, she also became closer with her grandparents and now cheers for Argentina in the World Cup.
"[It] was a remarkable opportunity and one of the best gifts my parents ever gave me," she says now.
While attending Mount Holyoke College, Fernandez happened to land a job at the bookstore of Boston's Isabella Steward Gardner Museum, famed as the site of the largest art heist in U.S. history. And that's where the museum bug bit.
Working at a museum would allow her to be "constantly learning," she realized. "Preserving history and stories and helping people connect with these stories."
She went on to get an advanced museum studies degree from Tufts University. She also learned more about her chosen field first-hand, working at the John F. Kennedy Presidential Library, interning at the Massachusetts Historical Society and even taking a spin as a park ranger at the Boston African American National Historic Site.
In early 2008, she learned about the Alaska State Museum Summer Internship Program. She had never been to the West, she says, and Alaska "was as far West as you could get!"
When she arrived for her summer interning at the Alaska Museum of National History in Anchorage, she wasn't disappointed.
"I think Alaska is the most breathtaking place I have ever lived," she says now. She also loved Alaska's "very warm group of people," and sense of community. She learned a lot about the state and even picked up local jargon, such as the term "Lower 48," referring to the continental forty-eight states. Her Alaskan adventure also became a great conversation starter, particularly after Alaska Governor Sarah Palin became a Vice Presidential candidate.
Driving back to Massachusetts after her internship, she stopped off in Illinois to attend a friend's wedding—and received a call that there was a three-month position open with the American Bald Eagle Foundation in Haines, Alaska, which boasts the largest convergence of bald eagles in the country. She applied from the road—and never made it back to Massachusetts. When that internship ended, she returned home hoping to one day go back North.
This February, that wish came true. Fernandez returned to Alaska to join the Sitka Historical Society and Museum as their curator.
The Museum includes the history and artifacts of Sitka and Alaska's Southeast since 1867, the year Alaska was purchased from Russia. Fernandez oversees the stewardship of the Museum's artifacts, handles potential donors and researcher requests, and manages the Collections Committee.
Fernandez believes artifacts provide an opportunity to engage in a dialogue about history, culture and people. Her job "brings history to life" and finds a deeper story about an item that you cannot see from the surface.
One favorite find: As she was going through unrecorded artifacts recently, she came across a scrapbook from a woman from Washington State who had traveled through Southeast Alaska via ferry in the 1950s. Fernandez connected with the woman's scrapbook and journey because she had also traveled via ferry to the same locations 50 years later.
Her goals are to help the Museum develop policies and procedures not currently in place and go through a backlog of 5,000 artifacts, 25,000 photographs and 15,000 historical documents.
"[I'm] hoping to stay in Alaska permanently," Fernandez says. She loves Sitka's snow-capped mountains and seeing bald eagles from her window. During a recent whale-watching brunch cruise, she also witnessed Steller sea lions, humpback whales and sea otters.
As for her work, Fernandez hopes to attract more tourists and Alaskans, especially younger generations, to visit.
"[I want them to] learn to connect with this wonderful institution," she says.
Ivette Fernandez is a former White House staffer and Miss Alaska USA. She can be reached at ivetteafernandez@gmail.com or followed on Twitter @fernandezivette.
Follow us on twitter.com/foxnewslatino
Follow us at facebook.com/foxnewslatino