A former exile, al-Abadi faces task of uniting Iraqi politicians as Maliki cries of foul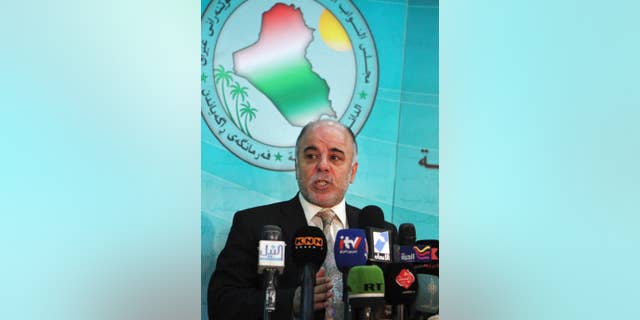 BAGHDAD – The choice of Haider al-Abadi to become Iraq's next prime minister, and possibly end Nouri al-Maliki's eight-year rule, came as a surprise to many Iraqis. He was not among the best-known members of the Baghdad political elite, nor an obvious choice to replace the embattled premier.
Al-Abadi accepted the nomination to form a government Monday in the next 30 days as parts of the country are in the hands of the radical Islamic State group and its Sunni allies and a political firestorm brews in Baghdad with incumbent Prime Minister Nouri al-Maliki insisting he will remain.
Al-Maliki's Dawa party said Monday that "al-Abadi only represents himself," suggesting a battle over who will lead Iraq out of its current crisis.
The challenge confronting Al-Abadi, a veteran lawmaker with al-Maliki's Islamic Dawa Party, is immense. Iraq's major political factions deeply distrust each other and the army seems unable to regain territory in the north and west taken by Sunni militants.
Al-Maliki was criticized for monopolizing power and alienating the Sunni and Kurdish populations in this diverse country. Now all eyes are on al-Abadi, a low-profile politician known for a more easy-going manner than the man he is set to replace.
"He is suave, open-minded, flexible and believes in dialogue," former Dawa Party lawmaker Abdul-Hadi al-Hassaini told The Associated Press. "His character, along with his scientific background and the way he ran the parliament financial committee ... have made him acceptable by other players in Iraq's politics."
Al-Abadi appears to have already won over two critical allies.
President Barack Obama said Monday that he and Vice President Joe Biden had both spoken to the prime minister-designate, and he described his selection as "a promising step forward."
Iran, which is very influential in the country's politics, appeared to throw its support behind al-Abadi on Tuesday as well. Ali Shamkhani, secretary of the powerful Supreme National Security Council, offered his congratulations and said the Islamic Republic "supports the legal process for choosing the new Iraqi prime minister."
As a stalwart of the Shiite political scene, al-Abadi has been involved in the same divisive policies that precipitated the current crisis.
In the race to snag senior government positions following al-Maliki's rise to power in 2006, al-Abadi rejected calls to give Iraq's minority Sunni Arabs and Kurds more posts than they would otherwise expect based on their showing in the polls — even if doing so might help foster a stronger sense of national unity.
"There are some groups insisting on having more than they deserve," he told AP at the time. "This must not be done, and we are resisting any attempt to do it."
Those who have worked with al-Abadi, however, describe him as someone willing to consider different points of view, a rare trait in Iraqi politics.
"It's important to know we have a prime minister who doesn't have violent instincts, and whose instinct is to accept the opinion of others," said Zaid al-Ali, a former legal adviser to the United Nations in Iraq. "There are lots of politicians in Iraq ... where as soon as you disagree with them, they'll make you feel uncomfortable."
Al-Ali recalled al-Abadi as being relaxed and having a good sense of humor.
Al-Abadi was born in Baghdad in 1952 to prominent physician Jawad al-Abadi who went on to become inspector general of the Ministry of Health, despite being an outspoken critic of the government at the time.
He joined the Shiite opposition Islamic Dawa Party at just 15 before moving to the U.K in the late 1970s to pursue a PhD in electrical engineering from the University of Manchester. There his activism continued, and he became the Britain-based spokesman for the Dawa Party.
Saddam Hussein canceled the family's passports and when al-Abadi's father died, he had to be buried in London.
Two of his brothers, who chose to stay in Iraq, were executed, and the third spent 10 years in prison, according to al-Abadi's profile, posted on his Facebook page.
After Saddam was toppled in 2003, al-Abadi returned to Iraq and was named as minister of communications in the Iraqi Governing Council, the short-lived provisional government operating under the U.S.-led Coalition Provisional Authority that ruled Iraq until 2004.
Following al-Maliki's second-term victory in 2010, al-Abadi — then a supporter of the prime minister — struck an optimistic tone.
"We have promised the people of Baghdad and Iraq that the next four years will be the phase of construction and better economy," he said. "We will join forces with any other political blocs that are committed to the same agenda."
Instead, after the Americans left in 2011, al-Maliki's government chased prominent Sunni politicians out of the country and violently dispersed Sunni protests. Frictions grew with the Kurds in the north, and he even managed to alienate allied Shiite parties.
The question now is whether al-Abadi will succeed where al-Maliki failed to reunite Iraq's feuding parties against the backdrop of a country at risk of dividing in three.
___
Schreck reported from Dubai. Associated Press reporters Vivian Salama and Sinan Salaheddin in Baghdad contributed to this report.
___
Follow Adam Schreck on Twitter at www.twitter.com/adamschreck