911 Tapes Released Of U.S. Marine Jailed In Mexico Bolster Case He Accidentally Crossed Border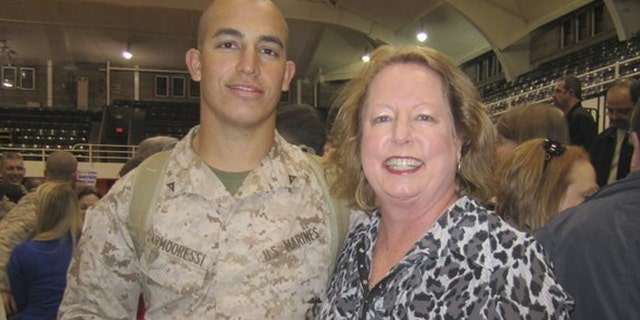 NEWYou can now listen to Fox News articles!
A newly released 911 recording of a former U.S. Marine sergeant to a dispatcher in the San Diego area could bolster the military man's account that he accidentally crossed into Mexico with three registered firearms.
Andrew Tahmooressi, an active U.S. Marine reservist who served two combat tours in Afghanistan, was detained in the early morning hours of April 1st as Mexican officials surrounded his black Ford F-150 pick-up loaded with everything he owned – including three registered firearms – after he made a wrong turn and ended up in Mexico.
Tahmooressi's mother and a number of U.S. lawmakers are fighting for his release from custody in Mexico, where he has been held in various prisons since his arrest, and believe the newly surfaced 911 recording is a crucial piece of evidence in proving the marine's innocence.
"Hi, I'm having a little bit of an emergency here," Tahmooressi told a dispatcher on the 911 recording. "I am at the border of Mexico right now. My problem is, I crossed the border by accident and have three guns in my truck, and they're trying to possess, they're trying to take my guns from me."
Tahmooressi said over the phone that he tried to find the turnaround point to avoid crossing over into Mexico, but the dispatcher responds that he must have missed that lane.
"Unfortunately, you're on Mexican soil. There's nothing we can do. I apologize," the dispatcher said before Tahmooressi thanks her and hangs up.
The first chance for any legal proceeding to begin in Tahmooressi's case is May 28, when Mexican officials will hear the testimony from the Mexican border guards who arrested the marine in April. The long delay from arrest to the testimony – almost two months – have both Tahmooressi's mother and lawmakers upset with the sluggish legal process in Mexico.
"Knowing that Andrew has been in prison for more than a month, with his next hearing scheduled for the end of May, it is necessary that the AG intervene and expedite proceedings at the very least," U.S. Rep Duncan Hunter (R – Calif.) wrote in a letter signed by members of the House of Representatives to Mexico's Attorney General. "And so far there's been no validation from Mexico that Andrew didn't make a directional mistake at the border."
While Tahmooressi still remains behind bars in Mexico, his mother Jill told Fox News Latino on Friday that she is grateful that her son has been moved from the notorious La Mesa Prison in Tijuana to a more secure location at the federal prison, El Hongo.
"He's unshackled and apart from the other prisoners in a private cell," Jill Tahmooressi said. "That's reassuring."
She added that while he is still very vulnerable given his history of post-traumatic stress disorder, he appears more relaxed in calls to his mother since he was moved to his private cell.
While on tour in Afghanistan, Tahmooressi suffered a severe concussion when an improvised explosive device (IED) upended his combat vehicle. He now suffers from what his mother, a nurse, calls directional dysfunctionality – frequently getting lost even in areas that he has driven in for years. The Marine reservist was also diagnosed with post-traumatic stress disorder (PTSD) on March 20, with his mother saying he suffered from bouts of depression and hyper-vigilance among other symptoms.
During his first few days in La Mesa Prison, Tahmooressi told his mother that he was constantly being threatened by prison gang members while he was being held in the general populace section of the jail.
"He was in the general population, but when he called me it sounded like a riot was going on," she said. "Gang hitmen told him he was going to be raped, tortured, killed and leave the prison in a body bag."
These threats ostensibly led Tahmooressi to make an escape attempt by scaling a barb-wired fence, he has said. After being caught and having his wounds treated at Tijuana General Hospital following a self-inflicted stabbing, he was placed in the infirmary with his arms and legs restrained.
"I'm still very faithful and know God will help us out," Jill Tahmooressi said. "We're just praying that the due process is revealed."