Malaysia open to proposals to resume MH370 hunt 5 years after mysterious disappearance
The Malaysian government is open to the idea of resuming the search for the ill-fated Malaysia Airlines Flight 370 if any companies can come forward with the promising proposal as the five-year anniversary approaches, the country's transport minister said Sunday.
The Boeing 777 carrying 239 people from Kuala Lumpur to Beijing vanished March 8, 2014, and is presumed to have crashed in the far southern Indian Ocean.
Transport Minister Anthony Loke told reporters at an event marking the fifth year of the plane's disappearance that the government is willing to discuss proposals from any companies prepared to resume the search, Reuters reported.
"If there are any credible leads or specific proposals.... we are more than willing to look at them and we are prepared to discuss with them the new proposals," he said.
INDONESIAN FISHERMAN CLAIMS HE WATCHED MH370 CRASH AND RECORDED EXACT LOCATION ON GPS
Malaysia, China and Australia called off a two-year, $141 million underwater search in the southern Indian Ocean in January 2017 after finding no trace of the aircraft. A second search led by U.S. technology firm Ocean Infinity began in January 2018 and ended in May without any clues as to where the plane could have crashed.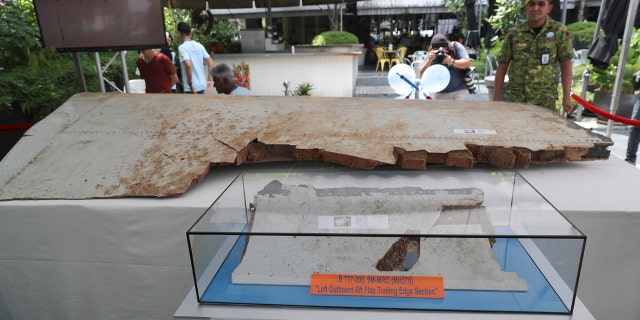 The company's CEO Oliver Plunket said in a video shown at the public remembrance event at a mall near Kuala Lumpur on Sunday that the company hopes to resume the hunt with better technology it obtained in the past year.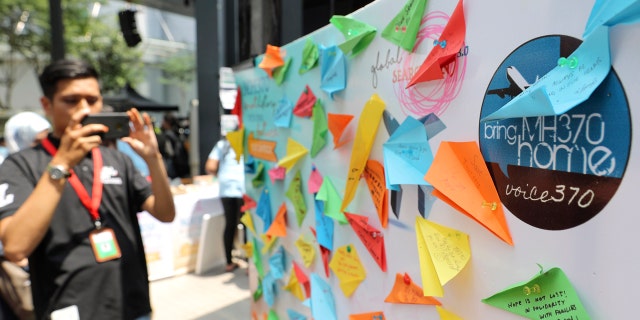 Plunkett said his company has better technology now after successfully locating an Argentinian submarine in November, a year after it went missing. He said the firm is still reviewing all possible data on Flight 370 and thinking about how it can revive its failed mission.
"We haven't given up hope. ... We hope we can continue the search in due course," Plunkett said.
DEBRIS OFF MADAGASCAR 'MOST LIKELY' FROM MALAYSIA AIRLINES FLIGHT 370, REPORT SAYS
A safety report released by investigators in July 2018 concluded the aircraft was likely steered off course deliberately by someone and flew over the Southern Indian Ocean for more than seven hours after communications were severed.
The report provided no firm conclusions about what happened, and the head of the MH370 safety investigation team said that more definitive answers could come if the plane's wreckage and black boxes are found.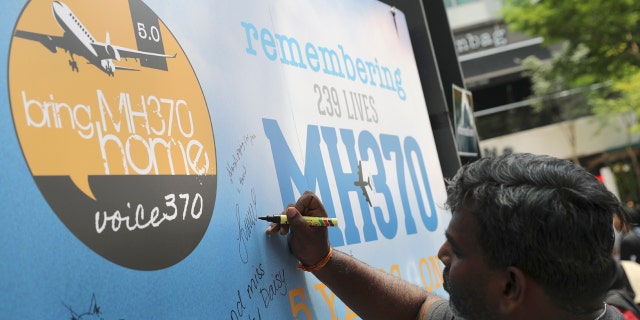 Confirmed debris that washed ashore on African beaches and Indian Ocean islands helped narrow the search area where Ocean Infinity focused, but it failed to uncover any evidence.
CLICK HERE FOR THE FOX NEWS APP
Two of three pieces of debris confirmed to be from the plane were on public display Sunday for the first time at the remembrance event, where family members lit candles and sang songs in tribute to their loved ones.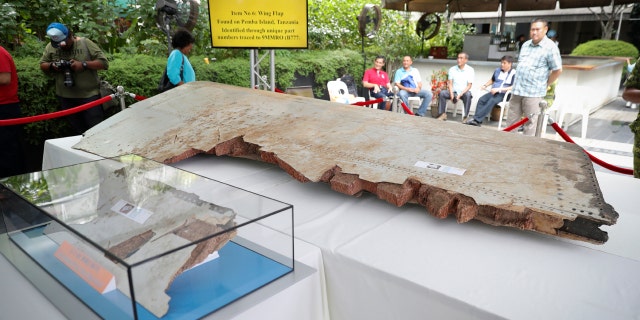 Voice 370, a support group for next of kin, expressed hope that the new government that won a general election in May last year will do more to encourage search missions and seek new clues, according to the Associated Press.
The group's spokeswoman, Grace Nathan, urged the government to set aside up to $70 million — the amount it agreed to pay Ocean Infinity had it found the plane — to encourage exploration companies to take on "no cure, no fee" missions so that Flight 370's passengers will not have died in vain.
"It is a wound that cannot heal" if there is no closure, Nathan said.
The Associated Press contributed to this report.