13-month-old baby girl kidnapped in CA found alive in a shed, two men arrested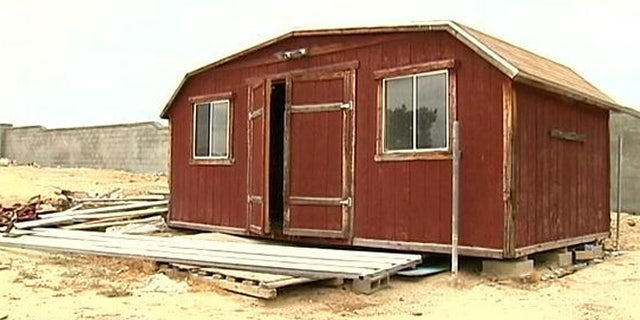 PALMDALE – A 13-month-old girl kidnapped from a Motel 6 in Palmdale was found in a shed in a remote part of the Mojave Desert Saturday, police said. She was in good medical condition 12 hours after her kidnapping sparked Amber Alert messages into hundreds of thousands of cellphones.
Deputies pulled over a car and detained the man suspected of taking the child, who was apparently not the man named in the Amber Alert.
The baby girl, identified as Penelope Rodriguez, was found at about 3 p.m. after deputies stopped a blue Ford Contour at the intersection of East Avenue T-8 and 40th Street East in Palmdale, Lt. Ron Shaffer of the sheriff's Palmdale Station said.
Two men were detained, including one believed to be the suspected kidnapper, 38-year-old Jonathan Holmes, Shaffer said.
Rodriguez was allegedly taken at 3 a.m. from the Motel 6 at 402 W. Palmdale Blvd., near the Antelope Freeway, deputies said.
Holmes, 38, was suspected of kidnapping and sexually assaulting Rodriguez's mother, leaving the child at the Motel 6, authorities said.
The woman was located in the desert, somewhere near the scattered houses at Lake Los Angeles, according to the Los Angeles Times. That's about 40 miles from the Motel 6, where the mother said it was the last time she had seen her baby.
Los Angeles News | FOX 11 LA KTTV
The suspect reportedly told the mother he was going to return to the motel and take care of the baby, The Times reported.
The baby girl had last been seen in a yellow sleeper jumpsuit as she was being driven away in a brown 2001 BMW four-door sedan, according to an Amber Alert bulletin sent into hundreds of thousands of cellphones Saturday.
A person living near Avenue T-8 at 40th Street East heard noise in a shed, investigated and found the baby. Deputies told a Los Angeles TV station that the suspects were heading back to the shed to retrieve the child and take her to a fire station for safety.
For more L.A. news, check out www.myfoxla.com
Like us on Facebook
Follow us on Twitter & Instagram