Widespread looting in Chicago caught on video after police-involved shooting
Hundreds of people were seen looting stores such as Nordstrom, Walgreens and Macy's
NEWYou can now listen to Fox News articles!
Videos circulating online show widespread looting and clashes with police across Chicago's Magnificent Mile shopping district early Monday, sparked by an officer-involved shooting hours earlier that left a 20-year-old man wounded.
Chicago Police Superintendent David Brown said as of Monday morning, responding units have arrested more than 100 people so far on charges ranging from disorderly conduct to battery against police. He added that 13 officers were hurt in the unrest, including a sergeant struck in the face with a bottle and an officer who had his nose broken while scuffling with a group of looters.
"This was not an organized protest. Rather, this was an incident of pure criminality," Brown told reporters. "This was an act of violence against our police officers and against our city."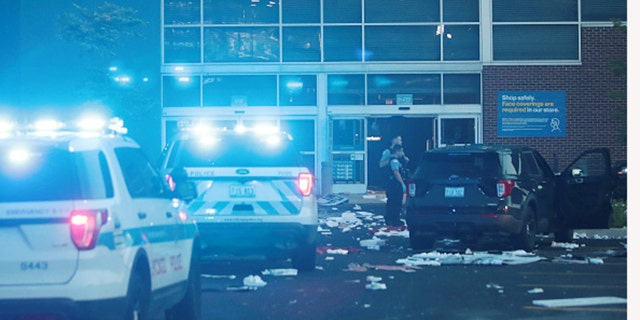 WHAT IS CHICAGO'S MAGNIFICENT MILE?
Brown also said a security guard and a civilian are now in critical condition at a local hospital after being hit with gunfire during the looting overnight, and he said that five guns in total have been recovered.
"I, for one, refuse to allow these cowardly acts to hold our city hostage," Brown said. "CPD will not stand by as our beautiful downtown becomes some place that people fear."
Brown says he has now ordered detectives to comb over high-definition footage of suspects and vehicles from the looting scenes, suggesting that more arrests are coming.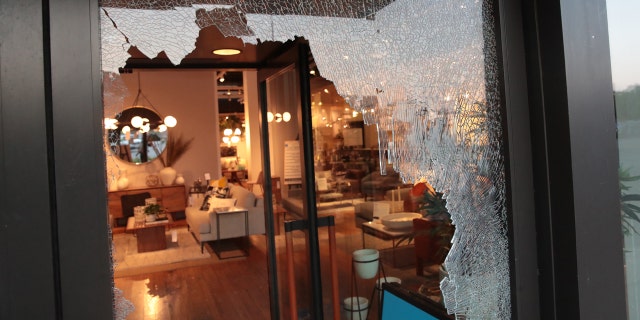 "I pledge to pursue these offenders to the fullest extent of the law," he added. "A heavy police presence will continue throughout the downtown area today and until further notice."
Social media users posted videos of hundreds of people looting stores such as Nordstrom, Walgreens, Macy's, Coach, Gucci and Louis Vuitton. Some even exchanged gunfire with police at one point, although no officers were injured in that incident.
CHILDREN PAYING THE PRICE AS GUN VIOLENCE SURGES NATIONWIDE
"Absolute chaos in downtown Chicago with more overnight looting and vandalism in the Loop," tweeted Ryan Baker, an anchor for WBBM-TV. "Appears to be coordinated effort with minimal police presence."
The unrest began Sunday afternoon after police responded to a report of a man with a gun in the city's Englewood neighborhood. While being pursued by police, the man, who was on foot, "turned and fired shots" at officers before being struck himself and taken to a local hospital, Deputy Chief Delonda Tally told Fox 32 Chicago.
A crowd that had gathered at the scene then faced off against police and started hurling objects at officers after getting agitated over a false rumor that the suspect – who is 20-years-old – was a child, investigators add. Brown says the suspect previously has been arrested four times for charges including burglary, child endangerment and domestic battery.
"We do have an officer that was maced by someone in the crowd," Tally told Fox 32 Chicago. "We do have an officer that sustained a shoulder injury from the incident with the crowd. One of our vehicles, the windows were shattered by a brick."
Police later tweeted an image of a gun they said they recovered at the scene.
CHICAGO COP SHOT WHILE RESPONDING TO DOMESTIC VIOLENCE CALL, SUSPECT IN CUSTODY
As of Monday morning, police say the suspect is expected to survive, while Chicago's Civilian Office of Police Accountability has launched an investigation into the shooting. Three officers involved in the shooting also were taken to a local hospital for observation, Fox 32 reported.
Following that initial unrest, the looting erupted in the Magnificent Mile and other parts of Chicago's downtown.
The Chicago Tribune reported that it observed people carrying shopping bags full of merchandise in the areas where the looting was happening and at least one U-Haul van was seen pulling up.
Macy's said two of its Chicago locations would be closed on Monday after at least one of its locations was reportedly looted, and Nordstrom said the company is "assessing the damage" after some stores were hit.
"We're deeply saddened for our customers, colleagues and neighbors that an event of this magnitude has occurred once again," Macy's told Fox News in a statement. "We will fully support and cooperate with the City of Chicago as we begin to recover from this act of destruction."
Officials told the Tribune that several arrests were made and one gun was seized in connection with the looting. A rock also reportedly was thrown at a police car while anti-cop graffiti was spotted in two locations.
The looting started around midnight, and by around 3 a.m. police appeared to be getting it under control, the newspaper reported.
Illinois State Police told WMAQ they were called in to help block off expressway ramps going in and out of the Loop area in order to prevent looters from fleeing the scene.
RIOT DECLARED IN PORTLAND AFTER CROWD MARCHES ON POLICE UNION BUILDING
The Chicago Transit Authority also tweeted that all bus and train service going into the city's downtown areas was "temporarily suspended at the request of public safety officials."
The unrest capped off another violent weekend in Chicago that included three deaths. At least 35 people were shot.
From Jan. 1 through the end of July, 440 homicides took place in Chicago and 2,240 people were shot, including many of those who were killed, according to statistics released Saturday by the police department.
This compares to 290 homicides and 1,480 shootings, including people who were killed, in the first seven months of last year.
CLICK HERE TO GET THE FOX NEWS APP
President Trump recently announced he would send federal agents to Chicago to help local authorities fight crime as part of an operation that started last year.
Chicago Mayor Lori Lightfoot pushed back in a letter to the White House, writing: "We need you, as president, to take a leadership role in enacting meaningful and common-sense gun legislation, which you so far have refused to do."
The Associated Press and FOX Business' Evie Fordham contributed to this report.