The Latest: Victim's daughter: Emanuel still my church home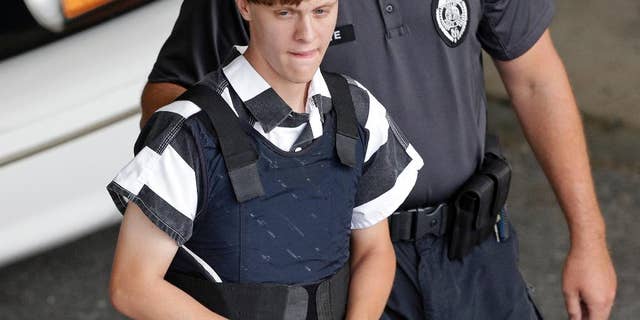 CHARLESTON, S.C. – The Latest on the federal sentencing trial of convicted Charleston church shooter Dylann Roof (all times local):
10:30 a.m.
The daughter of a woman slain in the June 2015 attack at Emanuel AME Church says she doesn't let the shooting stop her from attending the place of worship she loves.
Denise Quarles' voice broke as she testified Thursday about how her mother, Myra Thompson, died welcoming a stranger into Bible study.
Quarles said she last saw her mother a month before the shootings and that Thompson seemed to have a premonition something would happen to her, speaking about what would happen after her death and making clear her desires for her funeral.
Quarles described her mother as a tough disciplinarian but also as a good friend.
Quarles was the first witnessed called Thursday by prosecutors in the sentencing trial of convicted church shooter Dylann Roof. The 22-year-old defendant is representing himself in this phase of trial. Jurors will consider whether to sentence him to death or life in prison.
___
9:45 a.m.
Jurors have returned for a second day of testimony in the sentencing trial of convicted church shooter Dylann Roof.
Emotions likely will be high Thursday as prosecutors call more relatives of people killed in the June 2015 attack on Emanuel AME Church. The first day was dominated by powerful testimony from the widow of pastor and state Sen. Clementa Pinckney, who told jurors of her husband's strength and loving parenting.
Jennifer Pinckney also described hiding under a desk in the church with her daughter as the shooting went on steps away.
Prosecutors have said they plan as many as 38 witnesses, although U.S. District Judge Richard Gergel has said several times he thought that number could possibly be pared down or testimony could otherwise be consolidated.
Roof had asked that prosecutors be limited in the number of witnesses they could introduce, but that request was rejected.
___
3:20 a.m.
Prosecutors have called four witnesses at Dylann Roof's sentencing and may call dozens more to try to convince jurors the convicted church killer should be sentenced to death.
The most gut-wrenching testimony so far came from Jennifer Pinckney, whose husband, state Sen. Clementa Pinckney, was one of nine black church members killed when Roof opened fire during a Bible study at Emanuel AME Church in Charleston. Clementa Pinckney was also the pastor of the church.
A chilling 911 call Jennifer Pinckney made was played for jurors Wednesday. In it, she talks about huddling under a desk with her 6-year-old daughter.
Roof is representing himself. In brief opening remarks, he told jurors he wasn't mentally ill. He did not ask them to spare his life.