The gang just as vicious as MS-13 but without the notoriety: Savage Trinitarios return to the spotlight after years in the shadows
A 'Wall of Grief' mural marks the spot where a 15-year-old Bronx boy, who wanted to be a detective when he grew up, fell victim last month to a New York City drug gang with a long history of ruthless violence.
The mural pays tribute to Lesandro "Junior" Guzman-Feliz who was killed June 20 by a group of Trinitarios in a crime that sent shockwaves reverberating through the Big Apple and beyond. The murder captured the attention of music stars Rihanna and Cardi B.
News outlets aired chilling surveillance video of the boy struggling for his life as he was dragged out of a bodega and slashed with a machete and knives.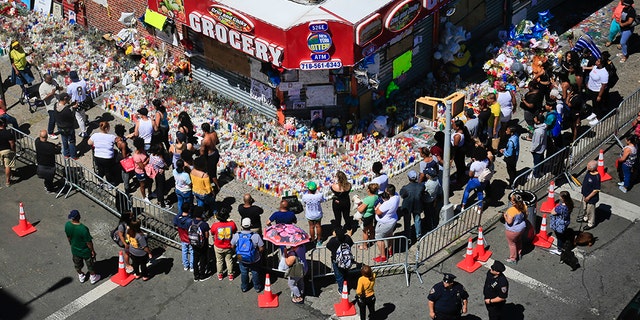 Bronx prosecutors last week announced the indictment of 12 Trinitarios in the boy's death and said Lesandro was killed after he was mistaken for a Trinitario from a rival "set" the group was plotting against. Police said Lesandro had no gang affiliation.
Two days earlier, in another shocking display of violence, Trinitarios stabbed and beat a 14-year-old member of a rival gang as cars stopped on a busy Bronx six-lane highway. The boy was stabbed more than 13 times and had to be revived after going into cardiac arrest on the way to the hospital. Police released video of the attack and federal prosecutors arrested a Bronx man who admitted striking the boy with a log.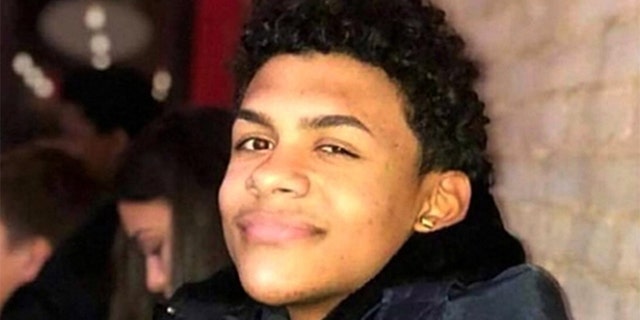 The violence appears to mark a re-emergence of a gang that had fallen into the shadows after a series of law enforcement takedowns from 2009 to 2014 wiped out the group's leader and a large number of members.
But those prosecutors have appear to have created a power struggle pitting one group of Trinitarios against another.
Just four years ago, federal prosecutors said the Trinitarios if they weren't extinct, they were certainly an endangered species. But they appear to be back and this time thrust into a national spotlight.
Such acts of brutality don't surprise Manuel Gomez, a former U.S. army intelligence officer and NYPD cop-turned-private investigator, who said he obtained the video of Lesandro's last moments and shared it with WPIX-TV, which was the first to report it.
BRONX TEEN DENIED HELP AS HE BLED TO DEATH INSIDE BODEGA, DISTURBING VIDEO SHOWS
Gomez told Fox News that the Trinitarios have been just as vicious as MS-13 without drawing the same amount of attention. President Trump has singled out the former for its brutality - labeling them "animals" - as part of his crackdown on illegal immigration.
"Trinitarios are just as blatant as MS-13 when it comes to killing someone and just walking away," Gomez said. Trinitarios are Dominican; MS-13 is Salvadoran
Gomez said the ranks of the Trinitarios include several individuals who are in the country illegally. He also said Trinitarios recruit new members in high schools. Some recruits are even younger. As part of the initiation process recruits are required to run a gauntlet.
"Their preferred weapon of choice is the machete and the knife and their philosophy is 'a gun runs out of bullets but a knife never does,'" Gomez said.
MS-13 CRACKDOWN WINS PRAISE FOR TRUMP AHEAD OF NY GANG SUMMIT
The Trinitarios were founded by Leonides Sierra while he was serving time in Rikers Island to protect Dominican inmates from other violent gang members. In 2014 he was sentenced to 19 years in federal prison for his role as the gang's leader. He is still serving a state prison sentence for a 1989 murder.
"When Sierra created the Trinitarios gang on Rikers Island in 1992, a dangerous and bloodthirsty organization was born, responsible for overwhelming violence both on the streets of New York and other cities, and inside the prison system," then Manhattan U.S. Attorney Preet Bharara said in announcing the sentence.
The Trinitarios take as their own the Dominican Republic's motto of "Dios, Patria y Libertad" — God, Fatherland and Liberty. The gang's colors are blue, red and white –the colors of the Dominican flag—and green. Trinitarios exchange greetings with each other using hand sign.
A Trinitario informant testified that would-be Trinitarios have to learn the rules and history of the gang and swear an oath before becoming members.
Once a Trinitario is sworn in, there are documented rules and handbooks that all members are provided and are expected to follow, according to the informant. Members must also pay dues and attend mandatory meetings.
WHAT IS MS-13, THE VIOLENT GANG TRUMP VOWED TO TARGET?
Trinitarios have feuded with other gangs, including the Bloods, the Latin Kings and Dominicans Don't Play. The Trinitarios-DDP feud stretches back years. In 2016, a DDP member opened fire at a group of Trinitarios, striking and killing an innocent Bronx woman who was watching her three young children at play in a playground.
In 2011, the FBI identified the Trinitarios as the largest Dominican gang in the country, followed by DDP.
"The Trinitarios are involved in homicide, violent assaults, robbery, theft, home invasions, and street-level drug distribution," the FBI said. "In addition to New York and New Jersey, the Trinitarios network included Georgia, Massachusetts, Pennsylvania, and Rhode Island."
A 2011 NYPD database placed the number of Trinitarios in the city at nearly 1,200, according to The New York Times. The database contained the names of nearly 24,000 gang members.
From 2009 to 2012, federal prosecutors announced a series of racketeering indictments charging 149 Trinitarios and associates in connection with a variety of crimes, including nine murders and 24 attempted murders.
The investigations began after a homicide in 2006 in Manhattan's Washington Heights neighborhood.
In 2010, Orlando Salgado was killed in the Bronx after a fight involving a Latin King and a Trinitario.
Six Trinitarios chased down Salgado and attacked him with knives, a hammer and a pipe, according to court papers.
In 2015, two of Salgado's killers became government informants and testified that they participated in the murder because of the Trinitarios rule that "when a Trinatario bleeds, we all bleed."
More recently, according to the New York Post, violence between rival Trinitarios has grown as the gang has splintered into several smaller factions, including the colorfully named Violating All Bit-hes, One Seven Hoes and the Bad Barbies.
The Bad Barbies were dealt a major blow with the 2012 arrest of alleged leader Maria Mejia by the feds. She was charged in connection with a 2005 murder of DDP member.
Gomez said the federal prosecutions led to a power struggle that pits "Los Sures" Trinitarios against another "Sunset" Trinitarios, rivals sets from Brooklyn encroaching on the Bronx.
The night Lesandro was killed, his attackers gathered to plot attacks against "Sunset" Trinitarios, according to prosecutors.
The gathering was held at the Bronx home of "Los Sures" Trinitario leader Diego Suero, they said.
Those Trinitarios were travelling in four cars when they came upon Lesandro near the bodega in the Belmont section of the Bronx.
Prosecutors said that the Lesandro's killers then went back to Suero's apartment to ditch their weapons.
At the time of the murder Suero, 29, was out on bail after his in September on a gun charge, records show.
Meanwhile, the latest spasm of Trinitario violence took place Saturday – but behind bars.
More than a half-dozen Trinitarios smashed windows and toppled furniture at Rikers after learning a friend would be moved to another facility, the New York Post reported. A correction officer fled in fear, showing that gang is once again out of the shadows and thriving.