Brooklyn block party shooting leaves 1 dead, 11 injured
A shooting at a massive block party in the Brooklyn borough of New York City left one person dead and wounded 11 others, according to officials.
A "brazen" lone gunman opened fire on Saturday night at the annual "Old Timers" day — a large, outdoor community event in the Brownsville neighborhood with thousands in attendance.
"There were a lot of people just chilling and having a good time," Kaseem Collins, 19, told the New York Daily News. He added when people heard shots, everyone started running. "I ran as fast as I could away from everyone. I thought I was going to get shot," Collins said.
MURDER RATE RISES 55 PERCENT IN NEW YORK CITY, NYPD STATISTICS SAY
A 38-year-old man died from a single bullet wound to his head, a New York Police Department (NYPD) spokesperson said. Six of the wounded were released from the hospital as of Sunday morning, according to NYPD Commissioner James P. O'Neill, who did not address the condition of the five others who were shot while speaking to NY1.
The commissioner said it was not immediately clear whether there was more than one gunman involved and said police don't have a suspect at the time.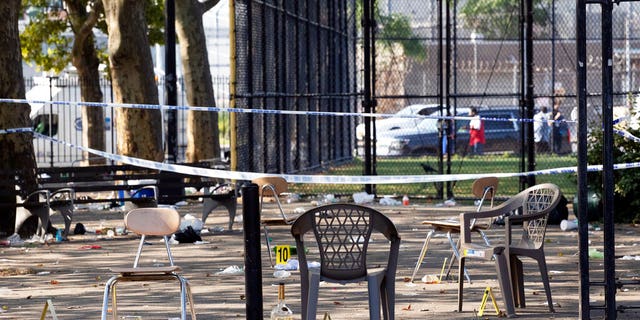 "It was not a good night in Brownsville," O'Neill said. "This is a great event, been going on a long time. I'm sure we're going to figure out who did this and bring them to justice."
The event, hosted since 1987, honors former members of the Brownsville Recreation Center "who went on to success and fame in sports and other endeavors," according to a community newsletter published in 2010.
NEW YORK GIRL, 12, CHARGED AFTER SWASTIKAS, 'WHITE POWER' FOUND SPRAY-PAINTED ON CHURCH, BUILDINGS
The police commissioner said 2,000 to 3,000 people were attending the event next to a playground, and that more than 100 police officers were stationed there.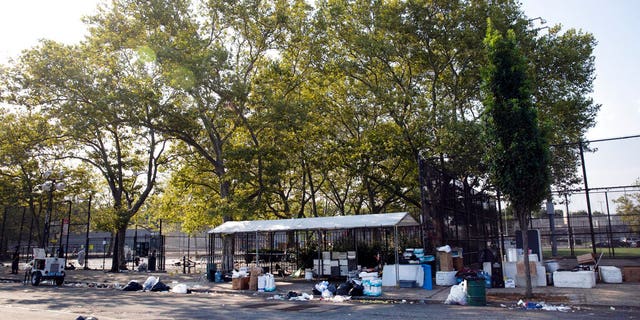 Videos posted on social media showed police clearing large groups of people out of the area around the recreation center following the shooting. Photos from local news outlets showed several people taken from the scene on stretchers, including some with what appeared to be minor wounds.
CLICK HERE TO GET THE FOX NEWS APP
The neighborhood of Brownsville, located in east Brooklyn, continues to struggle with violence, even as New York streets become safer than they have been in decades.
Mayor Bill de Blasio tweeted early Sunday of the "terrible shooting ... that shattered a peaceful neighborhood event." He added, "We will do everything in our power to keep this community safe and get guns off our streets."
The Associated Press contributed to this report.