Rex Tillerson's old feud with Venezuela may play role in bilateral relation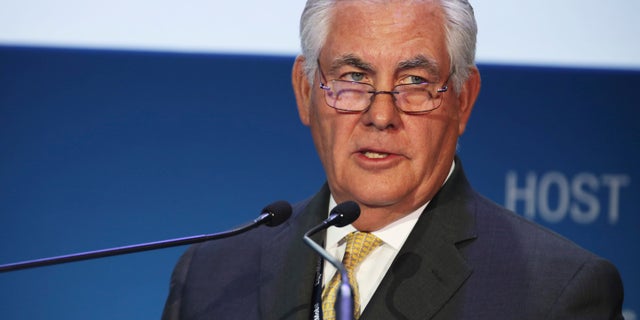 NEWYou can now listen to Fox News articles!
Donald Trump's pick for Secretary of State, Rex Tillerson, is a familiar name in Venezuela – and some are wondering if a decade-old feud will play a role in the bilateral agenda.
The longtime chief executive officer of Exxon Mobil became persona non grata among socialist Chavistas in the late 2000s, when he confronted then President Hugo Chavez as they negotiated compensation arrangements after the oil industry was nationalized.
"I don't know if Tillerson will personalize his relationship with Venezuela or implement an institutional policy," said Venezuelan analyst Luis Salamanca to FoxNews.com, also pointing out that the U.S. has nothing to lose.
"Today the United States need little from Venezuela, unlike Venezuela, which needs the cash payments of the oil it sells to the U.S.," Salamanca said.
Things started to get bitter between Tillerson and Venezuela in 2007, when Chavez ordered the expropriation of 22 major multinationals operating in the country. In serious disagreement over the compensation amount, Tillerson took Venezuela to international arbitration court. He demanded to be paid based on the market value of the company assets in the country ($10 billion), not the "book value" that Chavez was offering ($1 billion).
But in a rare occurrence for the indestructible CEO, he lost. In 2014 Exxon settled for $1.6 billion.
"[Tillerson] took it very personal with Chávez," said Ghassan Dagher, a Venezuelan oil industry consultant to the New York Times recently. "He fell into the trap completely."
Dagher went on to say that it was the Venezuelan fiasco what pushed the former CEO to seek a tighter relationship with Vladimir Putin and Russia -- which in turn adds a new layer to the equation.
While Tillerson's appointment could mean a major headache for the presidency of Nicolas Maduro, Chavez successor, the opposite may happen if he chooses to capitalize on Venezuela's ties to Russia and build a more amicable bridge through Moscow.
But experts say Venezuela's open wound with Exxon and Maduro's harsh rhetoric make this path less likely.
In 2015, Maduro reacted to Exxon's push to exploit oil resources in Guyanese waters claimed by Venezuela saying it was all part of a "brutal campaign against Venezuela, financed by ExxonMobil."
"We' see if the relation between Maduro and Putin has more weight than that of Putin and Tillerson," Salamanca said. "I have the impression that Venezuela, weak as it is today, will not have as much weight in Putin's policy."