Amid soaring inflation, Venezuela's Maduro increases minimum wage by 50 percent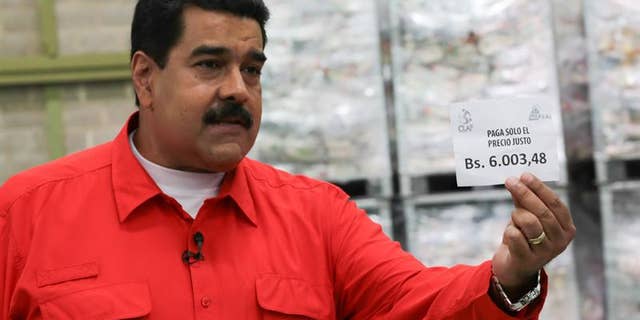 Venezuelan President Nicolas Maduro announced Sunday that he has decided to raise the monthly minimum wage by 50 percent from 27,092 bolivares to 40,638 bolivares, the latter amount equivalent to about $60 at the official exchange rate of 678 bolivares per US dollar.
During his weekly television program, the president said that this salary hike is the first of the year but the fifth that he has ordered over the past 12 months, for a total annualized increase of 536 percent.
Over that time the oil-producing country's economic crisis has deepened and inflation, which stood at about 181 percent at the close of 2015, worsened in 2016.
Maduro said that the new minimum wage will also be received by all retirees in Venezuela, a total of more than three million people, according to government figures, and that the 50 percent increase also will be applied to the entire salary of public employees.
The president also said that in "the coming days" he will raise the value of the monthly food allowance, which currently stands at 63,720 bolivares.
Starting in January, when the pay hike will take effect, millions of public and private sector workers will have the right to a total income of 104,358 bolivares per month, equivalent to $154.
Maduro also said that his government will work to bring the unemployment rate down to 4.5 percent and raise the formal employment index from 62 percent to 70 percent.
"While there is an economic war going on, we will continue ... (to help) the Venezuelan family defend itself, while we're stabilizing" the country economically, he said.
Venezuela's biggest employer, Fedecamaras, said that the pay increase was announced "without consultation" by the government and could reduce employment and result in the closure of companies that cannot deal with the hike.