A retired political science professor who traveled in Washington's elite social circles pleaded not guilty on Tuesday to charges that he stole tens of thousands of dollars in jewelry from his wealthy acquaintances.
Lawrence Gray sold at least seven rare and valuable stolen items, including diamond earrings, a pink sapphire brooch, and a 19th century gold pocket watch, prosecutors said. They allege he earned more than $45,000 consigning the pieces to a Manhattan auction house.
"The defendant allegedly repeatedly sold stolen jewelry in order to enrich himself," Manhattan District Attorney Alvin Bragg said in a statement. "New York's status as a global hub for auction houses is diminished when goods are illegally sold."
UCLA PROFESSOR QUITS JOB, SAYS 'WOKE TAKEOVER' OF EDUCATION 'INTELLECTUALLY CORRUPT'
Gray, 79, pleaded not guilty in a Manhattan criminal court to charges of grand larceny, criminal possession of stolen property, and a scheme to defraud. Wearing a pink shirt and black blazer and leaning gingerly on a dark wooden cane, he declined to speak to reporters as he left the courtroom. He was released without bail after agreeing to give up his passport. He is due back in court on Oct. 31.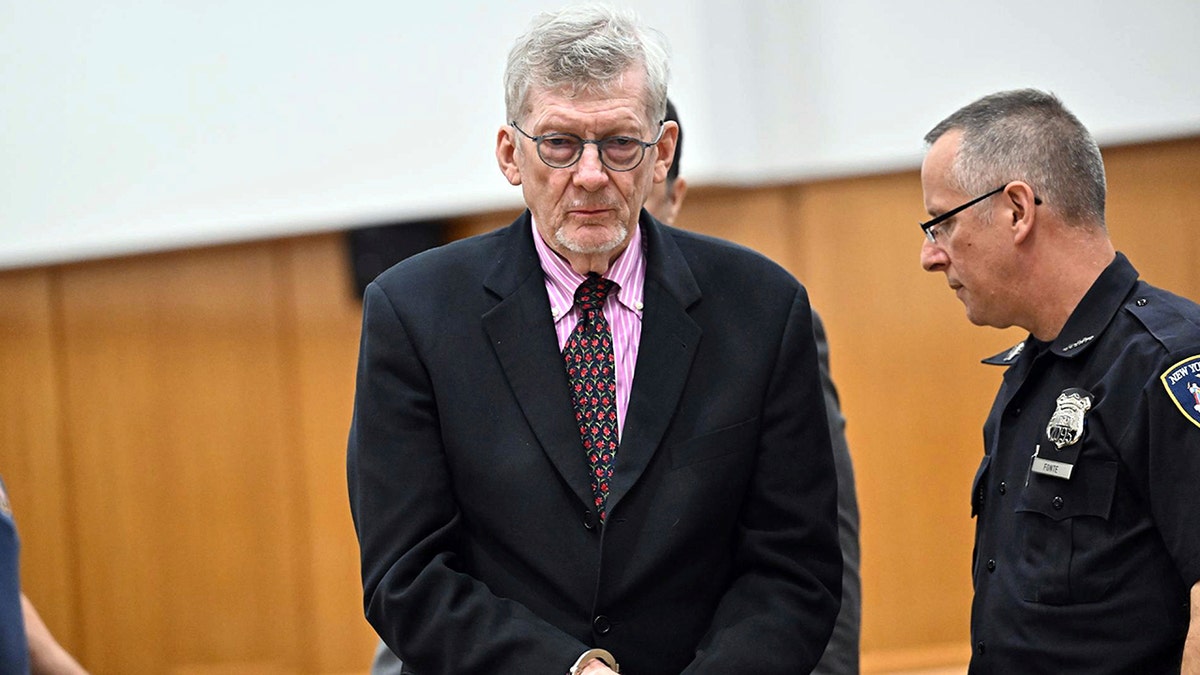 The indictment is the latest in a growing list of theft allegations against Gray, a former tenured professor at John Cabot University in Rome and the longtime romantic partner of the late Washington socialite Jacqueline Quillen.
UCLA'S TARGETING OF PROFESSOR WHO USED N-WORD WHILE QUOTING MLK SPARKS EDUCATION DEPARTMENT WARNING
In 2021, shortly after Quillen's death, her sons sued Gray, accusing him of stealing expensive heirlooms, paintings and cash from both Quillen and her friends — a well-heeled group that included American diplomats, bankers and businessmen. Later that year, Gray was arrested in Rhode Island on charges that he stole a diamond and sapphire brooch valued at $32,000 during a wedding in Newport.
The family's lawsuit has settled for undisclosed terms; the Rhode Island case, in which Gray pleaded not guilty, is ongoing.
On Tuesday, Manhattan prosecutors said they had evidence connecting Gray to a string of thefts in New York, Virginia, and several other states. Between 2016 and 2019, he sold the goods on consignment to Doyle Auction House on the Upper East Side, they said, adding that they are still working to locate some of the pieces that were sold.
CLICK HERE TO GET THE FOX NEWS APP
A spokesperson for Doyle Auction House declined to comment, citing a company policy against discussing consignors.
Quillen, a wine specialist at Christie's and the heir to a Wall Street fortune, had come to suspect that Gray was stealing from her and her friends, according to the lawsuit filed by her sons. She kept detailed notes on the missing goods, and eventually broke off her relationship with Gray months prior to her death, the suit alleged.