Ravi Zacharias memorial: Pence, Tebow celebrate Christian apologist's life and legacy
Vice President Mike Pence, baseball player Tim Tebow and other leaders took part in an online memorial service Friday for renowned Christian evangelist Ravi Zacharias, who died on May 19 from a rare form of cancer. He was 74.
The popular author, speaker and founder of Ravi Zacharias International Ministries (RZIM) spent the greater part of his life defending Christianity. He revealed he discovered his faith while facing suicide at the age of 17.
LAUREN GREEN: REMEMBERING RAVI ZACHARIAS -- CHRISTIAN LEADER'S DEATH MARKS THE END OF AN ERA
The celebration of Zacharias' life and legacy was held at Passion City Church in Atlanta and watched online by more than 75,000 online at RZIM.org/RaviMemorial.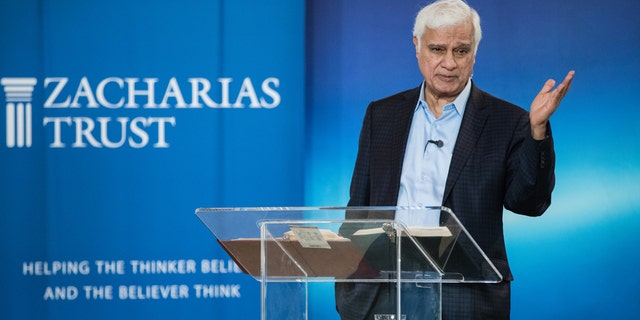 Pence called Zacharias a "gentle giant of the faith" and his death a "personal loss." When Pence was governor of Indiana, Zacharias spoke at the 2014 state prayer breakfast at his invitation.
"Yesterday President Trump said by making the intellectual case for Christianity, Ravi Zacharias was instrumental in helping millions of people around the world come to know the love and mercy of Jesus Christ," Pence said.
RAVI ZACHARIAS TRIBUTES POUR IN FROM PENCE, CHRISTIAN LEADERS
The vice president, who visited the Zacharias family at RZIM's headquarters in Alpharetta on May 22, added: "In the late Billy Graham, it's been observed that God gave us the greatest evangelist of the 20th century. In Ravi Zacharias, God gave us the greatest Christian apologist of this century."
Tebow called Zacharias his "mentor, teacher, pastor, friend, and hero" reminiscing about the first time they met and most recently when he knelt by his bedside.
"If Ravi touched your life, then let's honor him by honoring the one that he honored more than anything else, Jesus Christ," Tebow urged those watching.
In addition to Pence and Tebow, tributes came from family and friends – including RZIM president Michael Ramsden, Brooklyn Tabernacle senior pastor Jim Cymbala, Passion Movement founder Louie Giglio, Christian music artist Matt Redman, and rapper Lecrae.
MARYLAND COUNTY WALKS BACK ON COMMUNION BAN AFTER CATHOLIC BACKLASH
"We are here today to give honor to the life and ministry of Ravi Zacharias, but we are also here today to give honor to his Lord and Savior Jesus Christ," Giglio told those gathered in person and to the thousands tuning in online.
"He was a man of character, who answered questions with poise and grace, but the thing that impacted me most, every time I was around Ravi, I just wanted to know Christ more," Louis Phillips, RZIM speaker, said of Zacharias' impact prior to the service starting.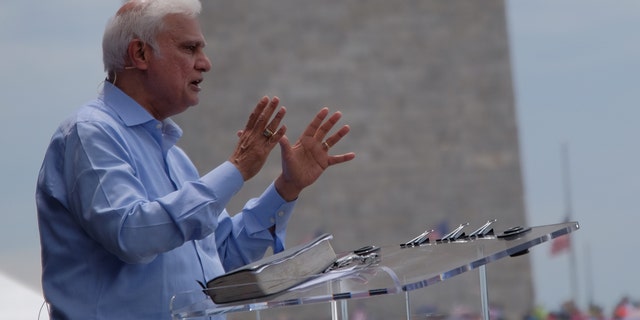 Pulse, the evangelism movement founded by Nick Hall, will host Make Jesus Known, a two-hour online apologetics event on May 30 to equip the global church to preach the gospel in partnership with RZIM to honor Zacharias.
"To millions of Christian around the world, Ravi Zacharias was the most famous and influential Christian apologist of the past century. But to me, he was a mentor and friend," Hall told Fox News.
GEORGE FLOYD'S DEATH: FAITH LEADERS CALL FOR PRAYER AMID VIOLENT UNREST IN MINNEAPOLIS
"He showed me what it really means to pour into people and share the message of Christ with a hurting world," he added. "I can think of no better way to honor his life than continuing his legacy of love, leadership and evangelism."
Zacharias was a frequent guest on Fox News Channel and grew RZIM, which he founded in 1984, into a global team of nearly 100 Christian scholars and authors who continue his legacy around the world today.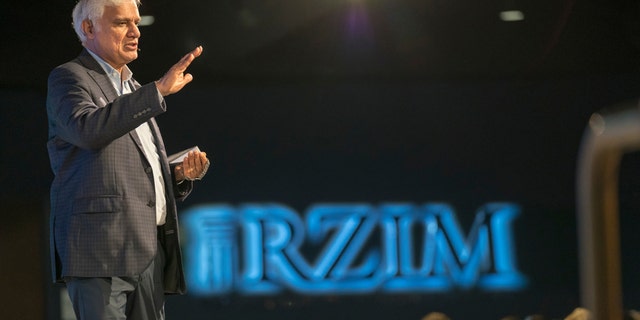 In a private graveside service, Zacharias was buried May 21 in a casket built by Louisiana State Penitentiary, also known as Angola Prison, inmates, a request the Christian apologist had years ago, according to RZIM.
CLICK HERE TO GET THE FOX NEWS APP
"These prisoners know that this world is not their home and that no coffin could ever be their final destination. Jesus assured us of that. Such is the gospel story," he wrote in his latest book, "Seeing Jesus from the East."
He is survived by his wife, Margaret Reynolds Zacharias; two daughters, Sarah Zacharias Davis and Naomi Zacharias; a son, Nathan; and five grandchildren.