Police find no evidence Connecticut gunman was on medication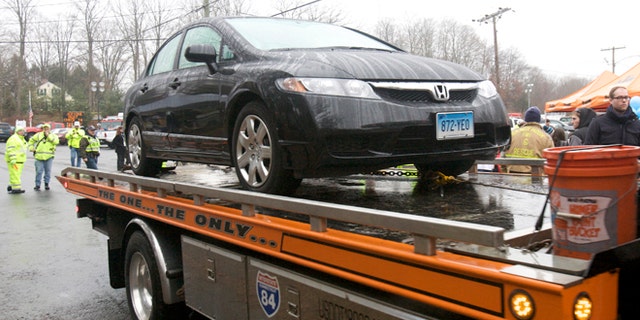 While Newtown buried two more young victims Tuesday in the shooting massacre, authorities said they found no evidence the gunman who killed 27 people was being medicated for mental illness.
Investigators searching the Connecticut home gunman Adam Lanza shared with his mother, Nancy Lanza, seized cellphones, computers and computer games, but found nothing at the residence to indicate he was taking medication, Hearst Connecticut Newspapers reported.
Authorities armed with search warrants are still working to obtain the 20-year-old man's medical records, according to the report. Lanza's parents told friends and divorce mediators that their son had Asperger's syndrome, a form of high-functioning autism, but it was unclear if he had ever been formally diagnosed.
Lanza opened fire Friday morning inside the Sandy Hook elementary school, killing 20 young children and six adults. He shot and killed his 52-year-old mother inside her home before driving to the nearby school. Nancy Lanza was shot four times in the head, likely as she slept, authorities said Tuesday.
[pullquote]
Experts say Asperger's would not explain the horrific attack and believe Lanza suffered other mental problems, including possible personality disorders.
Detectives were scouring cellphone records, text messages, computer records and social network pages, hoping to find clues as to what made Lanza snap.
"They are looking at everything," former FBI agent Robert Paquette told the newspaper group. "They are poring over anything and everything. Was he on meds? Did he go off meds? How was his relationship with his mother? What video games did he play? How often did he play? Where did he learn to shoot? How often did he shoot? ... Forensics are going to tell us who died where and when. What they want to determine is why."
Dr. H. Wayne Carver, the chief state medical examiner, said Tuesday that his office is consulting with a geneticist at the University of Connecticut to find out "if there is any identifiable disease associated with this behavior," the Hartford Courant reported.
Carver told reporters he does not know whether Lanza had Asperger's, but he said the syndrome "is simply not on the menu, in terms of what is wrong with this kid."
"Asperger's is not associated with behavior patterns that are violent," he said, according to the newspaper.
On Tuesday, Newtown buried James Mattioli and Jessica Rekos, both 6, at St. Rose of Lima church.
Mattioli, known to his family as simply "J," enjoyed playing sports, like baseball, basketball, swimming and arm wrestling. The boy looked up to his father, friends say, and excelled in math. Rekos "loved everything about horses," according to her parents, who told ABC News that she was "our little CEO" of the family.
"She devoted her free time to watching horse movies, reading horse books, drawing horses and writing stories about horses. We had promised her she could have her very own horse when she turned 10. She asked Santa for new cowgirl boots and a cowgirl hat," Richard and Krista Rekos said in a statement to news outlets Sunday.
Funerals for 6-year-olds Noah Ponzer and Jack Pinto took place on Monday. Pozner was remembered at his funeral as a smart, funny and mischievous boy. Pinto was buried in the jersey of his favorite New York Giants player, Victor Cruz -- who on Sunday played with Jack's name written on one of his cleats.
"How do you capture the essence of a 6-year-old in just a few words?" Pozner's obituary said. "Everything he did conveyed action and energy through love. He was the light of our family, a little soul devoid of spite and meanness."
Meanwhile, the children of Newtown, Conn., were back in school Tuesday with the exception of the Sandy Hook School rampage survivors. Newtown High School Principal Charles Dumais, in an email to parents, said schools in the district would open two hours later than usual, with counselors available to students and their families.
"This is a day to start healing," Dumais said.
The fate of Sandy Hook School is unclear, but the children who attended the K-4 school will eventually attend Chalk Hill Middle School, a school that had been mothballed by the nearby town of Monroe. Dozens of rounds are still embedded in the walls, cabinets, closets and floors of the Sandy Hook School, which police say is still an active crime scene.
On Monday, Gov. Dannel P. Malloy called upon churches across the state to ring their bells 26 times Friday at 9:30 a.m. in tribute to the victims.
As awful as the tragedy was, investigators say it could have been worse: Lanza still had hundreds of rounds when he killed himself as police moved in, according to Connecticut state Police Lt. Paul Vance.
"There was a lot of ammo, a lot of clips," said state Police Lt. Paul Vance. "Certainly a lot of lives were potentially saved."
The chief medical examiner has said the ammunition was the type designed to break up inside a victim's body and inflict the maximum amount of damage, tearing apart bone and tissue.