4 bodies recovered, 29 unaccounted for after diving boat caught fire off California's Santa Cruz Island: officials
At least 33 people were feared dead after a boat caught fire off Santa Cruz Island, California, early Monday morning and sank, officials have confirmed.
The Santa Barbara-based boat was carrying recreational scuba divers. Five crew members jumped to safety but all 33 passengers were missing.
The Coast Guard confirmed at 11 a.m. local time (2 p.m. ET) that four bodies had been recovered near the boat. Lt. Cmdr. Matthew Kroll said the bodies had injuries consistent with drowning. Searchers were continuing to look for 29 other people who were aboard the vessel Conception when it burned while anchored off Santa Cruz Island.
Authorities gave fluctuating information about the number of people aboard the vessel throughout the day. The Coast Guard said a sixth crewmember who was on the manifest was actually not aboard. There were a total of five rescued.
The Coast Guard said earlier that it responded after overhearing a Mayday call around 3:15 a.m. of an "engulfed 75-foot commercial diving vessel" with 38 people aboard.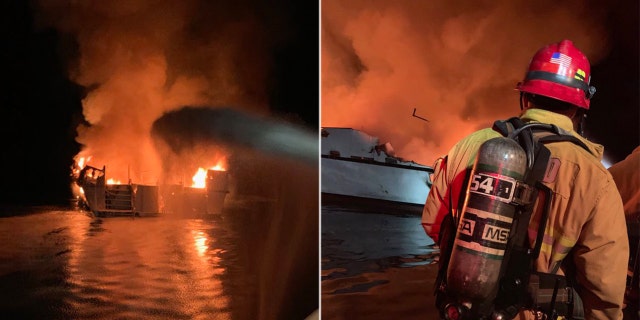 Firefighters from two local fire departments were fighting the fire when the vessel sank 20 yards offshore in 64 feet of water, the Coast Guard said in a news release.
The victims and those still listed as missing were sleeping below deck when the fire started, Coast Guard officials said.
Coast Guard Capt. Monica Rochester told a news conference that the five who were rescued were the boat's captain and crew.
"The crew was actually already awake and on the bridge and they jumped off," Rochester said. She said she didn't know if the crew tried to help others aboard. "I don't have any additional information," she said.
The crew was fished out of the water by the owner of a pleasure craft the Grape Escape that was in the area, Rochester said.
"Simply, a good Samaritan who helped the situation," she said.
Coast Guard records showed that inspections conducted last February and in August 2018 found no deficiencies. Earlier inspections found some safety violations related to fire safety. A 2016 inspection resulted in owners replacing the heat detector in the galley and one in 2014 cited a leaky fire hose. Records showed that the boat's owners addressed all safety violations from the last five years quickly.
Shortly before 5 a.m. local time, the U.S. Coast Guard tweeted that it was coordinating a large water rescue involving a large boat.
"The Coast Guard has launched multiple rescue assets along with assets from local agencies to assist more than 30 people in distress on a 75ft boat near Santa Cruz Island," the tweet said.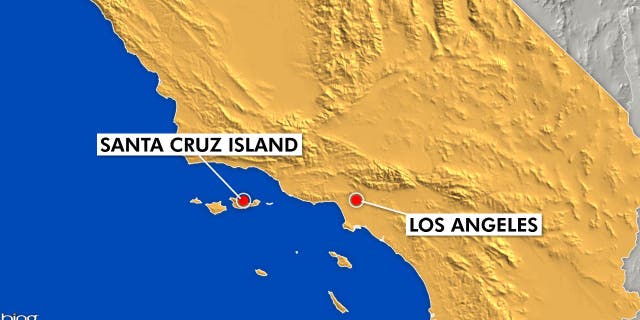 COAST GUARD SUSPENDS SEARCH FOR FIREFIGHTERS LOST AT SEA AFTER FLORIDA FISHING TRIP
Another tweet an hour later said the vessel was reported as being on fire and that one of those rescued had minor injuries.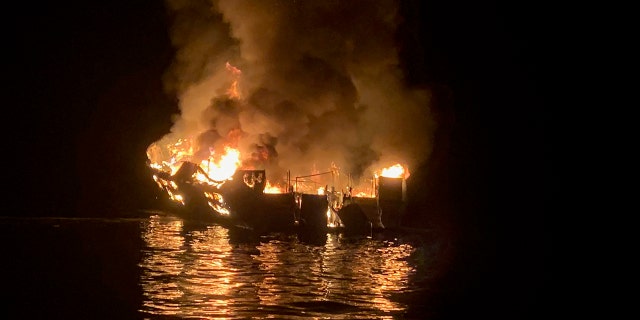 The Coast Guard responded with two helicopters, two 45-foot Swift boats and an 87-foot cutter.
Firefighters with the Ventura County Fire Department responded around 3:28 a.m., according to a spokesperson.
COAST GUARD NETS 3 ARRESTS, 3,000 POUNDS OF COCAINE IN ANTI-SMUGGLING OPERATION IN PACIFIC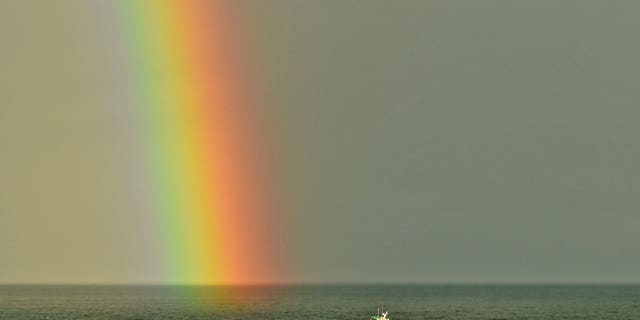 Officer Nathan Alldredge of the Santa Barbara Harbor Patrol told Fox News that his office responded to a mutual aid call around 4 a.m. local time.
Alldredge said the call was for the diving boat Conception which is based in Santa Barbara Harbor. He said the boat is a fully-equipped 75-foot commercial diving boat that takes out recreational scuba divers and is able to spend multiple days out at sea.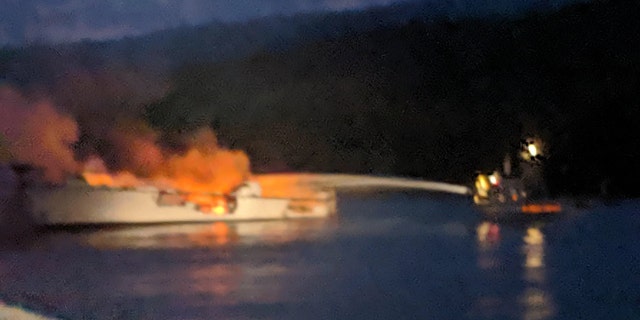 KKFX-TV reported that Conception's owner Glen Fritzler met with Coast Guard officials at the Channel Islands Harbor station Monday morning.
COAST GUARD RESCUES DIVER WHO DISAPPEARED EXPLORING SHIPWRECK OFF NEW JERSEY
CLICK HERE TO GET THE FOX NEWS APP
Fritzler's Truth Aquatics website says the Conception has bunk space for 46 people and "rafts and jackets for 110 passengers."
Truth Aquatics posted a photo of the Conception on its Facebook page five days ago with the caption, "there's just something about being on the water."
Fox News' Victor Garcia, Lee Ross and The Associated Press contributed to this report.