An Oklahoma man convicted of murder for stabbing another man to death in 2018 could get a new trial after the district attorney acknowledged two of his former prosecutors watched jurors deliberate via a video feed into the courtroom.
Robert Kraft, 34, of Choteau, Oklahoma, was convicted by a jury of first-degree murder in July 2022, and the jury recommended a life prison sentence. But Kraft's attorney has filed a motion for a mistrial after District Attorney Matt Ballard acknowledged two of the prosecutors on the case, Isaac Shields and George Gibbs, Jr., watched jurors deliberate.
A status hearing in the case was held on Monday, but the judge has yet to rule on the mistrial motion.
Kraft's attorney, M.J. Denman, Jr., said it's a miscarriage of justice that the two prosecutors illegally observed jury deliberations and gave the prosecution an advantage that he was not afforded.
UNIVERSITY OF OKLAHOMA OFFICIALS ISSUE 'ALL CLEAR' AFTER ACTIVE SHOOTER ALERT
"It's like playing cards and not realizing you have a mirror behind you where they can see your hand," Denman said in a telephone interview after Monday's hearing. "I just would never expect two people whose job is supposed to be to enforce the law to break the law. They are supposed to have a higher standard."
Both Shields and Gibbs resigned from the Rogers County District Attorney's Office after the incident. The Oklahoma State Bureau of Investigation launched a probe into the matter, and former Attorney General John O'Connor appointed another prosecutor, Brian Hermanson, to consider whether charges should be filed against the two prosecutors. Hermanson didn't respond Monday to a message seeking comment on the status of his investigation.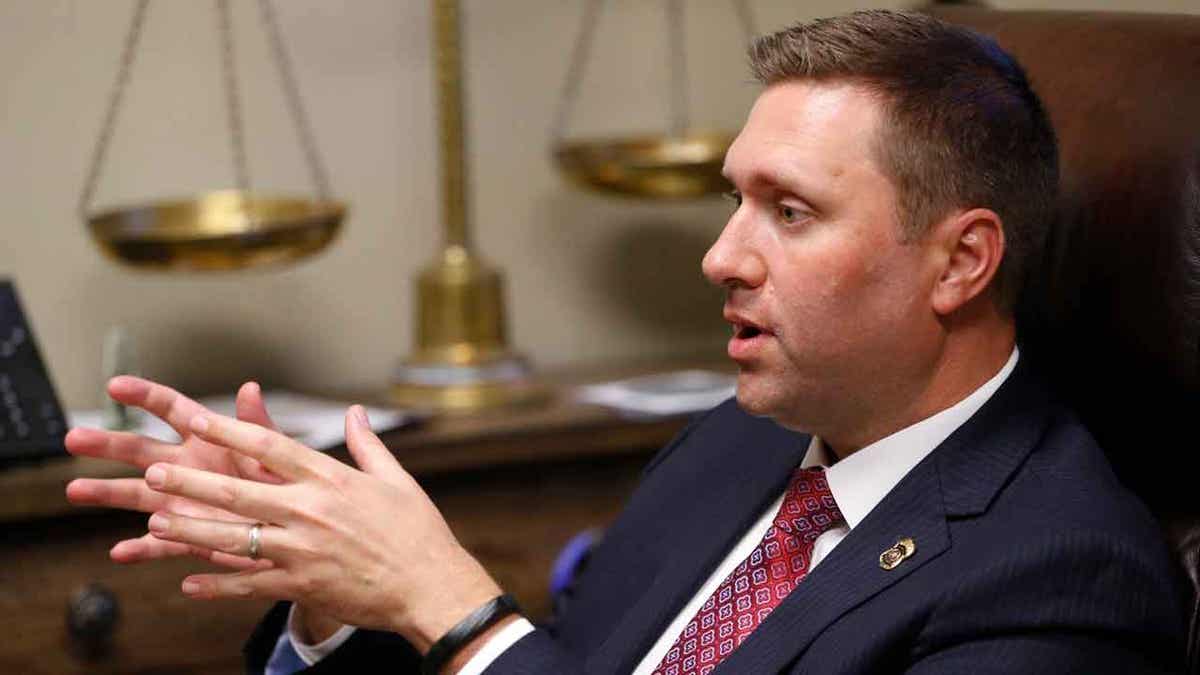 Ballard said that while he's disappointed in the actions of his former prosecutors, he said their viewing of the jury deliberations did not affect the outcome of the trial, and that the jury's verdict should stand.
3 ARRESTED IN CONNECTION WITH DEADLY OKC BIKER GANG SHOOTOUT
"It's a very unfortunate situation, and I absolutely do not condone the actions of either of these former prosecutors," Ballard said, "but one of the positive aspects is that we've been able to determine through our investigation as well as OSBI's investigation that it appears there was never any contact with any of the jurors and that it was limited to observing through video screens the deliberations themselves."
Listening to or observing a jury while they are deliberating, or even attempting to do so, is a felony under Oklahoma law, punishable by up to two years in prison and a fine of up to $1,000.
An attorney for Shields said neither he nor Gibbs meant to do anything illegal.
CLICK HERE TO GET THE FOX NEWS APP
"There was no intent whatsoever from either prosecutor to do anything improper nor to do anything that would influence the jury or undermine the integrity of the trial," said attorney Sheila Naifeh. "It is with great regret that this has become a focal point of this trial."