New Jersey arts festival shooting leaves 22 injured, 1 suspect dead, officials say
Nearly two dozen people were injured after gunfire broke out early Sunday during a fight at an all-night art event in New Jersey's capital city, leaving one suspect dead which authorities said appeared to be caused by "neighborhood beef."
Mercer County Prosecutor Angelo Onofri said at a news conference that a total of 22 people were injured in the shooting, 17 of whom were treated for gunshot wounds at nearby hospitals. A second suspect is in custody.
"It's a massive crime scene," Onofri said.
Two suspects opened fire shortly before 2:45 a.m. at the 24-hour Art All Night show in the Roebling Market section of the city, according to Onofri, who told The Associated Press a "neighborhood beef" was behind the shooting.
The event began Saturday afternoon and was scheduled to continue until Sunday afternoon and typically draws thousands of people. The festival showcases local art, music and food.
"This is truly a tragedy for Trenton," Trenton Mayor Eric Jackson said.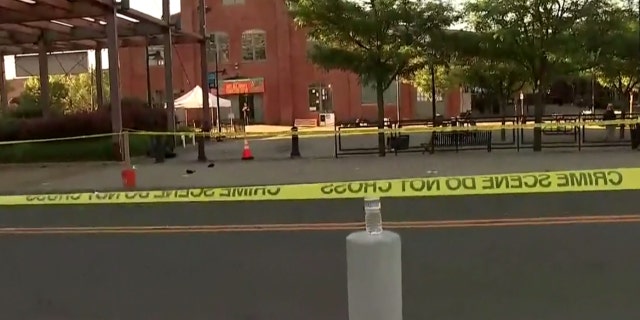 Four people are listed as in critical condition, including a 13-year-old boy who is in "extremely critical condition," according to Onofri.
Police have identified at least two suspects in the shooting. One, a 33-year-old man, was pronounced dead while the other was taken into police custody. Onofri said authorities "believe" the suspect who died was shot and killed by police. Trenton police at the scene told NJ.com that officers engaged with at least one gunman.
Authorities are now combing through the warehouse where the shooting took place as part of the investigation. Onofri said that "multiple weapons" were recovered at the scene. The Bureau of Alcohol, Tobacco, Firearms and Explosives said on Twitter the agency is "actively assisting" Trenton and New Jersey State Police with the shooting.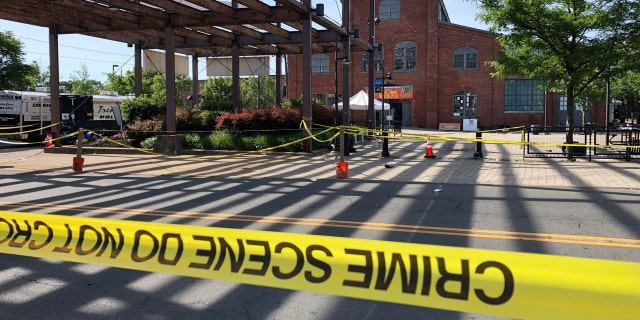 Onofri said that authorities are also investigating an attempted carjacking that took place in the area after the shooting. Three people were in a vehicle when a man came up and pointed a gun at them, the prosecutor said. Their vehicle sustained "some damage" during the confrontation, he added, without releasing further details.
A witness told The Trentonian he witnessed a fight break out before gunshots rang out, with several punches being thrown.
"I saw two punches and then heard several gunshots," Franco Roberts said.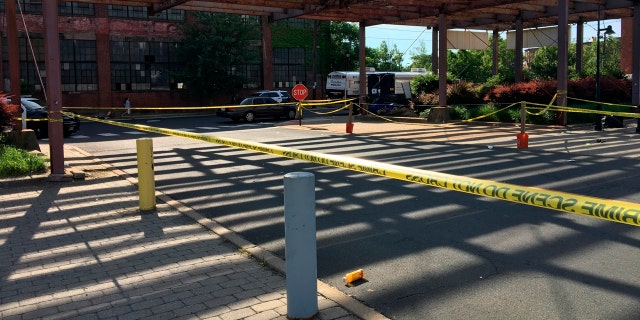 Roberts told the newspaper he thought something bad was going to happen because there were "more people outside than in the warehouse" standing around.
"Everybody ran toward the door," he said. "And the people fighting and shooting got mixed with the crowd that was running and they went out the door shooting."
Angelo Nicolo told WPVI that he and his brother were at the event when they heard loud popping sounds, and that people started running down the street.
"And all of a sudden, my brother goes to me, 'You hear that gunfire?' I go, 'It sounds like fireworks.' He said, 'No, that's gunfire.' Next thing you know, we turn around and everybody's running down the street. All hell broke loose," Nicolo said.
TWO KANSAS SHERIFF'S DEPUTIES KILLED IN SHOOTING WERE BOTH PARENTS
The Trenton resident said he saw one person with a gunshot wound to the leg.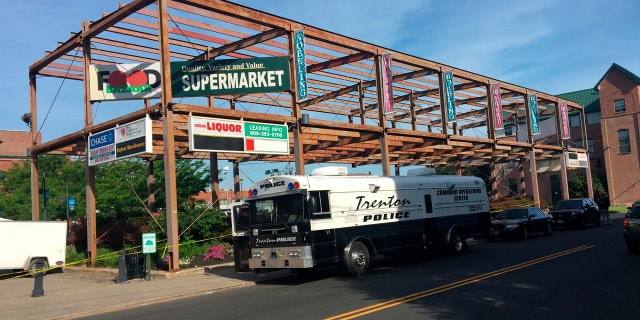 "I saw two police officers escort a guy that got shot in the leg; they bandaged him up and whisked him away before the ambulance came here," he told WPVI. "It was pretty gnarly."
The event was billed as a showcase for more than 1,500 pieces of art. Authorities said that about 1,000 people were in the area when the shooting started and people stampeded.
"Devastated by last night's shooting at Art All Night Trenton," New Jersey Gov. Phil Murphy said on Twitter. "We must eradicate the scourge of gun violence from our communities."
In a Facebook post, the group said it was "deeply saddened" by the shooting and it had canceled the remainder of the event.
"We're still processing much of this and we don't have many answers at this time, but please know that our staff, our volunteers, our artists and musicians all seem to be healthy and accounted for. Our sincere, heartfelt sympathies are with those who were injured," the group said.
The Roebling Market parking lot was covered in trash, broken glass and liquor bottles as police processed the scene for evidence, according to the Trentonian. Regular patrons of the art festival told the newspaper it's usually cleaner than what was seen in the aftermath of the shooting.
"We've never seen anything like this," a woman who asked to remain anonymous told the Trentonian. "This trash is surprising. It didn't look like this last year."
The Associated Press contributed to this report.