Navy aircraft crashes in Virginia waters; two rescued, one confirmed dead: report
Another aircraft crashed earlier this month in Norway, killing four Marines
NEWYou can now listen to Fox News articles!
A U.S. Navy aircraft crashed Wednesday evening in the waters in Virginia and two people had been rescued while the third died, according to local reports.
Lt. Cmdr. Rob Myers, a public affairs officer with Naval Air Force Atlantic, said the plane was doing a routine exercise when it went down. He confirmed that it was a U.S. Navy E2-D.
Three people were on board in total. Two injured people were rescued and one was found dead in the aircraft, Myers said, WAVY reported.
The Coast Guard had previously told Fox News it was assisting with a military plane crash in the Chincoteague Bay near Wildcat Marsh.
MARINES KILLED IN NORTH CAROLINA IN JANUARY ARE ID'D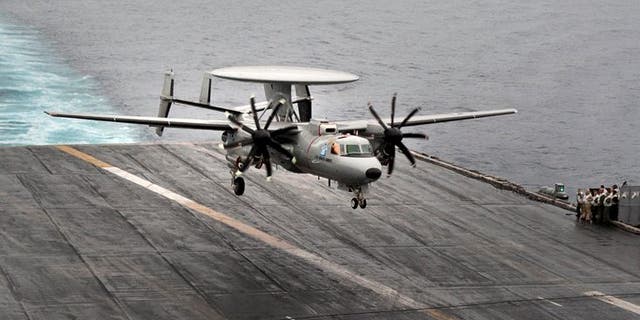 A Coast Guard helicopter was dispatched from Elizabeth City as well as a motor lifeboat to the scene, a spokesperson said.
The time of the incident was not clear but the Coast Guard received a call to assist around 7:30 p.m.
Rep. Elaine Luria, D-Va., said on Twitter that she is "continuing to monitor the Navy plane crash in Accomack County. I'm keeping our naval aviators, their families, and our first responders in my thoughts and prayers tonight as rescue and recovery efforts continue."
Another military aircraft crashed earlier this month in Norway, killing four Marines. The MV-22B Osprey crashed during the Cold Response drill, which involves 220 aircraft, 30,000 troops, and 50 vessels from 27 countries.