Mandalay Bay security guard was shot six minutes before Las Vegas gunman began shooting, police say
A Mandalay Bay hotel security guard who ran into Las Vegas gunman Stephen Paddock ahead of the Oct. 1 massacre is being hailed a hero after he took the shooter's first bullet, potentially saving lives ahead of the deadliest mass shooting in modern U.S. history.
Jesus Campos, a security guard at the Mandalay Bay Resort and Casino, was shot by Paddock six minutes before he began shooting into a crowd of 22,000 people enjoying the country music festival down below, Las Vegas Metropolitan Police Department Sheriff Joe Lombardo said in a news conference Monday evening.
Campos was responding to an alarm going off in the hotel and ventured off to find the source when he came across the sound of drilling.
The security guard told investigators that Paddock was drilling to an adjacent wall in the hallway — most likely to install a camera or to point a rifle — but never finished the job.
Lombardo said the alarm that went off was not connected to Paddock's room.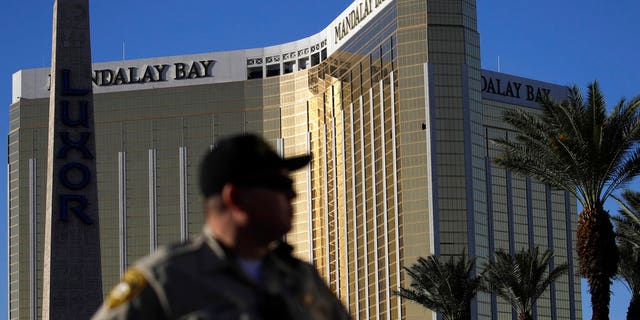 At 9:59 p.m., Campos was shot in the leg after Paddock reportedly fired 200 shots into the hallway. Paddock began shooting into the crowd six minutes later, contradicting original reports that Campos' arrival is what stopped Paddock's mass shooting.
Between the time that Campos was shot and Paddock began shooting, Campos notified authorities of what happened, which Las Vegas Metropolitan Police Department Undersheriff Kevin McMahill said Friday was "absolutely critical" as it gave police Paddock's exact location.
Lombardo said Monday that a maintenance worker was also on the 32nd floor at the time Campos was shot, and Campos prevented that man from also being shot or otherwise injured.
STEPHEN PADDOCK'S HOME SEARCHED AGAIN BY FBI, LAS VEGAS SHOOTER'S BACKGROUND EMERGES
Lombardo confirmed that Paddock had also shot at two aviation fuel tanks roughly 2,000 feet away from his hotel room, apparently in an effort to divert attention away from his shooting at the large crowd of people.
While authorities have yet to find a motive for Paddock, Lombardo said that they are continuing to investigate, noting "every piece of information we get is one more piece of the puzzle."
Paddock's brother, Eric, and girlfriend, Marilou Danley, are still being interviewed in the wake of the shooting in an effort to gain insight.
"I'm trying to help them move forward with their investigation," Eric Paddock told the Las Vegas Journal-Review about cooperating with authorities. "I'm trying to get them to understand Steve's mindset. I don't want them to chase bad leads."
Officials have yet to find a possible connection between Paddock and ideology, and Lombardo said there is no evidence there was a second shooter.
JASON ALDEAN VISITS LAS VEGAS SHOOTING VICTIMS
Lombardo said that while investigators have found 200 incidents of Paddock moving through the city, there was no evidence he was with anyone else.
Many had speculated in the days following the shooting that a note found in Paddock's hotel room was possibly a suicide note, but Lombardo said the piece of paper seen in leaked pictures was only a note with numbers on it.
Las Vegas police officers who entered Paddock's room told CBS News' "60 Minutes" on Sunday night that the note contained hand-written calculations, which included "the distance, the elevation he was on, the drop of what his bullet was gonna be for the crowd."