LA County Sheriff's Office helicopter crash leaves 6 injured
Aboard the helicopter were five sheriff's deputies and one doctor from UCLA, responding to a roadway crash, Sheriff Alex Villanueva told reporters
NEWYou can now listen to Fox News articles!
A Los Angeles County Sheriff's Office helicopter crashed on Saturday evening, leaving six occupants injured but expected to survive, according to reports.
Aboard the helicopter were five sheriff's deputies and one doctor from UCLA, Sheriff Alex Villanueva told reporters at a news conference, FOX 11 of Los Angeles reported.
All six occupants were transported to a trauma center, FOX 11 reported. All were in stable condition with injuries ranging from fractures to broken ribs, authorities said, according to the Los Angeles Times.
"Thankfully nothing that is life-threatening at this time," Villanueva told reporters, according to the Los Angeles Daily News. He called that fact that all six occupants survived, "nothing short of a miracle."
The helicopter crashed near San Gabriel Dam and Highway 39 as the deputies and doctor were traveling to the scene of a roadway crash, the station reported. The aircraft was attempting to land at the time, the report said.
FLORIDA HELICOPTER CRASHES INTO OCEAN NEAR CROWDED BEACH
There were low-hanging clouds in the area but otherwise no unusual weather or mechanical conditions, the Times reported.
The spot where the helicopter hit the ground was close to an area where there was a 200-foot drop, so the incident could have been far worse, Villanueva told reporters, according to FOX 11.
An aerial photo showed the helicopter flipped over on the ground but mostly intact.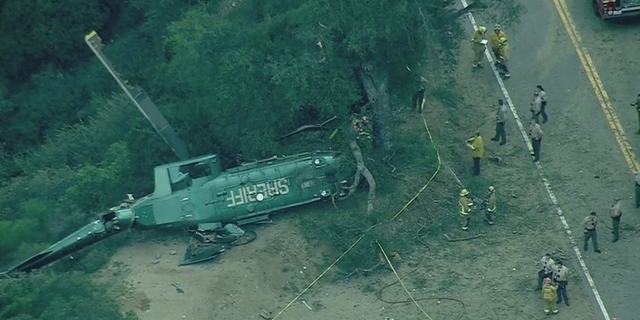 CLICK HERE TO GET THE FOX NEWS APP
The crash was reported around 4:30 p.m., according to FOX 11. The cause remained under investigation.
A different rescue helicopter eventually arrived at the scene of the vehicular crash and was able to transport a victim who suffered minor injuries in that separate incident, according to the California Highway Patrol, the Daily News reported.
In February, a Huntington Beach police helicopter crashed into the water in Newport Beach Harbor, killing a 14-year veteran of the force and injuring another officer, the station reported.
Fox News' Dom Calicchio contributed to this story.