Keith Raniere, ex-leader of self-help group NXIVM, convicted in sex-trafficking case
Keith Raniere, the former leader of self-help group NXIVM, was convicted Wednesday in New York City in a federal case accusing him of turning women into his "sex slaves."
Raniere showed no reaction as the guilty verdict was read in a federal court in Brooklyn. Jurors took less than five hours to convict the 58-year-old on seven counts that included racketeering, racketeering conspiracy, wire fraud conspiracy, forced labor conspiracy, sex trafficking, sex trafficking conspiracy and attempted sex trafficking. The charges could put him behind bars for the rest of his life.
"Over the last seven weeks, this trial has revealed that Raniere, who portrayed himself as a savant and a genius, was in fact, a master manipulator, a con man and the crime boss of a cult-like organization involved in sex trafficking, child pornography, extortion, compelled abortions, branding, degradation and humiliation," said Richard P. Donoghue, United States Attorney for the Eastern District of New York.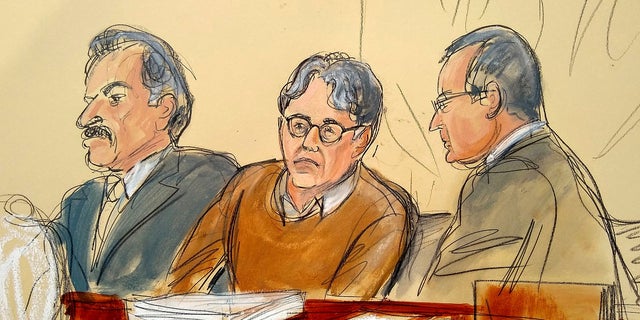 SEAGRAMS HEIRESS FAINTS AFTER JUDGE QUESTIONS HER ABOUT AVENATTI IN NXIVM CASE
"His crimes, and the crimes of his co-conspirators, ruined marriages, careers, fortunes and lives. The evidence proved that Raniere was truly a modern-day Svengali," Donoghue added.
During the trial, witnesses testified to living in a cult-like atmosphere and being forced to have sex with Raniere.
Prosecutors said testimony showed Raniere used women known as "masters" to demand nude photos and other embarrassing secrets from "slaves." The material would be made public if they didn't obey orders to have sex with him to keep them in line, they said.
ALLISON MACK REPORTEDLY KEPT CATHERINE OXENBERG'S DAUGHTER ON STRICT 500 CAL DIET
They said the former leader of the self-help organization based in upstate New York used the organization to tap into a never-ending flow of women.
Some of Raniere's adherents included TV actress Allison Mack, best known for her role as a friend of a young Superman in the series "Smallville," and Seagram's liquor fortune heiress, Clare Bronfman.
Among other allegations against the professed self-help leader was that he branded some women with his initials and had sex with one of his followers at age 15. A sorority sometimes called "The Vow" was created to satisfy his sexual desires for sex, power and control," Assistant U.S. Attorney Moira Penza said in closing arguments.
Penza said Raniere also kept child pornography as a "trophy." One victim testified being confined to a bedroom for nearly two years as punishment for showing interest in another man. Another recounted being blindfolded and lured into a home by Raniere where she was bound to a table so another woman could perform a sex act on her.
NXIVM RECRUIT CLAIMS SHE WROTE FAKE LETTER ABOUT DAD'S SEXUAL ABUSE SO CULT COULD BLACKMAIL HER INTO LOYALTY: REPORT
A third testified she made an excuse to leave the community so she could avoid seducing Raniere on orders from Mack, her "master."
Defense attorney Marc Agnifilo argued his client's behavior could be seen as "repulsive and offensive, but we don't convict people in this country for being repulsive or offensive."
"You might find a lot of things about him distasteful," Agnifilo said, according to the New York Times. "But most of them aren't part of the charges."
Agnifilo also said the sexual encounters were consensual and said there was no extortion attempt since the embarrassing material was never released.
"Where's the extortion?" he asked.
NXIVM was founded in the 1990s and was recognized as a self-help group. About 16,000 people took NXIVM courses, which cost thousands of dollars apiece, the Times previously reported.
Raniere professed to be a philosopher who was determined to create a better world. He persuaded audiences that if they followed his teachings they too would become stronger, more empowered individuals and enjoy more meaningful lives.
Classes were taught in the United Staes, Canada and Mexico.
Aside from the sex allegations, prosecutors said Raniere enriched himself through fraud by charging hundreds of thousands of dollars to the credit card of a senior member after her death and wrote checks on her bank account, according to the Times.
Mack and Bronfman were named as defendants with Raniere, but pleaded guilty before going to trial. Lauren Salzman, whose mother, Nancy Salzman, founded NXIVM with Raniere, also pleaded guilty after being indicted with him.
CLICK HERE TO GET THE FOX NEWS APP
She has cooperated with the government since. Raniere was arrested in Mexico last year following an investigation into his group.
He is scheduled to be sentenced Sept. 25.
Fox News' Courtney Crawford, Stephanie Nolasco and The Associated Press contributed to this report.