FOX NEWS FIRST: Trump State of Union to offer olive branch to hostile Dems; Surveillance abuse memo going public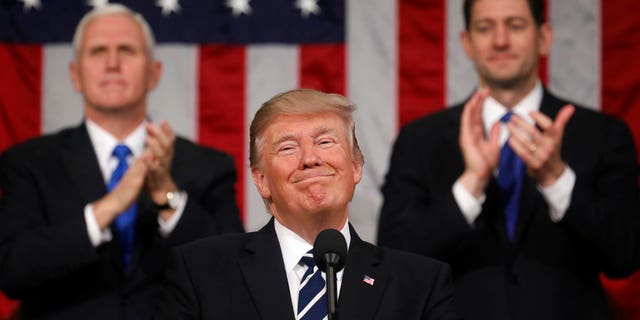 NEWYou can now listen to Fox News articles!
Welcome to Fox News First. Not signed up yet? Click here.
Developing now, Tuesday, Jan. 30, 2018
President Trump will give his first State of the Union address and will offer to work with Democrats on bipartisan deals on immigration and more. But will Democrats be receptive?
The contents of a controversial FISA memo detailing alleged government surveillance abuses could be revealed soon as the House Intelligence Committee votes to make it public
The forced retirement of Andrew McCabe as FBI deputy director is the latest attempt to clean up the bureau's reputation after several controversies
The Pentagon has ordered restrictions on the release of Afghanistan war data for the first time, months after Trump announced a need for a new battlefield strategy
THE LEAD STORY - THE STATE OF TRUMP'S UNION: President Trump will use his first State of the Union address on Tuesday night to extend an olive branch across the aisle and signal he's willing to make bipartisan deals on second-year-agenda priorities like immigration and infrastructure, officials say. But what's less clear is whether the president will get buy-in from Democrats, who have been bashing his immigration deal proposals and who are wary of helping him secure policy victories in a midterm election year... A senior administration official said Trump will emphasize his trillion-dollar infrastructure plan to rebuild the country's roads, bridges, ports and tracks during the annual speech to Congress. The official also said the president will tout the framework his administration released last week for an immigration deal that includes a path to citizenship for illegal immigrants brought to the United States as children in return for funding for his wall along the Mexico border.
WILL 'ALARMING' MEMO SHOCK THE PUBLIC?: The House Intelligence Committee on Monday evening voted to release a classified memo circulating in Congress that purportedly reveals government surveillance abuses ... The vote was announced to reporters by California Rep. Adam Schiff, the top Democrat on the committee, who called it a "very sad day, I think, in the history of this committee." The motion passed on a party-line basis, he said. President Trump now has five days to decide whether he has any objections before the memo can be publicly released. Last week, a top Justice Department official urged House Intelligence Chairman Devin Nunes not to release the memo, saying it would be "extraordinarily reckless" and could harm national security and ongoing investigations. Those who have seen the four-page memo suggest it reveals what role the unverified anti-Trump "dossier" played in the application for a surveillance warrant on at least one Trump associate.
CLEANING UP THE FBI: Andrew McCabe's "removal" from his post as FBI deputy director is the latest attempt by the embattled agency to clean up its reputation after months of allegations of political bias and conflicts of interest ... McCabe's abrupt departure Monday came after months of conflict-of-interest complaints from Republicans including President Trump. A source confirmed to Fox News that McCabe is taking "terminal leave" – effectively taking vacation until he reaches his planned retirement in a matter of weeks. Republicans have long questioned McCabe's ties to the Democratic Party and the Clintons, considering his wife ran as a Democrat for a Virginia Senate seat in 2015 and got financial help from a group tied to Clinton family ally Terry McAuliffe. They wondered how he could effectively investigate Clinton's email server case.
In addition, McCabe's name has surfaced in connection with several other controversies. The Daily Beast reported that a GOP memo alleging government surveillance abuse named McCabe, along with Deputy Attorney General Rod Rosenstein and ex-FBI boss James Comey. Incidentally, the McCabe removal comes after FBI Director Christopher Wray viewed the memo Sunday on Capitol Hill, as reported by Fox News' Catherine Herridge. The removal also comes ahead of a DOJ inspector general report regarding the handling of the Hillary Clinton email probe.
A 'TROUBLING' POLICY CHANGE ON AFGHANISTAN: The Defense Department has told its inspector general overseeing the reconstruction of Afghanistan to hide what used to be public data on how much of the country is controlled by insurgent groups, the watchdog said in a report published Tuesday ... John Sopko, special inspector general for Afghanistan reconstruction (SIGAR), called the policy change "troubling for a number of reasons, not least of which is that this is the first time SIGAR has been specifically instructed not to release information marked 'unclassified' to the American taxpayer."
AS SEEN ON FOX NEWS
'ACTIVIST B----ES': "That... one is kind of pathetic. It's like watching some weird 'Golden Girls on Meet the Press' [act]. Like Betty White doing a rapping granny routine - old broads talking dirty." – Commentator Mark Steyn, on "Tucker Carlson Tonight," reacting to Hillary Clinton's "B****es Supporting B****es" video, and ripping the former first lady for claiming to be a feminist in light of new allegations she refused to fire a campaign aide over sexual harassment allegations. WATCH
PARTS OF CALIFORNIA, NEW YORK, SECEDING FROM UNION?: "This is so offensive to me...I'd like to see this guy go and serve, and spend one day doing [what] the brave men and women do that defend this country and our freedom." – Kimberly Guilfoyle, on The Five, ripping California councilman and high school teacher Gregory Salcido for an anti-military rant captured on tape by one of his students. WATCH
ACROSS THE NATION
Starnes: Student who triggered military-hating California teacher gives his side of the story.
DACA recipients arrested over suspicion of human smuggling: report.
School denounced for plans to fly Black Lives Matter flag.
COUNTDOWN TO SUPER BOWL LII
Super Bowl prop bets feature Pink, Tom Brady's stolen jersey.
Super Bowl LII to score record share of TV ad revenue.
Former Eagles coach claims Patriots may have stolen signals in Super Bowl XXXIX.
MINDING YOUR BUSINESS
Manufacturers optimistic ahead of Trump's first State of the Union.
Taxpayers' paycheck problems could lead to big bill from IRS, expert warns.
Los Angeles Memorial Coliseum to get new name after deal with United Airlines.
NEW IN FOX NEWS OPINION
Juan Williams: The Russia internet wars continue, to Trump's advantage and America's detriment.
Pete Hegseth: President Trump, don't let your State of the Union lock you into a bad immigration deal.
Dr. Marc Siegel: Flu fears and facts.
HOLLYWOOD SQUARED
John Leguizamo considers quitting acting to run for office.
Former HGTV star arrested, denies claims of child molestation.
Woody Allen defended by co-star Diane Keaton amid resurfaced molestation accusations.
DID YOU HEAR ABOUT THIS?
Super Blue Blood Moon 2018: What, when and where.
Extremely rare 'ghostly' white stag spotted in Scotland.
Delta tightens leash on emotional support animals.
STAY TUNED
Stay with Fox News on all its platforms for complete coverage and analysis of President Trump's State of the Union address all day today and special prime-time coverage tonight! Bret Baier and Martha MacCallum anchor Fox News' coverage of Trump's State of the Union address starting at 9 p.m. ET.
On Fox News:
Fox & Friends, 6 a.m. ET: House Speaker Paul Ryan sits down with Ainsley Earhardt in a wide-ranging interview; House Majority Whip Steve Scalise and White House press secretary Sarah Huckabee Sanders preview President Trump's State of the Union address; Rep. Trey Gowdy talks about the FISA abuse memo; the mother of a teen girl killed by the MS-13 gang talks about her invitation to the State of the Union; Janice Dean and Shannon Bream tour Washington D.C.
The Daily Briefing with Dana Perino, 2 p.m. ET: Senate Majority Leader Mitch McConnell sits down with Dana for an exclusive interview!
Special Report, 6 p.m. ET: Kellyanne Conway gives insight of President Trump's first State of the Union address.
Tucker Carlson Tonight, 8 p.m. ET: Brit Hume; Newt Gingrich; former DNC Chair Donna Brazile; former Maryland Governor Martin O'Malley.
Stay with Fox News for all the late night fallout from Trump's State of the Union Address!
Hannity, Special Time:11 p.m. ET - Special guest: Donald Trump, Jr.
The Ingraham Angle, Special Time: Midnight ET
Fox News @ Night, Special Time: 1 a.m. ET
On Fox Business:
Mornings with Maria, 6 a.m. ET: Guests include: Presidential historian Doug Wead; Mick Mulvaney, Director of the Office of Management and Budget; former DNC Chair Donna Brazile; House Majority Leader Kevin McCarthy; Linda McMahon, Administrator of Small Business Administration; Rep. Michael McCaul.
Varney & Company, 9 a.m. ET: Rep. Matt Gaetz; House Ways and Means Committee Chairman Kevin Brady; Danny Coulson, former FBI deputy assistant director.
Cavuto: Coast to Coast, Noon ET: Former Virginia Gov. George Allen.
On Fox News Radio:
The Fox News Rundown podcast: FBI Deputy Director Andrew McCabe is out after being repeatedly criticized over the past year by President Trump and Republicans. Fox News Justice Department producer Jake Gibson and Fox News White House correspondent Jon Decker have the latest details. President Trump will deliver his first State of the Union address tonight. Bill McGurn, former speechwriter for President George W. Bush, explains how the speech is crafted and what to watch for. Plus, commentary from Fox News contributor Tammy Bruce.
Want the Fox News Rundown sent straight to your mobile device? Subscribe through Apple Podcasts, Google Play, and Stitcher.
The Brian Kilmeade Show, 9 a.m. ET: House Ways and Means Chairman Kevin Brady, Karl Rove and Shannon Bream preview the State of the Union; former CIA official Daniel Hoffman sounds off on the latest revelations in the Trump dossier investigation.
The Tom Shillue Show, 3 p.m. ET: Which President Trump will show up for the State of the Union? Howard Kurtz, host of "MediaBuzz" and author of the new book "Media Madness: Donald Trump, The Press, And The War Over The Truth," joins Tom to preview tonight's big speech.
#OnThisDay
1981: An estimated 2 million New Yorkers turn out for a ticker-tape parade honoring the American hostages freed from Iran.
1972: 13 Roman Catholic civil rights marchers are shot to death by British soldiers in Northern Ireland on what became known as "Bloody Sunday."
1933: The first episode of the "Lone Ranger" radio program is broadcast on station WXYZ in Detroit.
Fox News First is compiled by Fox News' Bryan Robinson. Thank you for joining us! Enjoy your day, and we'll see you in your inbox first thing Wednesday morning.