FOX NEWS FIRST: Trump says anonymous NY Times op-ed backfired; Kavanaugh hearings could wrap up Friday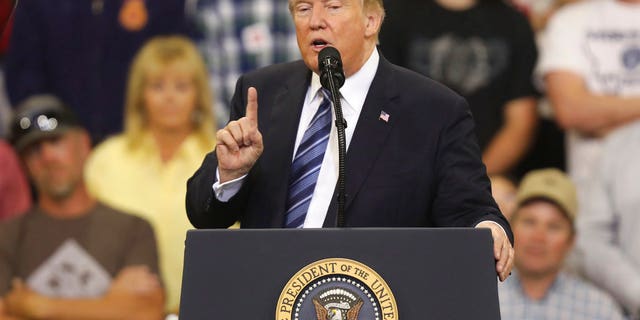 Welcome to FOX News First. Not signed up yet? Click here.
Developing now, Friday, Sept. 7, 2018
President Trump, at a rally in Montana, slammed the author of the anonymous New York Times op-ed, saying the plan by the 'gutless coward' to undermine his administration had 'backfired.'
TUNE IN: 'FOX & Friends' will have an exclusive interview with President Trump today at 6 a.m. ET.
More political fireworks marked the third day of Supreme Court nominee Brett Kavanaugh's confirmation hearings on Capitol Hill. One leading Democrat released 'confidential' documents and others focused on Special Counsel Robert Mueller's Russia investigation and old Kavanaugh emails.
Rudy Giuliani says President Trump will not answer any questions from Mueller about alleged obstruction, according to one report.
CBS's board of directors is negotiating terms for the departure of embattled chief executive Les Moonves.
The death of Burt Reynolds at age 82 had Hollywood luminaries and fans paying tribute to the actor who ruled at the box office in the 1970s and early 1980s with such films as 'Deliverance' and 'Smokey and the Bandit.'
THE LEAD STORY - TRUMP TO 'GUTLESS' WHITE HOUSE STAFFER: YOUR PLAN BACKFIRED: President Trump, speaking a campaign rally in Billings, Mont., on Thursday night, said the New York Times op-ed written by the anonymous "senior White House official" in his administration had "backfired" and given him more supporters ... "Unelected, deep-state operatives who defy the voters to push their own secret agendas are truly a threat to democracy itself," Trump said. "For the sake of our national security, the New York Times should publish his name at once. I think their reporters should go and investigate who he is. That would actually be a good story."
The op-ed was not the focus of Trump's wide-ranging speech. He spoke in support of GOP congressional candidate Matt Rosendale in his quest to unseat Democratic Sen. John Tester. Trump kicked off the rally touting the work his administration has done and briefly mentioned the ongoing Senate confirmation hearings for Supreme Court nominee Brett Kavanaugh. Likely referring to Democrats' political theatrics during the hearings, Trump said it was "embarrassing to watch those people make fools of themselves as they scream and shout at this great gentleman."
BOOKER'S 'SPARTACUS' MOMENT: After beginning with a bizarre series of document releases that prompted one top Democrat to compare himself to Thracian gladiator Spartacus, the third day of Supreme Court nominee Brett Kavanaugh's confirmation hearings centered on Special Counsel Robert Mueller's investigation -- and a string of emails from earlier in the nominee's career, more than a decade ago ... As Democrats questioned Kavanaugh, Sen. Cory Booker, D-N.J., on Thursday afternoon released a new batch of documents that appeared to be labeled "committee confidential," meaning they were cleared to be viewed only by the Senate Judiciary Committee, not the public. Booker tweeted that the entire nominating process was a "sham" bent on hiding information, after claiming earlier in the day he was risking "ousting" from the Senate for breaking its rules by posting the documents.
A Judiciary Committee spokesperson confirmed to FOX News late Thursday that at least some of the documents Booker had released were still "committee confidential" when he published them hours earlier, although Republicans had said that they had cleared many of the emails for public release Wednesday night.
In the evening, Sen. Kamala Harris, D-Calif. -- another potential 2020 presidential contender -- circled back to a combative, mysterious moment during Wednesday's hearing, when she suggested Kavanaugh was hiding information intentionally.
Kavanaugh's confirmation hearings could conclude Friday.
OBSTRUCTION QUESTIONS A 'NO-GO' FOR TRUMP: President Trump will not answer federal investigators' questions, in writing or in person, about whether he tried to hinder the investigation into Russian interference in the 2016 election, his attorney, Rudy Giuliani, has told the Associated Press ... Giuliani said questions about obstruction of justice were a "no-go." It's unclear if Giuliani's public stance is shared by Trump, who has suggested he wants to answer questions under oath. Negotiations about possible Trump interview with Mueller and his team are ongoing. Mueller has agreed to accept some written responses from President Trump in his Russia investigation, and the president's legal team says it is still deciding whether to "accept the proposition."
MOONVES ON HIS WAY OUT ... BUT NOT WITHOUT HIS GOLDEN PARACHUTE: CBS is close to parting ways with embattled CEO Les Moonves, but the high-powered executive is negotiating his exit package which could exceed $100 million after he was accused of sexual misconduct earlier this year, according to Fox Business' Charlie Gasparino ... COO Joe Ianniello is expected to be named interim CEO, but CBS's board has consulted with an executive search firm to help find a long-term replacement for Moonves, Gasparino reported. CBS's controlling shareholder, Sumner and Shari Redstone's National Amusements Inc., has been engaged in a heated battle for corporate control and Moonves' exit was part of recent talks.
REMEMBERING BURT REYNOLDS: Comedians, actors, directors and others in the entertainment industry paid tribute to Burt Reynolds on Thursday after learning the Hollywood icon reportedly died of cardiac arrest at age 82 ... The Academy Award-nominated actor was known for roles including "Smokey and the Bandit," "The Longest Yard" and "Boogie Nights." But his career in Hollywood stretched far beyond just those titles. Over his lifetime, Reynolds appeared in nearly 200 films.
Fans of the star noted watching a variety of these films over the years. Comedian Dane Cook said he was raised on Reynolds' movies. "Sad to hear Burt Reynolds has died. Man… I grew up watching 'Cannonball Run'.. 'Smokey and the Bandit.'.. 'Stroker Ace' and so many others," he said, adding that Reynolds had "swagger and charm," particularly in his role as Jack Horner in the 1997 classic "Boogie Nights."
AS SEEN ON FOX NEWS
THE MYTH OF COLIN KAEPERNICK: ""He started kneeling because he knew he was getting cut, and [he] tried to reinvent himself, and the media came in and they made this guy a hero when he didn't deserve it, because the real heroes are the cops on his socks that he mocked." – Jesse Watters, on "The Five," arguing that the media has created unemployed NFL quarterback Colin Kaepernick's activist image. WATCH
THE PAPER OF BROKEN RECORD: "That's not journalism, that's clickbait. So, well done, New York Times. You may be the paper of record, but it's a broken one." – Greg Gutfeld, on "The Five," arguing that controversial New York Times op-ed allegedly written by an anonymous senior Trump administration official "doesn't hurt Trump a bit." WATCH
COUNTDOWN TO THE 2018 MIDTERMS
California Dems Newsom, Feinstein drop to single-digit leads in latest poll.
John Fund: Delaware Democrats reject far-left candidate, renominate Sen. Tom Carper.
Abolish ICE? Kansas Democrat now says no ... after saying yes in July.
TRENDING
Miss America contestant advances after response to NFL protest.
FOX Business' Gerri Willis leads fight against breast cancer at Susan G. Komen Greater NYC Race for the Cure.
Alex Jones, InfoWars, 'permanently suspended' by Twitter.
THE SWAMP
House opens inquiry into GOP Reps. Hunter and Collins in wake of federal indictments.
Haley warns Syria, Russia, Iran against using chemical weapons: Don't bet against the U.S.
Homan: Bill that would ban ICE courthouse arrests is a 'deterioration' of country's foundation.
ACROSS THE NATION
Homeless Philadelphia man will get his $400G, GoFundMe says.
NFL regular season opener sees no kneeling during national anthem
Hurricane Florence could wallop East Coast in days ahead, forecasters say.
MINDING YOUR BUSINESS
Elon Musk takes a fatalistic view toward artificial intelligence.
Eye in the Tesla sky: What aerial photos say about Elon Musk's sales.
August jobs report: Have we maxed out employment creation?
Ex-Starbucks chief Howard Schultz hints at political aspirations.
Employers struggle to fill jobs paying $75,000 a year with benefits, pension
This is how Texas plans to kill ObamaCare.
Equifax data breach: How consumers have responded one year later.
Here's why you shouldn't retire super early.
FOX NEWS OPINION
Marc Thiessen: To the New York Times op-ed writer: If you can't serve honorably, don't serve at all.
Newt Gingrich: Anonymous NY Times op-ed is a liberal media attack on President Trump.
Laura Ingraham: New York Times' op-ed and the unrelenting vendetta against Trump – RIP journalism.
HOLLYWOOD SQUARED
Ex-wife claims Michael Moore stiffed her out of movie profits.
'The Predator' removes scene with registered sex offender.
'Frozen' actor rips Trump banner away from audience member, says he won't apologize.
DID YOU HEAR ABOUT THIS?
NASA's Parker Solar Probe gets closer to 'touching the Sun.'
Scientists want to clone this extinct, frozen prehistoric horse.
Scotland Gin Society ads removed for claiming drink is healthier than fruit, exercise.
STAY TUNED
FOX Nation is coming! - Sign up now and find out about its exciting launch!
On Facebook:
Check out 'FOX News Update,' our new Facebook-exclusive news program!
On FOX News:
FOX & Friends, 6 a.m. ET: Don't miss Pete Hegseth's must-see interview with President Trump. Plus, "Breakfast with Friends": What do diners in Montana think of Trump? Kurt the "CyberGuy" on how to erase everything you ever searched for on Google. Additional special guests include: Sen. Lindsey Graham and Geraldo Rivera.
FOX News Live Coverage: The Kavanaugh Hearings, starting at 9:15 a.m. ET - Stay with FOX News for complete coverage and in-depth analysis.
The Ingraham Angle, 10 p.m. ET: Don't miss Laura Ingraham's special town hall in Chicago!
FOX News @ Night, 11 p.m. ET: Special guest: Former Rep. Jason Chaffetz.
On FOX Business:
Mornings with Maria, 6 a.m. ET: Special guests include: Sen. Ted Cruz; Bernardo Hees, Kraft Heinz CEO; Jon Hilsenrath, global economics editor, the Wall Street Journal; Lisa Erickson, senior vice president and head of Traditional Investments Group at U.S. Bank Wealth Management.
Varney & Co., 9 a.m. ET: Larry Kudlow, National Economic Council director; Robert Kaplan, president and CEO of the Federal Reserve Bank of Dallas; Jeff Ballabon, Trump campaign adviser; Andy Cunningham, former publicist for Steve Jobs.
Cavuto: Coast to Coast, Noon ET: Scott McNealy, Sun Microsystems co-founder.
The Intelligence Report, 2 p.m. ET: Karl Rove, former Bush senior adviser and White House chief of staff; Tom Dupree, former deputy assistant attorney general.
On FOX News Radio:
The FOX News Rundown podcast: Former Contra Costa County investigator, Paul Holes, was part of solving California's most infamous cold cases. He joins the podcast to discuss how he used DNA technology to catch the accused "Golden State Killer" and more. Former University of Louisville basketball coach Rick Pitino was one of the most successful coaches ever until his career was ended by a scandal involving escorts for recruits and an FBI investigation. The hall of fame coach tells his side of the story in his new book, "Pitino: My Story." Plus, commentary by "FOX News Sunday" host, Chris Wallace.
Want the FOX News Rundown sent straight to your mobile device? Subscribe through Apple Podcasts, Google Play, and Stitcher.
The Brian Kilmeade Show, 9 a.m. ET: The hot topics of the day will be the President Trump's rally in Montana, his exclusive interview on "FOX & Friends," Kavanaugh confirmation hearings, the New York Times op-ed by an anonymous White House administration official, the latest in the Robert Mueller investigation with special guests: Geraldo Rivera; Shannon Bream; documentary filmmaker Ami Horowitz; Mercedes Schlapp, White House director of strategic communications; Retired Adm. James Stavridis.
The Tom Shillue Show, 3 p.m. ET: Comedian and writer Jimmy Failla and National Review reporter and FOX News contributor Kat Timpf join Tom Shillue's nightly panel to discuss Alex Jones getting permanently banned from Twitter and the latest news of the day!
Benson & Harf, 6 p.m. ET: Don't miss a special interview with House Majority Whip Steve Scalise.
On FOX News Weekend:
Cavuto Live, Saturday, 10 a.m. ET: Bob Bennett, former attorney to President Bill Clinton, on why he is supporting Supreme Court nominee Brett Kavanaugh. Plus, National Association of Police Organizations President Michael McHale on Nike's Colin Kaepernick ad.
Life, Liberty & Levin, Sunday,10 p.m. ET: Academy Award Winner Jon Voight joins Mark to discuss his career, current events and the direction our country's moral compass is pointing.
#OnThisDay
2008: Troubled mortgage giants Fannie Mae and Freddie Mac are placed in government conservatorship.
1996: Rapper Tupac Shakur is shot and mortally wounded on the Las Vegas Strip; he died six days later. (Shakur's slaying remains unsolved.)
1979: The Entertainment and Sports Programming Network (ESPN) makes its cable TV debut.
FOX News First is compiled by FOX News' Bryan Robinson. Thank you for joining us! Enjoy your day and weekend! We'll see you in your inbox first thing Monday morning.