FOX NEWS FIRST: Trump nukes Iran deal and Obama legacy; Round-up of primary results; Trump CIA pick faces grilling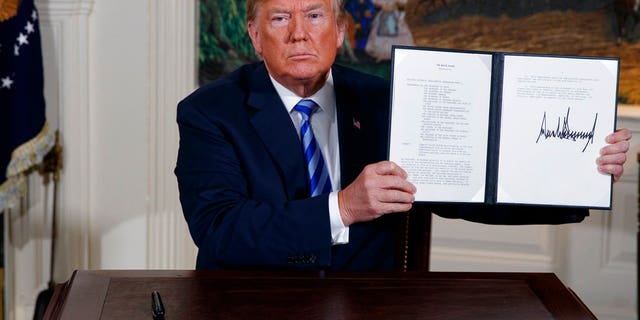 Welcome to Fox News First. Not signed up yet? Click here.
Developing now, Wednesday, May 9, 2018
President Donald Trump says the U.S. will withdraw from the Iran nuclear deal; critics see decision as Trump's latest move to undo the Obama legacy
Ex-con mining boss Don Blankenship fails in his U.S. Senate run in West Virginia, losing to state Attorney General Patrick Morrisey; Indiana businessman Mike Braun and Ohio Rep. Jim Renacci win their GOP Senate primaries, while incumbent U.S. Rep. Robert Pittenger loses in North Carolina to the Rev. Mark Harris
Gina Haspel, President Trump's choice to head the CIA, is expected to face Senate Intelligence Committee questions Wednesday as her confirmation hearing gets underway
Secretary of State Mike Pompeo is in North Korea, making preparations for Trump's anticipated summit with Kim Jong Un
A firmed linked to a Russian oligarch made more than $1 million in payments to Trump's personal lawyer, Michael Cohen, a report says
THE LEAD STORY - TRUMP REJECTS IRAN DEAL - AND OBAMA: President Trump's announcement Tuesday that the United States would withdraw from the 2015 Iran nuclear agreement marks just the latest development in the president's ongoing effort to undo predecessor Barack Obama's legacy -- including trying to dismantle ObamaCare while making drastic changes to U.S. immigration and military policies ... In his address to the nation announcing the pullout, Trump said the Iran deal had been "so poorly negotiated that even if Iran fully complies, the regime can still be on the verge of a nuclear breakout in just a short period of time."
Since taking office in January 2017, Trump has repealed or rescinded dozens of regulations, executive orders and international agreements implemented by the Obama administration over the eight years of his presidency. Meanwhile, the head of Iran's parliamentary committee on national security said Wednesday that the country is preparing to continue spending on its ballistic missile program, a direct response to Trump's decision.
PRIMARY ROUND-UP: West Virginia's attorney general, Patrick Morrisey, pulled off an upset in the state's Senate Republican primary on Tuesday, defeating former coal executive Don Blankenship and U.S. Rep. Evan Jenkins in the combative race that saw a last-minute appeal from President Trump ... The results could be seen as a victory for Trump, who had urged Republican voters to reject Blankenship as doomed to lose to incumbent Democratic Sen. Joe Manchin in November. It could also be seen as a win for Senate Majority Leader Mitch McConnell, who clashed with Blankenship during the campaign.
Meanwhile, Indiana businessman Mike Braun and Ohio Rep. Jim Renacci will also both win their state's Republican Senate primaries, according to the Fox News Decision Desk. Also in Ohio, Republican Mike DeWine and Democrat Richard Cordray won their parties' primaries in the race to succeed term-limited GOP Gov. John Kasich. And in North Carolina, U.S. Rep. Robert Pittenger, lost the Republican primary to challenger Mark Harris, a Baptist minister. Pittinger is the first incumbent to lose his seat this primary season.
CIA PICK FACES GRILLING: Gina Haspel, President Trump's pick to run the CIA, is expected to field tough questions Wednesday during her confirmation hearing before the Senate intelligence committee, as many officials in her corner provide glowing endorsements of the woman who spent decades as a career undercover spy ... Haspel, 61, is expected to say that if she is confirmed by the Senate, the spy agency will not restart a detention and harsh interrogation program like the one used to get terror subjects to talk after 9/11 -- and generated controversy worldwide.
SUMMIT PREP IN NORTH KOREA: Secretary of State Mike Pompeo arrived in Pyongyang, North Korea on Tuesday, following earlier remarks by President Trump, who said he was going to the country to prepare for the upcoming meeting with leader Kim Jong Un ... The president also hinted at the possible release of three American prisoners. Trump had hinted that the release was imminent last week, writing in a tweet: "Stay tuned." Pompeo's visit to North Korea is his second; he secretly met with Kim during Easter weekend this past March. "Hopefully a deal will happen," Trump said, "and, with the help of China, South Korea and Japan, a future of great prosperity and security can be achieved for everyone."
CASH PAID TO COHEN?: A firm linked to a Russian oligarch made payments totaling more than $1 million to Michael Cohen, the personal attorney of President Trump, according to a report ... Cohen allegedly utilized shell company Essential Consultants LLC to pay money to adult-film star Stormy Daniels over an alleged affair with the president in 2006. The company, according to the New York Times, also was used for a series of business transactions and around $4.5 million ran through it from approximately November 2016 up until January 2018. Of that money, payments totaling approximately $500,000 were made by investment firm Columbus Nova in 2017, the Times reported. One of that firm's biggest clients is a company helmed by Russian oligarch Viktor Vekselberg, who reportedly was questioned at an airport this year by members of Special Counsel Robert Mueller's team.
AS SEEN ON FOX NEWS
THE LEFT'S 'RANK HYPOCRISY': "The left, while claiming to be the true champions of women, consider them disposable when they become politically inconvenient. Eric Schneiderman was a stalwart political ally of the left. But he's out of the picture now, so move on, quickly move on! And it's back to vilifying Trump and any woman who supports his agenda." – Laura Ingraham, on "The Ingraham Angle," slamming liberals' reaction to New York Attorney General Eric Schneiderman resigning amid allegations of violence against women. WATCH
SALUTING PRESIDENT TRUMP: "Thank you Mr. President, I really appreciate it." – Retired Staff Sgt. Robert Bartlett, who was seriously wounded by a roadside bomb manufactured by Iranians, on "The Story with Martha MacCallum" praising President Trump's decision to pull out of the Iran nuclear deal. WATCH
THE SWAMP
Pelosi says Dems will work to roll back Trump tax cuts if they retake Congress.
Howard Kurtz: Lack of substance: Media liberals say 'Trump Porn' is hurting them, too.
Effort to eliminate florist licenses in Louisiana becomes a thorny issue.
ACROSS THE NATION
Mormons to end long association with Boy Scouts of America.
Hawaii volcano triggers more evacuations as two new vents appear.
'Inclusive' cheerleading policy rolled out at high school after parent complained child missed the cut.
Man nearly dies from sepsis infection caused by biting his fingernails.
George Deukmejian, ex-governor of California, dies.
MINDING YOUR BUSINESS
Midterm elections and stocks: How to gain no matter who wins.
Vodafone to buy Liberty assets in four European countries for nearly $23 billion
Michelin promotes tire care as rival Goodyear faces safety investigation.
Japan's Recruit to buy U.S. job-hunting site Glassdoor for $1.2 billion.
Sean Combs' Revolt Media and TV lays off one-third of staff.
FOX NEWS OPINION
John Stossel: What haters don't get about Betsy DeVos.
Liz Peek: Eric Schneiderman, #MeToo champion, is new poster-child for the hypocrisy of New York's liberal elites.
Lauren DeBellis Appell: Melania Trump shows why America is falling in love with her.
HOLLYWOOD SQUARED
Meghan Markle and Prince Harry's royal wedding guest list.
Katy Perry tries to end feud with Taylor Swift.
'Lethal Weapon' reportedly fires main star, seeks to recast for Season 3.
DID YOU HEAR ABOUT THIS?
PHOTOS: Northern lights shine over Michigan's Mackinac Bridge.
North Carolina researchers catch 9.5-foot alligator in Kitty Hawk canal.
Personal trainer sets burpee world record, but critics say she wasn't doing burpees.
STAY TUNED
On Fox News:
Fox & Friends, 6 a.m. ET: A breakdown of Tuesday's primary results and what they mean for November midterms. Why the man who helped develop the CIA's enhanced interrogation program is endorsing Gina Haspel's nomination for CIA director. Sen. Tom Cotton weighs in on President Trump's Iran deal decision, and National Security Adviser John Bolton on Trump's nixing the Iran deal and Secretary of State Pompeo's trip to North Korea.
On Fox Business:
Mornings with Maria, 6 a.m. ET: Guests include: Mohamed El-Erian, Allianz chief economic adviser; Victoria Coates, special assistant to President Trump on the U.S. National Security Council; Sen. James Lankford.
Varney & Co., 9 a.m. ET: Rep. Louie Gohmert; Chuck DeVore, vice president for National Initiatives for the Texas Policy Foundation.
Cavuto: Coast to Coast, Noon ET: Amb. Paul Bremer.
After the Bell, 4 p.m. ET: Rep. Chris Stewart; Kyle Hupfer, Indiana GOP chairman.
The Evening Edit, 5 p.m. ET: Guests include: Rep. Doug Collins; Lt. Gen Thomas McInerney.
Lou Dobbs Tonight, 7 p.m. ET: Reps. Jim Jordan and Diane Black.
On Fox News Radio:
Benson & Harf, 6 p.m. ET: Don't miss the new show hosted by Guy Benson, political editor at Townhall.com and Marie Harf, former senior adviser of strategic communications at the State Department.
The Fox News Rundown podcast: Gina Haspel, President Trump's nominee for CIA director, faces her confirmation hearing on Wednesday. Her role at the CIA after 9/11 has caused some controversy. Fox News chief intelligence correspondent Catherine Herridge weighs in. President Trump announced Tuesday that the U.S. is pulling out of the Iran nuclear deal. Fox News' Rich Edson discusses the potential impact of Trump's decision. Plus, commentary by Karol Markowicz, columnist for FoxNews.com and the New York Post.
Want the Fox News Rundown sent straight to your mobile device? Subscribe through Apple Podcasts, Google Play, and Stitcher.
The Brian Kilmeade Show, 9 a.m. ET: Monica Crowley is guest-hosting. Nation Review columnist Andrew McCarthy and Victoria Coates, special assistant to President Trump on the U.S. National Security Council, on Trump withdrawing from the Iran nuke deal. Paul Lavelle, president of Operation Restored Warrior, reveals how his organization intervenes with the most-at risk military veterans.
#OnThisDay
2017: President Trump fires FBI Director James Comey, ousting the nation's top law enforcement official in the midst of an FBI investigation into whether Trump's campaign had ties to Russia's meddling in the 2016 presidential election.
1958: "Vertigo," Alfred Hitchcock's thriller starring James Stewart and Kim Novak, premieres in San Francisco,
1914: President Woodrow Wilson, acting on a joint congressional resolution, signs a proclamation designating the second Sunday in May as Mother's Day.
Fox News First is compiled by Fox News' Bryan Robinson. Thank you for joining us! Enjoy your day! We'll see you in your inbox first thing Thursday morning.