FOX NEWS FIRST: Trump defends handling of Puerto Rico crisis; Massive sanctuary city raids nationwide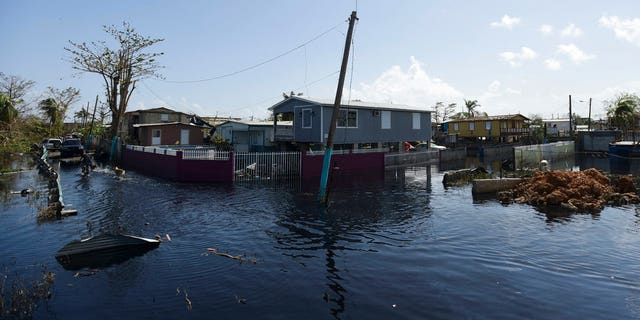 TOP OF THE MORNING
It's Friday, Sept. 29, 2017. Welcome to Fox News First, your home for all the news you need to start the day. To have your early morning buzz emailed directly to your inbox, subscribe by clicking here.
Here's your Fox News First 5 - the first five things you need to know today:
Trump administration defends its Puerto Rico hurricane response
Is NFL back to normal? Packers, Bears stand during national anthem
ICE sanctuary city raids yield 500 arrests of illegal immigrants
Russia probe: Senate panel may subpoena two top FBI officials on Comey firing, Clinton emails
COMING MONDAY: Fox News Channel launches its new daytime lineup
Let's take a deeper dive into these stories ...
THE LEAD STORY: The Trump administration is pushing back against allegations that it has responded too slowly to Puerto Rico's humanitarian crisis following Hurricane Maria ... President Trump on Thursday issued a 10-day waiver of the Jones Act, clearly the way for emergency supplies to reach the island. In addition, House Speaker Paul Ryan said FEMA's disaster relief account would get a $6.7 billion boost by the end of the week. But Trump insisted relief efforts were succeeding in a series of tweets.
NFL READY TO MOVE ON? ... MAYBE: Every player on the field stood for the national anthem ahead of Thursday night's Packers-Bears game, perhaps a sign that the league is ready put the protest controversy behind it and focus on football ... Players, coaches and staff from both teams were linked arm-in-arm, and some with hands on their hearts, as country singer Tyler Farr performed the anthem. Cameras panning around Green Bay's Lambeau Field showed fans locking arms with one another as well. The show of solidarity followed a tumultuous week of protests throughout the league – in response to President Trump's criticism of players kneeling during the anthem. Meanwhile, the Denver Broncos have announced they will stand together Sunday in respect to the national anthem, the country and its veterans. Maybe leaving politics out of football will become the "new normal."
NO SANCTUARY FOR ILLEGALS: Immigration and Customs Enforcement officials announced the arrests of nearly 500 illegal immigrants living in sanctuary cities across the country as part of a massive illegal immigration sweep this week ... The raid, called "Operation Safe City," spanned four days and ended Wednesday. Illegal immigrants with criminal charges or known gang affiliations were targeted. Participants in the DACA (Deferred Action for Childhood Arrivals) program were not.
SEEKING ANSWERS: Senate Judiciary Committee Chairman Chuck Grassley is threatening to subpoena two top FBI officials to answer questions about Russia, the Comey firing, Hillary Clinton's emails and more ... Grassley, an Iowa Republican, has been seeking a closed-door interview with FBI officials Carl Ghattas and James Rybicki. Ghattas is executive assistant director of the FBI National Security Branch; Rybicki is chief of staff and senior counselor to the FBI director. Stephen Boyd, assistant attorney general, told Grassley in a letter that the officials could not be interviewed over concerns it would interfere with the ongoing special counsel probe into Russian meddling in the 2016 presidential election. But Grassley said their testimony could be key to his panel's investigation. He wants to ask the officials about improper political influence or bias in the Justice Department, Comey's firing, the Clinton email investigation, the FBI's activities related to President Trump and his associates and Russia's interference in the 2016 election.
COMING MONDAY: Two brand-new shows will premiere as Fox News Channel powers up its daytime lineup ... Sandra Smith will debut as Bill Hemmer's co-anchor on "America's Newsroom," airing weekdays at 9 a.m. ET. Later, Harris Faulkner will anchor "Outnumbered Overtime with Harris Faulkner," airing weekdays at 1 p.m. ET; Then Dana Perino anchors "The Daily Briefing with Dana Perino," weekdays at 2 p.m. ET. Faulkner and Smith will continue as co-hosts of "Outnumbered," which airs at Noon ET, while Perino will be back for "The Five," at 5 p.m. ET.
ABOUT LAST NIGHT
PAYBACK TIME: "I look forward to regaining the trust that some of the American people may have lost [due to] the activities that I took, and to not only regain the trust of the American people, but gain the trust of the administration and the president." – Health and Human Services Secretary Tom Price, on "Special Report with Bret Baier," saying that he would reimburse the government for costly charter flights. WATCH
PRAYER VS. PROTEST: "I can't wrap my brain around it. I'm a Marine. I want the same rights for everybody else." – Former Washington state high school football coach Joe Kennedy, who was fired for kneeling in prayer, reacting to NFL players' national anthem protests on "The Story with Martha MacCallum." WATCH
RUSH KNOWS THE SCORE: "The joke is revealed if an outsider with no prior political experience can come in and fix messes that people have been promised would be fixed for 30 years. How does that make them look? They can't allow that to happen" – Rush Limbaugh, on "Hannity," explaining why he believes the political establishment on both sides of the aisle is against Trump. WATCH
MINDING YOUR BUSINESS
U.S., Canada tied as world's 11th freest economies: Study.
Whole Foods says taprooms, restaurants hacked.
Oil mixed but set for weekly gain.
KB Home CEO talks Kathy Griffin dust-up on earnings call.
NEW IN FOX NEWS OPINION
Gregg Jarrett: Trump won't fire Mueller because the president did nothing wrong.
Yes, Hugh Hefner was a pioneer -- in the objectification of women and the lie of the Playboy lifestyle.
Tomi Lahren takes on Michelle Obama's criticism of female Trump voters.
Todd Starnes: Is it permissible to desecrate the American flag for educational purposes?
HOLLYWOOD SQUARED
Julia Louis-Dreyfus reveals she has breast cancer.
OBJECTified preview: ABCs? Simon Cowell teaches son "NDA."
Is Victoria & Abdul worth your box office bucks?
Valerie Harper's cancer battle: 3 months became 5 years.
DID YOU HEAR ABOUT THIS?
ATHENA laser weapon "kills" 5 "outlaw" drones.
Scientists release last image from Rosetta probe before comet crash.
Etihad Airline is launching "fly now, pay later," gives customers 5 years to pay for ticket.
Christian woman sues Mississippi restaurant over dress code.
STAY TUNED
On Fox News:
Fox & Friends, 6 a.m. ET: Tucson Police Officer Brandon Tatum gives the scoop on his viral video slamming NFL millionaires. Plus, TMZ founder Harvey Levin previews the next episode of OBJECTified
America's Newsroom, 9 a.m. ET: House Majority Leader Kevin McCarthy reflects on Rep. Steve Scalise's emotional return to Capitol Hill and the chances for tax reform; Kellyanne Conway confronts the hot topics facing the President Trump and the White House
Tucker Carlson Tonight, 8 p.m. ET: "Clinton Cash" author Peter Schweizer says some congressional aides could face conflict-of-interest charges regarding their stock trades.
Hannity, 9 p.m. ET: Don't miss Part 2 of Sean's exclusive interview with talk radio icon Rush Limbaugh!
On Fox Business:
Mornings with Maria, 6 a.m. ET: White House Budget Director Mick Mulvaney and former Bush administration economic adviser Todd Buccholz talk the Trump-GOP tax reform plan; Puerto Rico Gov. Ricardo Rossello weighs in on the Trump administration's hurricane relief efforts
Varney & Company, 9 a.m. ET: Two CEOs discusses the potential impact of the Trump-GOP tax reform plan. Guests are Jay Timmons of the National Association of Manufacturers and Andy Puzder, formerly of CKE Restaurants
Countdown to the Closing Bell, 3 p.m. ET: Nicholas Pinchuk, Snap-On CEO, weighs in on tax reform
The Brian Kilmeade Show, 9 a.m. ET to 12 noon ET: Rep. Matt Gaetz takes on Trump vs. the NFL and reflects on Rep. Steve Scalise's surprise return to Capitol Hill since a June shooting; Eileen Minogue, co-founder of Patient AirLift Services, discusses her organization's role in providing hurricane relief
The Tom Shillue Show, 3 p.m. to 6 p.m. ET: Anthony Cumia, co-host of The Artie and Anthony Show, weighs in on the ongoing battle over free speech on college campuses
#OnThisDay
2005: John Roberts is sworn in as the nation's 17th chief justice after winning Senate confirmation.
1982: Extra-Strength Tylenol capsules laced with deadly cyanide claim the first of seven victims in the Chicago area. (The case remains unsolved.)
1977: Billy Joel's album "The Stranger" is released by Columbia Records.
1829: London's reorganized police force, which would become known as Scotland Yard, goes on duty.
Thank you for joining us on Fox News First! Enjoy your Friday and the weekend and we'll see you in your inbox first thing Monday morning!