FOX NEWS FIRST: Trump Asia trip achievements under the microscope; Roy Moore threatens lawsuit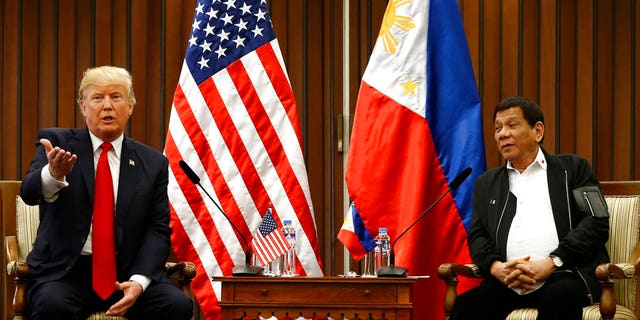 Welcome to Fox News First. Not signed up yet? Click here.
Developing now, Monday, Nov. 13, 2017:
President Trump touts trade gains during Asia trip, meets with Philippines President Duterte
Alabama GOP Senate nominee Roy Moore threatens to sue the Washington Post over sex scandal story
Report: Former White House National Security Adviser Michael Flynn and son investigated in Muslim cleric kidnap plot 
Earthquake on Iran-Iraq border kills more than 200 people
Most NFL players pause national anthem protests over Veterans Day weekend
THE LEAD STORY: President Trump touts a series of accomplishments, especially on trade, as his Asia trip winds down ... "We've made a lot of big progress on trade," Trump said. "We have deficits with almost everybody. Those deficits are going to be cut very quickly and very substantially." The president also alluded to progress made on North Korea, saying he would make a "major statement" in Washington on Wednesday. Trump on Monday met with Australian Prime Minister Malcolm Turnbull, Japanese Prime Minister Shinzo Abe and Philippines President Rodrigo Duterte. If reporters were waiting for Trump to denounce Duterte for human rights abuses or for calling former President Barack Obama a "son of a whore," they were disappointed.
MOORE THREATENS LAWSUIT: Facing growing calls for him to step aside, Alabama GOP Senate nominee Roy Moore is threatening to sue the Washington Post over a story alleging he had sexual contact with a teenager when he was a 32-year-old lawyer ... Speaking to supporters in Huntsville, Ala., Moore called the Post story "a desperate attempt to stop my political campaign" and said the allegations were "untrue and for which they will be sued." He also questioned why such allegations would surface for the first time just weeks before the Dec. 12 special election.
FLYNN FACING KIDNAP PROBE: Special Counsel Robert Mueller is reportedly investigating former National Security Adviser Michael Flynn and his son in connection with an alleged multimillion-dollar plot to nab a Muslim cleric in the United States and deliver him to Turkey ... Sources familiar with the investigation told the The Wall Street Journal that Flynn, a retired Army lieutenant general, and son Michael Flynn Jr. were set to get as much as $15 million to deliver cleric Fethullah Gulen to the Turkish government after it failed to secure his extradition from the U.S. Turkish officials accuse Gulen of being a terrorist.
DEADLY QUAKE AT IRAN-IRAQ BORDER: A powerful 7.3-magnitude earthquake along the Iran-Iraq border has killed at least 330 people and the death toll could rise ... Iran's western Kermanshah province bore the brunt of the temblor, with Iran's state-run news agency reported the quake killed 328 people in the country. State television said some 3,950 were injured. The area is a rural, mountainous region where residents rely mainly on farming to make a living.
TIMEOUT ON TAKING A KNEE: Very few NFL players protested Sunday as the league focused on Veterans Day weekend and a "Salute to Service"... Past player protests during the national anthem have sparked a backlash against pro football, including a Facebook page called "Boycott the NFL," which boasted more than 227,000 followers and asked fans to skip watching Sunday's games "in solidarity with veterans around the country." The San Francisco 49ers' Eric Reid and Marquise Goodwin were the only members of the team seen kneeling.
AS SEEN ON FOX NEWS WEEKEND
THE CASE FOR GOP'S TAX PLAN: "They're describing an America that doesn't exist -- one where the economy never grows and one where your paycheck stays stagnant no matter what happens. I strongly disagree." – House Ways and Means Committee Chair Kevin Brady, on "Fox News Sunday," defending the GOP tax plan against criticism from congressional Democrats and The New York Times' analysis that concluded one-third of middle-class families will get a tax increase. WATCH
A HISTORY OF VIOLENCE: "The left is constantly ginning their side up to be violent." – Ann Coulter, on "Justice with Judge Jeanine," citing Antifa, Black Lives Matter, the Weathermen, Occupy Wall Street, and other violent movements, arguing the left has historically always been more violent than the right. WATCH
ACROSS THE NATION
Two stabbed at Mall of America in Minnesota.
Dems mum on whether Menendez should step down if convicted.
Green Beret killed in Mali discovered SEALs' illicit cash scheme, report says.
MINDING YOUR BUSINESS
Orrin Hatch to introduce Senate tax reform bill amendments changing 401(k), IRA classifications.
A year after Trump's election, coal's future remains bleak.
3 key end-of-year retirement check-up tips.
NEW IN FOX NEWS OPINION
Reps. Jordan and Gaetz: Special counsel needed as questions mount on Clinton, Comey, Russian dossier and more.
Michael Goodwin: How Donna Brazile ruined Hillary Clinton's 2020 hopes
So long House of Cards -- and good riddance!
HOLLYWOOD SQUARED
Actress Bijou Phillips accused by actor Daniel Franzese of assault, bullying.
Carrie Underwood hospitalized after fall outside Nashville home.
Legendary gossip columnist Liz Smith dead at 94.
DID YOU HEAR ABOUT THIS?
'Watters' World': Jesse Watters crashes liberal 'scream at the sky' event
World War II veteran inspires new beer.
'Monster' alligator captured in Florida garage.
STAY TUNED
On Fox News:
Fox & Friends, 6 a.m. ET: Did mainstream media take Trump's recent comments on Putin out of context? We'll analyze. Plus, what the GOP tax plan means for the average American family; and a look at how Marcus Luttrell helped a World War II veteran left homeless by Harvey
The Five, 5 p.m. ET: Former first daughters Jenna Bush Hager and Barbara Pierce Bush join "The Five" to talk about their new projects.
The Ingraham Angle, 10 p.m. ET: Is it time for Secretary of State Tillerson to go? Laura will take a closer look.
Fox News @ Night, 11 p.m. ET: Alabama Secretary of State John Merrill on what's next in the sex scandal facing Senate candidate Roy Moore.
On Fox Business:
Mornings with Maria, 6 a.m. ET: Marc Lotter, former special assistant to President Trump, breaks down the commander-in-chief's accomplishments in Asia; Jason Furman, former chairman of President Obama's Council of Economic Advisers, on the chances of the GOP passing tax reform by year's end.
Varney & Co., 9 a.m. ET: Sen. Rob Portman of the Senate Finance Committee takes on critics of the GOP tax plan.
After the Bell, 4 p.m. ET: Martin Feldstein, Harvard economics professor, sizes up Trump's trade accomplishments in Asia and analyzes tax reform.
On Fox News Radio:
The Brian Kilmeade Show, 9 a.m. ET to Noon ET: New York Post columnist Michael Goodwin on the impact of Donna Brazile's new book on the 2020 presidential race.
#OnThisDay
2015: Islamic State militants carry out coordinated assaults across Paris, killing 130 people in the worst attack on French soil since World War II.
1977: Al Capp's comic strip "Li'l Abner" appears in newspapers for the last time.
1942: President Franklin D. Roosevelt signs a measure lowering the minimum draft age from 21 to 18.
Thank you for joining us on Fox News First! Enjoy your Monday and we'll see you in your inbox first thing Tuesday morning.