FOX NEWS FIRST: Search for answers in Florida bridge collapse; White House denies McMaster firing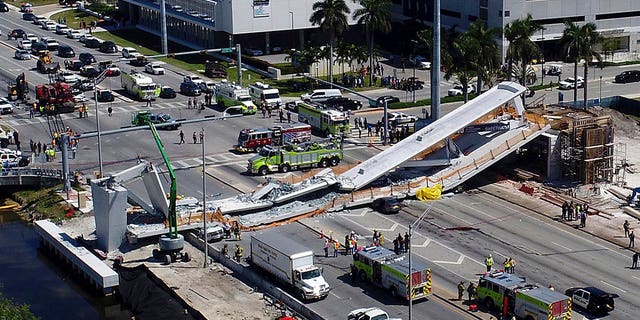 Welcome to Fox News First. Not signed up yet? Click here.
Developing now, Friday, March 16, 2018
Investigators seek answers after a new pedestrian bridge collapses in Miami, killing at least six and injuring others
White House sources deny reports that President Trump is about to replace National Security Adviser H.R. McMaster
Attorney General Jeff Sessions could fire FBI official Andrew McCabe on Friday - a move that would strip McCabe of his government pension
Donald Trump Jr.'s wife files for divorce and the couple asks for privacy 
Hillary Clinton reportedly fractures her wrist in a bathroom spill during her trip to India
THE LEAD STORY - A 'TERRIBLE SCENE' IN MIAMI: State and federal authorities are working to find out why a newly installed pedestrian bridge at Florida International University collapsed Thursday, killing at least six and injuring at least 10 others ... National Transportation Safety Board chairman Robert Sumwalt III said a team of specialists was heading to Miami on Thursday night with plans to begin investigating Friday morning. Authorities are preparing for the possibility that the body count will rise, as crews use high-tech listening devices, sniffing dogs and search cameras in a race to find survivors. The $14.2 million pedestrian bridge was supposed to open in 2019 as a safe way for students to cross the busy road. It linked the community of Sweetwater with the campus of Florida International University. Witnesses recounted a harrowing scene where cars were crushed like "sardine cans."
MCMASTER STAYING PUT, WHITE HOUSE SAYS: The White House has denied reports that President Trump is about to remove H.R. McMaster as national security adviser ... "Just spoke to @POTUS and Gen. H.R. McMaster - contrary to reports they have a good working relationship and there are no changes at the NSC," White House press secretary Sarah Huckabee Sanders tweeted Thursday night. The reports of a McMaster departure surfaced amid buzz that Trump was mulling more changes to his Cabinet in the wake of Secretary of State Rex Tillerson's firing.
WILL MCCABE GET THE AX?: Attorney General Jeff Sessions will be closely watched Friday to see if he fires embattled, retiring FBI Deputy Director Andrew McCabe, depriving him of pension benefits ... Sources said if McCabe is terminated by close of business this Friday, that would mean he would not receive a government pension. According to the New York Times, the Justice Department's inspector general concluded in an upcoming report that McCabe has not been forthcoming with its investigation to how the FBI handled its probe into Hillary Clinton's email server. The inspector general's finding sparked an FBI disciplinary process that recommended his firing, something Sessions can accept or reverse, the paper said. In January, McCabe was "removed" from his post as deputy director, setting in a motion a plan to leave the bureau after months of conflict-of-interest complaints from Republicans including President Trump. A source at the time told Fox News that McCabe is taking "terminal leave" – effectively taking vacation until he reaches his planned retirement.
'WE HAVE DECIDED TO GO OUR SEPARATE WAYS': Vanessa Trump filed for divorce from her husband, President Trump's eldest son, Donald Trump Jr., on Thursday in New York City ... The president's daughter-in-law filed in an uncontested proceeding in Manhattan Supreme Court, meaning she does not expect a legal battle over custody of their five children or assets. "After 12 years of marriage, we have decided to go our separate ways," the couple said in a statement. "We will always have tremendous respect for each other and our families. We have five beautiful children together and they remain our top priority. We ask for your privacy during this time."
HILLARY'S BAD WEEK IN INDIA: Hillary Clinton's visit to India suffered another setback this week as the former secretary of state fractured her wrist after slipping in the bathtub at the five-star resort where she was staying, according to a report by DNA India ... The website reported that Clinton was taken to a hospital in the city of Jodphur at around 5 a.m. local time Wednesday. Clinton underwent an X-ray and a CT scan that confirmed a hairline fracture of her right wrist. The Times of India reported that Clinton had been given a plaster bandage and advised to go for another checkup in three days. The injury does not affect Clinton's ability to travel. Clinton sparked controversy earlier in her visit to India when she suggested that racism and misogyny were explanations for her loss in the 2016 presidential election.
AS SEEN ON FOX NEWS
PROTESTING GUNS WHILE BEING PROTECTED ... BY GUNS: "You can't surround yourself with an armed retinue and then tell the rest of us we don't have a right to defend ourselves. That's worse than flying your private jet to accept a climate change award." – Tucker Carlson on "Tucker Carlson Tonight," pointing out that many left-wing politicians, including New York Gov. Andrew Cuomo and Sen. Bernie Sanders, took part in Wednesday's coordinated demonstrations by students to protest gun violence while accompanied by armed guards. WATCH
RUSSIA NARRATIVE, DEBUNKED: "It doesn't exactly fit in the narrative that Democrats and members of the destroy-Trump media have been pushing for months. Now, the Trump administration, they're cracking down on Russia in a massive way." – Sean Hannity, in his opening monologue on "Hannity," sounding off on the Trump administration's decision to sanction 19 Russian individuals and five Russian entities for allegedly interfering in the 2016 election and engaging in cyberattacks. WATCH
THE SWAMP
Second special counsel needed to study FBI and DOJ actions on Russia probe before Mueller: GOP senators.
Trump administration sanctions Russians for interfering in 2016 elections.
NEA gives thousands in federal grants to transgender plays, Rosie O'Donnell's theater group.
ACROSS THE NATION
Broward Deputy Scot Peterson seen standing outside during Florida school shooting in new video.
Navy identifies two aviators killed in F/A-18 jet crash off Key West.
Federal judge bars L.A. from enforcing gang injunctions that authorities credited with reducing crime.
Six Flags Batman roller coaster glitch leaves riders dangling 'virtually upside down' atop 12-story drop.
MINDING YOUR BUSINESS
Maria Bartiromo Interview: Billionaire investor Peter Thiel says Amazon the most 'ferocious' company in U.S.
Nike's No. 2 executive resigns, company reviews workplace complaints.
Warren Buffett reveals his JPMorgan Chase 'mistake.'
Walmart sued by former executive alleging cheating to compete with rival Amazon.
Ex-ESPN boss John Skipper said cocaine dealer's extortion attempt behind his abrupt exit.
FOX NEWS OPINION
Newt Gingrich: Trump, Republicans must wake up or Pelosi and Democrats will soon control the House.
Marc Thiessen:The one big thing Trump needs to be clear about when he meets with North Korea's Kim.
Rep. Marsha Blackburn: A concrete step in the fight against the opioid epidemic.
HOLLYWOOD SQUARED
Jimmy Kimmel to file federal complaint against Trump family store for abroad-made items.
Matt Damon denies report he's moving his family to Australia because of Trump.
Jennifer Lopez shares her #MeToo story: 'Nah, we're not having it.'
DID YOU HEAR ABOUT THIS?
Astronaut Scott Kelly is no longer an identical twin: How a year in space altered his DNA.
SXSW: Microsoft project helps ALS community make music using eyes.
Virginia man fights for ownership of vanished North Carolina 'island.'
STAY TUNED
On Fox News:
Fox & Friends, 6 a.m. ET: Jamiel Shaw Sr. on the Oakland mayor's recent decision to thwart ICE raids. Plus, why does it seem OK to attack conservative women but not Democrats? "Problematic Women" podcast host Kelsey Harkness weighs in. Bob Massi on many veterans being convinced not to use their VA loan benefits; and a conversation with country music legend Dolly Parton.
Tucker Carlson Tonight, 8 p.m. ET: Former "Dirty Jobs host Mike Rowe gives his take on how unemployment impacts America's men.
Fox News @ Night, 11 p.m. ET: Outrage grows over the parole of a convicted cop killer. Former NYPD Commissioner Bernard Kerik sounds off.
On Fox Business:
Mornings with Maria, 6 a.m. ET: More of Maria Bartiromo's exclusive interview with billionaire investor/activist Peter Thiel. CLICK HERE for a preview!
On Fox News Radio:
The Fox News Rundown podcast: Is President Trump's nominee for CIA director, Gina Haspel , a good fit for the job? Former State Department Deputy Spokeswoman Marie Harf and James Mitchell, a key architect in the program, give insight. Toys "R" Us announced it is closing all its U.S. stores after 70 years in business. Fox Business' Jeff Flock explains the reasons behind the fall of the major retailer. Plus, commentary from Fox News Sunday host Chris Wallace.
Want the Fox News Rundown sent straight to your mobile device? Subscribe through Apple Podcasts, Google Play, and Stitcher.
The Brian Kilmeade Show, 9 a.m. ET: Geraldo Rivera gives his take on Secretary of State Rex Tillerson's firing and other rumored Trump administration shakeups; Joe Kelley and Rep. Vicky Hartzler take on the school safety debate and Wednesday's national walkout staged nationwide by students. Steve Hayes takes on Friday's leading headlines and Carley Shimkus on what's trending online.
Fox News Weekend:
Fox & Friends Weekend, Saturday, 6 a.m. ET: We'll have an Immigration Panel where all sides of the immigration debate will come together to see if they can come to a deal that has eluded lawmakers on Capitol Hill. Amb. John Bolton on the Trump administration's handling of Russia and more; Saturday is St. Patrick's Day and we'll be celebrating all morning long. Plus, other scheduled guests include: "Bar Rescue"'s Jon Taffer, "Political Tribes" author "Tiger Mom" Amy Chua, David Bossie, Alan Dershowitz, Philippe Reines, Diamond & Silk and more!
Cavuto Live, Saturday, 10 a.m. ET: House Intel Committee Member, Rep Brad Wenstrup, R-Ohio, on the calls to fire FBI Deputy Director Andrew McCabe; Finance Committee Member Sen. Ben Cardin, D-Md., on some Democrats claiming tax cuts are failing in wake of the Pennsylvania special election; DNC Finance Chair Henry Munoz on some Republicans calling for democratic candidates bashing House Minority Leader Nancy Pelosi to return all funds received from Democratic Congressional Campaign Committee; Chicago GOP Chairman Chris Cleveland on claims that students walking out of school this week were being used as pawns in gun control debate.
Sunday Morning Futures with Maria Bartiromo, Sunday, 10 a.m. ET: Sen. Rand Paul sits down with Maria.
Fox News Sunday, Sundays at 2 p.m. and 7 p.m. ET: An exclusive interview with House Oversight Committee Chair Trey Gowdy; Senate Minority Whip Dick Durbin.
Life, Liberty & Levin, Sunday, 10 p.m. ET: Mark Levin sits down with Hillsdale College President Dr. Larry Arnn to discuss the Declaration of Independence, the Constitution, Winston Churchill and the founding of our nation.
#OnThisDay
1994: Tonya Harding pleads guilty to conspiracy to hinder prosecution for covering up an attack on rival Nancy Kerrigan, avoiding jail, but drawing a $100,000 fine.
1968: The My Lai massacre takes place during the Vietnam War as U.S. Army soldiers hunting for Viet Cong fighters and sympathizers kill unarmed villagers in two hamlets of Son My village.
1802: President Thomas Jefferson signs a measure authorizing the establishment of the U.S. Military Academy at West Point, N.Y.
Fox News First is compiled by Fox News' Bryan Robinson. Thank you for joining us! Enjoy your Friday and weekend! We'll see you in your inbox first thing Monday morning.