FOX NEWS FIRST: Outrage over CNN's Olympic-sized crush on Kim Jong Un's sister; Dems to tweak their FISA memo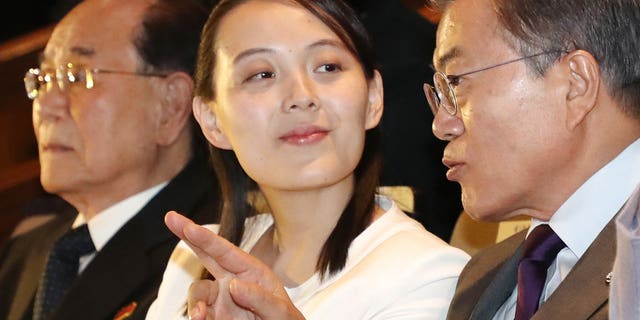 NEWYou can now listen to Fox News articles!
Welcome to Fox News First. Not signed up yet? Click here.
Developing now, Monday, Feb. 12, 2018
Outrage is growing over CNN's fawning news coverage of Kim Jong Un's sister at the Winter Olympics
Congress turns its focus on passing bipartisan immigration reform with a rare, open-ended Senate debate today focusing on Dreamers
After a partisan war of words, Democrats on the House Intel Committee are reportedly ready to make revisions to their rebuttal to the GOP FISA memo in a second attempt to convince President Trump to release it to the public
White House Budget Director Mick Mulvaney stresses the Trump administration has a 'zero tolerance' policy on domestic abuse. He said White House Chief of Staff John Kelly will not lose his job in a 'Fox News Sunday' interview
The White House will unveil a plan Monday to increase infrastructure spending by $1.5 trillion
Wall Street is bracing for another potentially volatile week after the stock market's roller coaster performance last week
THE LEAD STORY - CNN'S PUFF COVERAGE OF KIM JONG UN'S SISTER 'STEALS THE SHOW': Critics are slamming CNN for writing a glowing puff piece about North Korean leader Kim Jong Un's sister appearing at the Olympics in Pyeongchang, South Korea — with a headline claiming she was "stealing the show" ... The article, published online Saturday afternoon, began with these cooing words about the woman who gave South Korean President Moon Jae-in an invite to visit North Korea: "If 'diplomatic dance' were an event at the Winter Olympics, Kim Jong Un's younger sister would be favored to win gold. With a smile, a handshake and a warm message in South Korea's presidential guest book, Kim Yo Jong has struck a chord with the public just one day into the PyeongChang Games." The article barely referenced the North Korean regime's murderous ways -- and critics called out CNN for it.
CONGRESS' NEXT MISSION NEARLY-IMPOSSIBLE - BIPARTISAN IMMIGRATION REFORM: Congress begins efforts this week to pass bipartisan immigration reform, starting on Monday with a rare, open-ended Senate debate set to focus largely on the future of tens of thousands of illegal immigrants known as "Dreamers" ... Senate Majority Leader Mitch McConnell recently vowed that as long as the federal government stays solvent and open that he would allow such debate and see that proposals get a floor vote -- with the Dreamers' temporary deportation protections under the DACA program, set to expire March 5. Sen. Jeff Flake, R-Ariz., expressed optimism Sunday that Democratic and Republican senators could agree soon on legislation that President Trump would sign into law.
THE BATTLE OVER THE MEMO: Democrats on the House Intelligence Committee are reportedly prepared to black out parts of their memo about the FBI's Russia investigation to ensure there's no harmful spilling of secrets, then try again to get President Donald Trump to let it come out. A White House aide said he's confident it will be released once Democrats "clean it up" ... That possible nudge toward progress came as both sides traded bards on Sunday. Rep. Adam Schiff, D- Calif, and the senior Democrat on the House Intelligence Committee, said Trump is putting his personal interest above the country's in blocking a memo that "completely undermines his claim of vindication" in special counsel Robert Mueller's ongoing Russia investigation. "The president doesn't want the public to see the underlying facts," Schiff said on CBS's "Face the Nation." The White House legislative director, Marc Short, countered that Democrats padded their memo with sensitive information, knowing Trump would stop its release, in an effort to make him look obstructionist.
TRUMP WHITE HOUSE LOOKS TO PUT ROB PORTER BEHIND THEM: White House Budget Director Mick Mulvaney said Sunday that the administration doesn't tolerate domestic violence "at all," amid ongoing questions about whether former Staff Secretary Rob Porter was allowed to keep his job amid allegations and dismissed rumors that White House Chief of Staff John Kelly could be fired over his handling of the scandal ... "Absolutely not," Mulvaney told "Fox News Sunday." "I think all of these stories about replacing General Kelly are mostly being fed by people who are unhappy that they've lost access to the president under General Kelly's leadership." Kelly reportedly offered his resignation over the matter, amid charges he knew about Porter's allegations but allowed him to keep his White House post -- without full FBI security clearance. Porter was fired after news reports last week in which his two ex-wives made domestic violence allegations against him. One story included a picture of one of the wives with a black eye.
TRUMP'S MUCH-ANTICIPATED INFRASTRUCTURE PLAN TO BE ANNOUNCED: The White House will unveil a plan to increase infrastructure spending by $1.5 trillion that relies heavily on state and local governments, a senior administration official revealed Sunday ... The plan, which the administration is set to announce officially on Monday, would also cut the permitting process for new projects from ten years to two years and boost investment for projects in rural America -- including transportation, broadband, water, waste, power, flood management and ports -- by $50 billion in a bid to address criticism from some Republican senators that the Trump administration's initial emphasis on public-private partnerships would do little to help rural, traditionally GOP-leaning states.
WALL STREET BRACES ITSELF FOR NEW WEEK: Investors will look to a slew of economic reports and specifics on the president's infrastructure and budget plan for direction after one of the most volatile weeks for global equities in history... Over the past six sessions, U.S. equity markets, saw wild swings and 1,000-plus point drops for the Dow, which racked up two of the worst point declines in history. The VIX index, the so-called fear gauge which measures volatility, hit the highest level in a year. Economists, including Brian Wesbury, told FOX Business Network last week that the fundamentals of the U.S. remain solid, and the correction in stocks was overdue.
AS SEEN ON FOX NEWS WEEKEND
FOLLOW SOROS' BILLIONS: "We all need to wake up to who George Soros is and how big his [Open Society Foundations] organization is ... In an era when much of the media is obsessing about Russia collusion, [an] investigation is needed into exactly what Open Society has done." – Nigel Farage, on "Fox & Friends Weekend," making the case that the world need to keep a closer eye on the activities of billionaire investor and political activist George Soros. WATCH
CHEERLEADING NEWS NETWORK: "This is disgusting.[CNN is] sucking up to the sister of this brutal dictator." – Ed Henry, on "MediaBuzz," blasting CNN's article that claimed "Kim Jong Un's Sister Is Stealing the Show at the Winter Olympics." WATCH
ACROSS THE NATION
Texas mom dies from flu after skipping on meds deemed too costly: report.
Couple sells all possessions for sailboat, sinks two days into trip.
Wife of Ohio cop shooting suspect told 911 operator: 'My husband shot the police officers.'
2018 WINTER OLYMPICS
Mirai Nagasu makes Olympic history with figure skating triple axel | List of medal winners.
American Jamie Anderson defends Olympic gold in tough slopestyle performance.
Canadian figure skaters tone down lusty routine.
Full Coverage: 2018 Winter Olympics
MINDING YOUR BUSINESS
Five of the world's most expensive dog breeds.
Just in time for Valentine's Day: a $385 chocolate bar.
Disney raises prices of some U.S. theme park tickets.
NEW IN FOX NEWS OPINION
James Kallstrom: FBI leaders showed a shocking failure of judgment in the Clinton and Trump investigations.
Michael Goodwin: Did Hillary Clinton pull off the dirtiest dirty trick in US presidential history?
A simple act of kindness can make every day Valentine's Day.
HOLLYWOOD SQUARED
Harvey Weinstein's company hit with lawsuit by NY attorney general after four-month investigation.
Prince Harry, Meghan Markle reveal new details about their royal wedding.
Omarosa's 'Celebrity Big Brother' status unclear after hospitalization from asthma attack.
DID YOU HEAR ABOUT THIS?
Cool Valentine's Day dates beyond dinner and a movie.
Parents boycott Peter Rabbit film over 'allergy bullying.'
Asteroid skimming past Earth may loom larger than exploding Russian meteor.
STAY TUNED
On Fox News:
Fox & Friends, 6 a.m. ET: A look at how the mainstream media face backlash for glamorizing Kim Jong Un's sister at the Winter Olympics; Insight and analysis from Stuart Varney on the week ahead on Wall Street; A mother who lost her son to drug overdose explains how she is raising awareness of the opioid epidemic; Dr. Oz provides insight on deadly nationwide flu outbreak; House Majority Whip Steve Scalise and Kansas Secretary of State Kris Kobach weigh in on the immigration debate.
The Story with Martha MacCallum, 7 p.m. ET: Bill Bennett on the latest developments in the battle over whether to release the Democrats' rebuttal to the GOP FISA memo.
Tucker Carlson Tonight, 8 p.m. ET: Mark Steyn takes on Congress quest for bipartisan immigration reform.
Fox News @ Night, 11 p.m. ET: Jordan Sekulow on the battle of the Dem and GOP FISA memos.
On Fox Business:
Mornings with Maria, 6 a.m. ET: Guests include: House Intelligence Committee Chairman Devin Nunes; Rep. Marsha Blackburn; Mark Hurd, Oracle CEO; Mark Frissora, Caesars Entertainment CEO; Chris Spear, American Trucking Association CEO and president; Joe Hinrichs, Ford executive vice president of global operations; David Stockman, former budget director under President Reagan ; Apolo Ohno, Olympic gold medalist.
Varney & Company, 9 a.m. ET: Rep. Claudia Tenney; Dick Sullivan, PGA SuperStore CEO; Jim Rogers, Rogers Holding chairman; Rep. French Hill.
Cavuto: Coast to Coast, Noon ET: Ray LaHood, former Secretary of Transportation.
On Fox News Radio:
The Fox News Rundown podcast: President Trump denies the release of the Democratic memo refuting a GOP memo alleging government surveillance abuse. Fox News' Eric Shawn speaks with Mike Baker, a former covert operations officer with the CIA and president and co-founder of Diligence LLC.
Want the Fox News Rundown sent straight to your mobile device? Subscribe through Apple Podcasts, Google Play, and Stitcher.
The Brian Kilmeade Show, 9 a.m. ET: New York Post columnist Michael Goodwin on the latest developments in the war of words over President Trump's decision not to release Democrats' rebuttal to the GOP FISA memo; Rep. Ron DeSantis on Congress taking on bipartisan immigration reform; historian Doug Wead on the White House's controversial handling of the Rob Porter domestic violence scandal and whether White House Chief of Staff John Kelly is in danger of losing his job.
The Tom Shillue Show, 3 p.m. ET: The #MeToo movement is now trying to bring down the Trump White House. Was this always their goal? Marie Harf, Fox News contributor and former State Department spokesperson, joins Tom.
#OnThisDay
1999: The Senate votes to acquit President Bill Clinton of perjury and obstruction of justice.
1909: The National Association for the Advancement of Colored People is founded.
1809: Abraham Lincoln, the 16th president of the United States, is born in a log cabin in Hardin (now LaRue) County, Ky.
Fox News First is compiled by Fox News' Bryan Robinson. Thank you for joining us! Enjoy your day, and we'll see you in your inbox first thing Tuesday morning