FOX NEWS FIRST: NYC terror attack investigation turns to suspect's alleged ISIS ties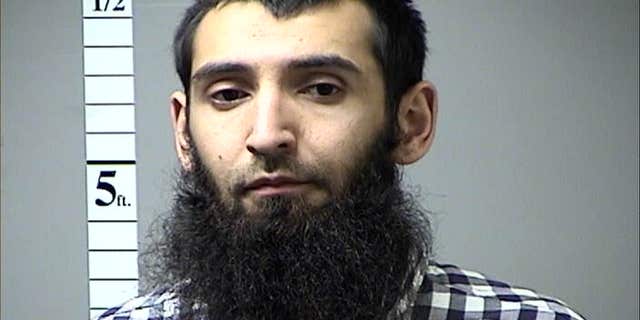 Welcome to Fox News First. Not signed up yet? Click here.
Developing now, Wednesday, Nov. 1, 2017:
Investigators focus on New York terror suspect's alleged ISIS ties
President Trump orders Homeland Security to "step up" extreme vetting program
Weaponizing vehicles: Terror tactic in Europe comes to U.S. 
Prosecutors consider Paul Manafort a flight risk
Documents on Trump dossier shown to House investigators
THE LEAD STORY: Investigators are looking into the alleged ISIS ties of the suspect in a New York City terror attack that left eight people dead and 11 injured ... The suspect, 29-year-old Sayfullo Saipov, is accused of plowing a pickup truck into a crowd in New York City. He is not a U.S. citizen and is originally from Uzbekistan. Saipov shouted "Allahu akbar" ("God is great") after the crash and had handwritten notes written in Arabic pledging his loyalty to the Islamic State terror network, law enforcement officials told Fox News. In addition, the New York Post reported that investigators found "an image of the ISIS flag inside his vehicle." Saipov, who was shot by police, was in custody and remained hospitalized.
TRUMP CALLS FOR STRONGER 'EXTREME VETTING': Following Tuesday's terror attack in New York City, President Trump ordered the Department of Homeland Security to "step up" the nation's "extreme vetting program" … "Being politically correct is fine, but not for this!" the president tweeted. The suspect in the attack, Sayfullo Saipov, is originally from Uzbekistan. He came to the U.S. in 2010, and, according to the Associated Press, has a Florida driver's license but was said to be living in New Jersey. He drove a car for Uber and the company told Fox News he had passed a background check.
TERROR IN OVERDRIVE: Vehicle attacks like the one in New York City on Tuesday have been all-too-common in Europe ... At least nine vehicle terror attacks have struck Europe since April 2016, and ISIS has claimed responsibility for many of them. The New York attack had "all the hallmarks" of ISIS, Rep. Michael McCaul, chairman of the House Homeland Security Committee, told "Special Report".
MANAFORT A FLIGHT RISK?: One day after pleading not guilty to a 12-count indictment, Paul Manafort was described as a major flight risk by prosecutors because of his wealth and foreign connections ... According to unsealed court documents, prosecutors say they believe Manafort -- a former chairman of Donald Trump's 2016 presidential campaign -- and his business associate Richard Gates were at risk of fleeing. Both were placed under house arrest. Manafort is known to have a significant amount of wealth. Between 2012 and 2016, he listed his assets to be between $19 million and $136 million, the New York Daily News reported.
DOSSIER DOCUMENTS ON DISPLAY: Congressional investigators got a behind-closed-doors look Tuesday at classified documents linked to the controversial anti-Trump dossier, Fox News has learned ... Members of the House Intelligence Committee are seeking to learn how much, if at all, federal law enforcement officials have relied on the dossier since it was compiled by the research firm Fusion GPS, with funding from the Clinton campaign and the Democratic National Committee, in mid-2016. The documents were presented for inspection pursuant to a subpoena issued by the committee's chairman, Rep. Devin Nunes.
INTRODUCING A NEW FOX NEWS PODCAST: Fox News Radio today will launch a daily long-form podcast, The Fox News Rundown! Go beyond the headlines and get insights from top news makers, along with reporters and contributors from across all Fox News Channel platforms. All episodes can be found at: www.foxnewsrundown.com. Want it sent straight to your mobile device? Subscribe through Apple Podcasts, Google Play, and Stitcher.
ABOUT LAST NIGHT
TALKING IMMIGRATION: "It's a lottery system. That's no way to run an immigration system. The purpose of immigration is to improve the United States, is to benefit the United States, not to ensure diversity." – Mark Levin, radio host and author, on "Hannity," blasting the program that allowed New York terror suspect Sayfullo Saipov into the U.S. WATCH
TERROR'S 'NEW NORMAL': "[The New York terror attack] is indicative of what terror now looks like ... We cannot ban every truck, we can't ban knives. So we have to get ahead of them as best we can, to detect the network, defeat the network and go at them where they're at both overseas and here." – Tony Shaffer, former CIA officer, on "The Story with Martha MacCallum," weighing in on the use of a rental truck in the New York City terror attack. WATCH
MINDING YOUR BUSINESS
Release of House tax bill delayed until Thursday.
ObamaCare open enrollment begins: What you need to know.
Here's how Walmart is upping its holiday game this year.
NEW IN FOX NEWS OPINION
John Stossel: Communism turns 100 this year - why are people celebrating?
Rep. Mike Johnson: US must act to stop foreign subversion of our democracy.
Why is Turkey's Erdogan being hailed as a US 'partner.'
HOLLYWOOD SQUARED
Hocus Pocus remake will be 'cheap' according to Bette Midler.
Jeremy Piven accused of sexual assault by reality star.
Fixer Upper stars Chip and Joanna Gaines help woman who lost home in Hurricane Harvey.
DID YOU HEAR ABOUT THIS?
'Monster' planet discovery stuns scientists.
Florida pizza restaurant bans children.
The one McDonald's item you should never order, according to an ex-employee.
STAY TUNED
Get the latest developments the New York City terror attack. Our prime-time coverage starts with The Story with Martha MacCallum (7 p.m. ET), followed by Tucker Carlson Tonight (8 p.m.), Hannity (9 p.m.), The Ingraham Angle (10 p.m.) and Fox News @ Night (11 p.m.) They'll all have coverage you won't find anywhere else.
On Fox News:
Fox & Friends, 6 a.m. ET: New developments and analysis of the investigation on the New York City terror attack and a closer look at the suspect, Sayfullo Saipov. Guests will include: House Homeland Security Committee Chair Michael McCaul, former Secret Service agent Dan Bongino, former CIA analyst Fred Fleitz and Robert J. O'Neill, the man who helped kill Usama bin Laden.
The Ingraham Angle, 10 p.m. ET: Don't miss Laura's exclusive interview with Associate Supreme Court Justice Clarence Thomas on his 26th anniversary on the High Court.
On Fox Business:
Mornings with Maria, 6 a.m. ET: Rep. Peter King discusses the potential impact of Tuesday's New York terror attack; Former McDonald's CEO Ed Rensi talks tax reform; Build-A-Bear CEO Sharon Price gives a holiday retail forecast; and entrepreneur and former supermodel Carol Alt gives the inside story on her latest project.
Varney & Co., 9 a.m. ET: Jay Timmons, president and CEO of the National Association of Manufacturers and Matthew Shay, National Retail Federation CEO, take on the much-anticipated GOP tax reform bill and the holiday shopping season.
Cavuto: Coast to Coast, Noon ET: House Ways and Means committee members David Reichert and Adrian Smith discuss the delay in the release of the House tax bill.
#OnThisDay
1991: Clarence Thomas takes his place as the newest justice on the Supreme Court.
1967: Cool Hand Luke, starring Paul Newman, is released by Warner Bros.-Seven Arts.
1512: Pope Julius II unveils Michelangelo's just-completed paintings on the ceiling of the Vatican's Sistine Chapel.
Thank you for joining us on Fox News First! Enjoy your day and we'll see you in your inbox first thing Thursday morning