FOX NEWS FIRST: NRA slams liberal hypocrisy, urges honest discussion in Las Vegas massacre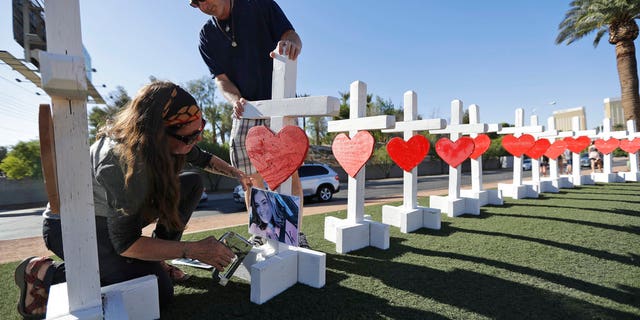 #LasVegasStrong
It's Friday, Oct. 6, 2017. Welcome to Fox News First, your place for all the news you need to start the day. To get this newsletter delivered directly to your inbox, subscribe by clicking here.
Here's your Fox News First 5 - the top five stories you need to know today:
NRA slams Hollywood and the left, says gun control wouldn't have prevented Las Vegas massacre
Las Vegas gunman may have scouted Chicago, Boston locations before his attack
New Orleans mayor declares state of emergency, orders evacuations ahead of Tropical Storm Nate
Movie mogul Harvey Weinstein says he'll sue New York Times for $50 million over its sexual harassment story
September's jobs report is expected to reveal the impact of hurricanes Harvey and Irma
PROGRAMMING NOTE: Tune in Monday, when Fox News launches its powered-up early-morning lineup. "Fox & Friends First" will be expanded to two hours, 4 a.m. to 6 a.m. ET. The first hour will be anchored by Heather Childers, while Jillian Mele and Rob Schmitt will co-anchor the second hour, leading into "Fox & Friends" from 6 a.m. to 9 a.m. ET
Let's take a closer look at these stories ...
THE LEAD STORY: The NRA slammed the hypocrisy of Hollywood celebs and the left and urged an honest conversation about gun violence in its first interviews since the Las Vegas massacre ... "The hypocrisy is beyond belief," National Rifle Association CEO Wayne LaPierre told Fox News' Sean Hannity, adding that Hollywood "makes billions" by depicting gun violence and bloodshed in films and TV shows. NRA Executive Director Chris Cox told Fox News' Tucker Carlson that NRA members were killed in the Las Vegas tragedy and that the organization is grieving too. Gunman Stephen Paddock was not a member of the NRA, Cox said, adding that gun control measures pushed by the left would not have prevented tragedies in Las Vegas, San Bernardino or Santa Barbara. Fox News' interviews with LaPierre and Cox came after the NRA called for federal review of so-called "bump stocks" and suggested new rules might be needed for the device apparently used in the Las Vegas attack.
OTHER CITIES TARGETED? Investigators say gunman Stephen Paddock may have scouted locations in Boston and Chicago before firing on concertgoers in Las Vegas ... Chicago police told Fox News they believe Paddock booked rooms at the Blackstone hotel, overlooking last summer's Lollapalooza music festival. Paddock specifically requested two rooms overlooking Grant Park, site of the annual concert. Media outlets also reported Thursday that Paddock may have scouted sites in Boston.
BRACING FOR NATE: Louisiana officials have declared a state of emergency and ordered evacuations in anticipation of Tropical Storm Nate, already blamed for 22 deaths in Nicaragua and Costa Rica ... Gov. John Bel Edwards mobilized 1,300 National Guard troops, with 15 headed to New Orleans to monitor its fragile pumping system. With forecasts projecting landfall in southeast Louisiana as a Category 1 hurricane, Edwards urged residents to ready for heavy rain and severe winds — and hunker down by "dark on Saturday."
Evacuations were ordered Thursday for parts of Louisiana, including St. Bernard Parish east of New Orleans.

HISTORY OF HARASSMENT? Hollywood movie producer Harvey Weinstein plans to sue the New York Times for $50 million over its report on decades of sexual allegations against him ... In the Times article, Weinstein is accused of sexually harassing women, including actress Ashley Judd and employee Lauren O'Connor, and settling out of court at least eight times. Weinstein told the New York Post he was "embarrassed" by his past behavior and plans to "fix himself." However, he still plans to sue the Times for $50 million. "I am suing because of the Times' inability to be honest with me, and their reckless reporting," Weinstein said. "They told me lies. They made assumptions."
HURRICANES MAKE LANDFALL ON JOBS REPORT: The impact of two major hurricanes is expected to emergetoday in the Labor Department's tally of September job creation, convincing investors to look further down the road… Economists predict the latest jobs report will reveal a gain of 90,000 U.S. jobs, lower than the 156,000 jobs added in August. Given the economic disruptions caused by Hurricanes Harvey and Irma, the September jobs report could hold far less significance than usual. Harvey, which brought record flooding to Houston and southeastern Texas, forced businesses to close for extended periods. Likewise, Irma's damage in Florida brought economic activity to a crawl.
ABOUT LAST NIGHT
NRA SLAMS GUN-CONTROL HYPOCRITES: "The NRA spends millions of dollars every year teaching safe and responsible gun ownership and Hollywood makes billions promoting a glorifying gun violence. And then the same hypocrites come in and suggest that we are to blame for this. There needs to be an honest conversation about solutions that work, and one of those solutions is to make sure the Second Amendment is supported, protected, and that law-abiding good people have the ability to use and carry a gun for self-defense." – NRA Executive Director Chris Cox, on "Tucker Carlson Tonight," answering critics who have blamed the gun rights group for the Las Vegas mass shooting. WATCH
TAKING A STAND FOR TRUMP: "I just wanted to show them respect." – Las Vegas shooting victim Thomas Gunderson, whose hospital bed meeting with President Trump went viral after he stood for the commander-in-chief despite being shot in the leg, on "Hannity." WATCH
MINDING YOUR BUSINESS
Bankrupt U.S. retailers begin to catch a break.
Oil markets wary as tropical storm heads for Gulf of Mexico.
Manufacturing jobs booming, but may be harder to fill.
Amazon HQ2: What's behind the public bid?
NEW IN FOX NEWS OPINION
Sean Hannity: The left doesn't believe in the Second Amendment.
Greg Gutfeld: The nauseating 'thank you' notes to Hillary
Hispanics are Trump supporters, they just don't know it yet.
What Chip and Joanna Gaines teach us about marriage.
HOLLYWOOD SQUARED
Netflix raising prices in the U.S. for the first time in two years.
I Dream of Jeannie star Barbara Eden describes working with Larry Hagman, Elvis and Lucille Ball.
Whitney Cummings reveals struggle with eating disorder in new memoir.
After Las Vegas shooting, Lance Bass slams Red Cross over gay blood donor ban.
DID YOU HEAR ABOUT THIS?
Burger King uses It as part of its longest marketing stunt ever.
Mom loses finger in freak injury at son's baseball practice.
Meet the St. Bernard that has the world's longest dog tongue.
Hippos in danger because of desire for their teeth.
STAY TUNED
On Fox News:
Fox & Friends, 6 a.m. ET: U.S. Ambassador to Russia Jon Huntsman sits down for an exclusive interview; Kurt "The Cyber Guy" looks at active shooter technology that could assist any police response; Rep. Carlos Curbelo explains why he supports banning "bump stocks."
Your World with Neil Cavuto, 4 p.m. ET: UFC President Dana White discusses his sport's efforts to help the victims of the Las Vegas massacre; RNC Chair Ronna McDaniel on the latest in the GOP's quest for tax cuts.
Hannity, 9 p.m. ET: Sean continues live from Las Vegas, talking to unsung heroes of the Las Vegas massacre
On Fox Business:
Mornings with Maria, 6 a.m. ET: Grover Norquist, president of Americans For Tax Reform, dissects Friday's jobs report; Hugh Weber, New Jersey Devils and Prudential Center President, explains his team's historic partnership with a National Women's Hockey League team
Varney & Co., 9 a.m. ET: Gary Cohn, director of the National Economic Council, gives his take on the jobs report; author and commentator Ann Coulter sounds off on the Las Vegas massacre and the gun control debate
Cavuto: Coast to Coast, Noon ET: Nevada Attorney General Adam Laxalt addresses authorities' struggle to find a motive in the Las Vegas massacre
The Brian Kilmeade Show, 9 a.m. ET to Noon ET: Geraldo Rivera looks back on President Trump's visit to hurricane-ravaged Puerto Rico; Rep. Adam Kinzinger takes on the chances of Trump undoing the Iran nuke deal and the politicization of the Las Vegas tragedy
#OnThisDay
1989: Legendary actress Bette Davis dies at 81.
1981: Egyptian President Anwar Sadat is assassinated by extremists while surveying a military parade.
1960: Spartacus, starring Kirk Douglas and directed by Stanley Kubrick, has its world premiere in New York.
1927: Talking pictures arrive with the opening of The Jazz Singer, starring Al Jolson.
Thank you for joining us on Fox News First! Enjoy your Friday and weekend! We'll see you in your inbox first thing Monday morning.