FOX NEWS FIRST: Informant may be key in controversial Obama-era Russia uranium deal; New details in deadly Niger ambush on US troops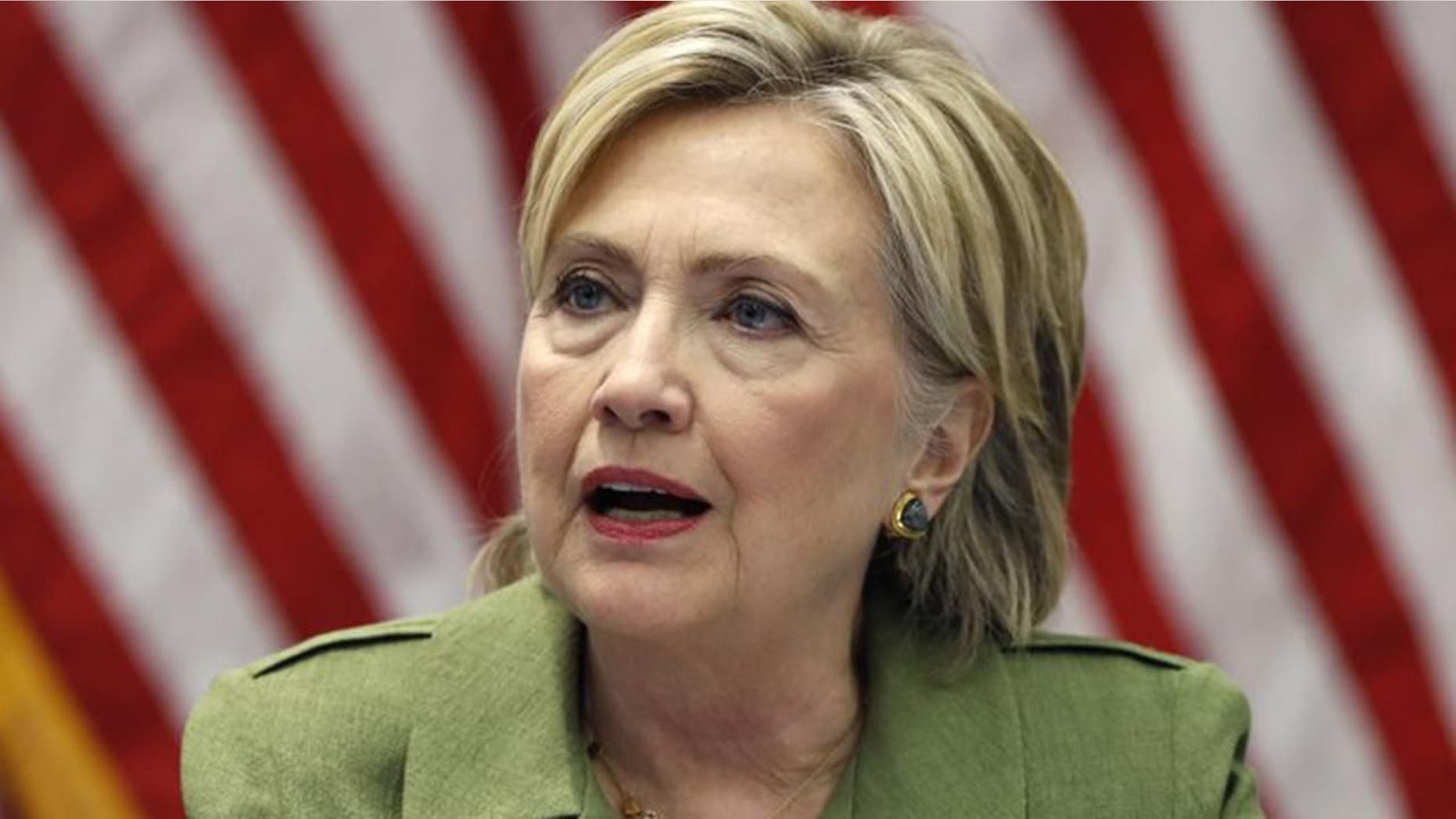 TOP OF THE MORNING
Welcome to Fox News First. Not signed up yet? Click here.
Developing now, Tuesday, Oct. 24, 2017:
Obama-era Russia uranium deal: Informant could hold key answers
Trump to announce tighter cap on refugee admissions
Sanctuary cities on trial in Kate Steinle murder case
New details in deadly Niger ambush
North Korea nuclear threat at 'unprecedented' level
THE LEAD STORY: An FBI informant could hold key answers to the controversial Obama-era Russian uranium deal. However, he is under a under a gag order that prevents him from testifying before Congress, his lawyer tells Fox Business ... "He can tell what all the Russians were talking about during the time that all these bribery payments were made," Victoria Toensing,  the informant's attorney, said on "Lou Dobbs Tonight." The Obama-era deal in which a Russian-backed company bought a uranium firm with mines in the U.S. is under investigation in both the House and the Senate for possible corruption. The uranium agreement was reached while Hillary Clinton was secretary of state, and some investors in the Russian-backed company, Uranium One, had relationships with former President Bill Clinton and donated to the Clinton Foundation. Justice Department under Obama imposed the non-disclosure order and Attorney General Loretta Lynch threatened to prosecute the informant if he disclosed details of his involvement in the investigation. Senate Judiciary Chairman Chuck Grassley has requested the Justice Department lift the non-disclosure agreement.
TOUGHER VETTING RULES FOR REFUGEES: President Trump is expected to announce a tighter cap on the number of refugees admitted to the U.S. and call for tougher vetting rules, as his administration's refugee ban expires today ... Under new guidelines, the U.S. would cap refugee admissions at 45,000 - down from 110,000 under the last year of the Obama administration. The administration also will seek to "enhance procedures for refugee entries" by "raising standards" for vetting.
JUSTICE COMING FOR KATE STEINLE? The trial for murder case that sparked a national debate over sanctuary cities in the U.S is under way in San Francisco ... Kate Steinle's killing in 2015 became a flashpoint in the divisive debate over the twin issues of illegal immigration and U.S. sanctuary cities, and now her accused killer is getting his day in court. Jose Ines Garcia Zarate, a homeless illegal immigrant from Mexico, is charged with the slaying which became a signature issue for Donald Trump as he was running for president. Trump invoked the murder in calling for the construction of a wall on the Mexican border and stepping up deportations and cracking down on illegal immigration. Jurors began hearing testimony on Monday.
FEW ANSWERS IN NIGER ATTACK: Amid immense speculation surrounding the ambush in Niger earlier this month that left four U.S. troops dead, a top U.S. general explained the ambush's timeline and provided new details on the attack. However, questions remain... Gen. Joseph Dunford, Chairman of the Joint Chiefs of Staff, acknowledged that details on the attack have not been forthcoming, and said the four servicemen who died on Oct. 4 passed during a "complex situation"and a "difficult firefight."
NORTH KOREA THREAT AT 'CRITICAL' LEVEL: The threat of nuclear war posed by North Korea has grown to an "unprecedented" level amid escalating tensions with the rogue regime and now requires the U.S., Japan and South Korea to demonstrate "different responses" to the threat, a Japanese official says ... Speaking with the U.S. and South Korean counterparts at a meeting of Asian defense chiefs in the Philippines, Japanese Defense Minister Itsunori Onodera said "(The) threat posed by North Korea has grown to the unprecedented, critical and imminent level," according to a Reuters report. "Therefore, we have to take calibrated and different responses to meet with that level of threat."
ABOUT LAST NIGHT
IVANKA'S GOAL: "My mission now - through job creation, through economic growth - is to empower as many Americans as I possibly can." – Ivanka Trump, on "Hannity," discussing tax reform and her role in her father's administration. WATCH
TRUMP'S SURPRISING DEFENDER: "J.C. is saying not what his pals want to hear, but what America should hear - that Trump may not have been your choice for president, but he's your president." - Greg Gutfeld, on "The Five," on former President Jimmy Carter's defense of Trump's presidency. WATCH
MINDING YOUR BUSINESS
Patriotic millionaire says he's only benefited every time Congress changes the tax code.
Under Armour could exit tennis, outdoor categories amid sales slowdown: Report.
Sears stops selling Whirlpool appliances after price dispute.
NEW IN FOX NEWS OPINION
Opioid painkillers are killing thousands of Americans -- there are alternatives.
America's got a skills gap -- Our veterans can fill it.
Starnes: What these teen football players did to Old Glory will make you proud to be an American.
HOLLYWOOD SQUARED
Harvey Weinstein's former assistant reveals years of harassment, cover-ups.
R. Kelly's ex-girlfriend details physical and sexual abuse.
ESPN cancels Barstool Van Talk after one episode.
DID YOU HEAR ABOUT THIS?
Rikers inmates rewarded with Domino's pizza when they play nice.
Dogs really do put on 'puppy eyes' to get what they want.
Pennywise made a secret appearance in couple's engagement shoot.
STAY TUNED
On Fox News:
Fox & Friends, 6 a.m. ET: House Majority Whip Kevin McCarthy on where tax reform stands in the House; Duck Dynasty star Phil Robertson dishes on his new show In the Woods with Phil.
Tucker Carlson Tonight,  8 p.m. ET: Celebrity billionaire Mark Cuban addresses rumors he's considering a presidential run in 2020, talks about the political hot topics of the day and more!
On Fox Business:
Mornings with Maria, 6 a.m. ET: Maria Bartiromo is live from Saudi Arabia at the "Davos in the desert" financial summit. Summit guests will include: HRH Prince Mohammad Bin Salman Al-Saud, Saudi Arabia Crown Prince, chairman of The Public Investment Fund; Masayoshi Son, Softbank Group Corp Chairman and CEO; Stephen Schwarzman, Blackstone Chairman and CEO; Rob Lloyd, Hyperloop CEO & Josh Giegel, Hyperloop co-founder and CTO.
Risk & Reward, 5 p.m. ET: Sen. Roger Wicker, who is attending a GOP lunch with President Trump, and Grover Norquist, president of Americans for Tax Reform, talk GOP legislative priorities and chances for tax reform this year.
On Fox News Radio:
The Brian Kilmeade Show, 9 a.m. ET to Noon ET: Allen West on the new details in the Niger ambush; Larry Sabato sounds off on the anticipated release of JFK assassination documents; Charlie Daniels gives the inside story on his new memoir, "Never Look at the Empty Seats."
#OnThisDay
2002: Authorities apprehend Army veteran John Allen Muhammad and teenager Lee Boyd Malvo near Myersville, Maryland, in the Washington-area sniper attacks. (Malvo was later sentenced to life in prison without the possibility of parole; Muhammad was sentenced to death and executed in 2009.)
1992: The Toronto Blue Jays become the first baseball team based outside the U.S. to win the World Series as they defeat the Atlanta Braves, 4-3, in Game 6.
1945: The United Nations officially comes into existence as its charter takes effect.
Thank you for joining us on Fox News First! Enjoy your day and we'll see you in your inbox first thing Wednesday morning.