FOX NEWS FIRST: Florence downgraded, but still very dangerous; Another bad night for 'Bernie Sanders Democrats'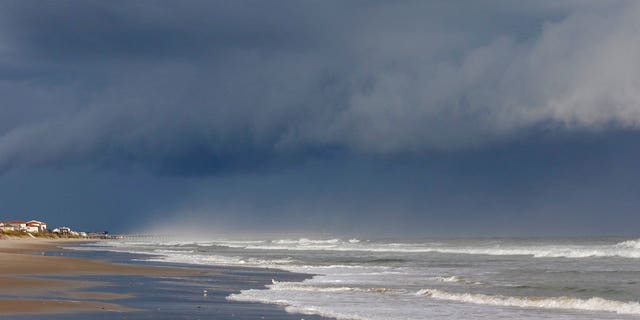 Welcome to FOX News First. Not signed up yet? Click here.
Developing now, Thursday, Sept. 13, 2018
THE LEAD STORY - FLORENCE STILL POTENTIALLY CATASTROPHIC - Hurricane Florence was downgraded to a Category 2 storm late Wednesday but was still considered extremely dangerous and potentially life-threatening ... Florence's nighttime winds were down to 110 mph from a high of 140 mph, but forecasters expect the hurricane to jump back to Category 4 by Thursday morning. They predict the storm will make landfall Thursday night or sometime on Friday. North and South Carolina, along with Virginia, Maryland and Georgia, remained under states of emergency ahead of the "Mike Tyson punch" the storm was expected to deliver.
ANOTHER BAD NIGHT FOR FRINGE PROGRESSIVES: A far-left Democrat who had the backing of groups allied with Bernie Sanders fell decisively in Wednesday's Rhode Island Democratic gubernatorial primary, capping a bitter slugfest and marking the latest in a series of setbacks for fringe progressive groups seeking to take their views into the mainstream ... Incumbent Democratic Gov. Gina Raimondo easily brushed off an insurgent challenge from former Secretary of State Matt Brown, who refused to take money from corporate PACs and heavily courted Sanders voters in the state during the campaign. Raimondo's win sets up a rematch with pro-Trump Mayor Allan Fung, who came in just 4.5 points behind Raimondo in a three-way race in 2014.
Meanwhile, New York's Democratic voters will decide Thursday between incumbent Gov. Andrew Cuomo and challenger Cynthia Nixon, the former "Sex and the City" cast member. Nixon has painted Cuomo as an establishment Democrat who has failed to address New York City's beleaguered subways and corruption. Cuomo has touted accomplishments such as gun control, free public college tuition and a higher minimum wage. He has tried to make the race about President Trump, arguing that he's the best qualified to push back against the White House.
'LEAK STRATEGY' IN EFFECT: New text messages between ex-FBI employees Peter Strzok and Lisa Page reveal others were "leaking like mad" in the run-up to the Trump-Russia collusion probe, according to new communications between the former lovers obtained exclusively by FOX News ... A lengthy exchange dated Dec. 15, 2016 appears to reveal a potential leak operation for "political" purposes. "Oh, remind me to tell you tomorrow about the times doing a story about the rnc hacks," Page texted Strzok. "And more than they already did? I told you Quinn told me they pulling out all the stops on some story…" Strzok replied.
A source told Fox News that "Quinn" could refer to Richard Quinn, who served as the chief of the Media and Investigative Publicity Section in the FBI's Office of Public Affairs. Quinn could not be reached for comment. Strzok again replied: "Think our sisters have begun leaking like mad. Scorned and worried, and political, they're kicking into overdrive."
KAVANAUGH'S SUPREME Q&A: The Senate Judiciary Committee on Wednesday released Supreme Court nominee Brett Kavanaugh's responses to more than 1,200 questions submitted by mostly Senate Democrats following his four-day hearing last week ... Kavanaugh's responses, which amounted to more than 260 pages, answered the senators' questions on topics that ranged from abortion, executive power and his personal finances. Kavanaugh's answers came ahead of the Judiciary Committee's scheduled Thursday meeting to consider his confirmation. A vote is expected later this month.
FOX NATION REVEAL: FOX Nation -- the new on-demand, subscription-based streaming service -- will debut in the fourth quarter of 2018 and feature exclusive content from some of FOX News Channel's biggest stars, including Sean Hannity, Laura Ingraham, Tucker Carlson and Brit Hume ... FOX Nation is a streaming service by FOX News that allows fans to access unique content anywhere. On demand access will be available on phones, tablets, computers, smart TVs and anywhere else that allows streaming video. FOX Nation will feature signature content and exclusive access, including everything from in-depth conversation regarding the news of the day to powerful documentaries.
Tomi Lahren and Britt McHenry will join FNC's prime time stars on the streaming service that will also include exclusive digital content from some of the network's biggest names. "FOX & Friends" co-hosts Ainsley Earhardt, Brian Kilmeade, Steve Doocy, "The Five" co-hosts Greg Gutfeld, Jesse Watters, Dana Perino and Judge Jeanine Pirro will all play significant roles on the platform. Other FOX News personalities who will contribute to Fox Nation include George "Tyrus" Murdoch, Tom Shillue, Guy Benson, Marie Harf, Todd Starnes, Pete Hegseth, Steve Hilton, Stuart Varney, Lisa "Kennedy" Montgomery, Chris Stirewalt and Eric Shawn.
AS SEEN ON FOX NEWS
JOHN KERRY'S 'ADVICE' TO IRAN: "Legislators have a very different job than secretaries of state. I think he was giving Iran advice. Trump is really fixing things in the Middle East... If John Kerry is out giving advice to Iran about how to maneuver around what Donald Trump is doing, it's insidious." –Former White House press secretary Ari Fleischer, on "Special Report," reacting to former Secretary of State John Kerry's interview with Dana Perino on "The Daily Briefing." WATCH
ICYMI - FOX NEWS EXCLUSIVES
John Kerry on 'The Daily Briefing with Dana Perino': 'It's a mistake to talk about impeachment.'
Bob Woodward defends new book, says Trump almost fired off tweet that could have started war, in Perino interview.
TRENDING
Google bosses upset over Trump election victory, leaked video shows.
'The View' host Joy Behar checks herself after slip of tongue: 'I don't wish the president ill.'
PHOTO: Fashion company's 'fat-shaming' sweatshirt sparks instant backlash.
THE SWAMP
Senate approves $146B 'minibus' spending bill, sends to House.
Haley says Iran is 'feeling the pain' from Trump's revived sanctions: 'We are suffocating them.'
California Gov. Jerry Brown a 'hypocrite' when it comes to oil drilling, critics say.
ACROSS THE NATION
Gunman kills five -- including wife -- before turning gun on himself, Bakersfield, Calif., authorities say.
Apple makes history with massive new iPhone, Apple Watch.
Sen. Marco Rubio praises anthem-kneeling NFL player's community service.
MINDING YOUR BUSINESS
Everything you need to know about the iPhone Xs, Xs Max.
Fitbit shares plunge after Apple Watch unveil.
Fed says it whipped U.S. unemployment, but at a potential cost.
Canada's Freeland won't hold NAFTA talks, says more work needed.
Oil prices fall as economic concerns counter tightening supplies.
College, majors offering best 'value.'
FOX NEWS OPINION
Judge Andrew Napolitano: Donald Trump and the rule of law.
Rep. Steve Scalise: A crazed gunman nearly killed me -- Leaders must do more to keep violence out of politics.
Rick Esenberg: Colleges should stop trying to 'protect' students from free speech in violation of the Constitution.
HOLLYWOOD SQUARED
Executive producer Jeff Fager's 'harsh' text that got him fired from '60 Minutes' revealed by CBS.
Debra Messing tells fellow actress Susan Sarandon to 'shut the f--- up' over Trump.
ABC releases first photos from 'Roseanne' spinoff 'The Conners.'
DID YOU HEAR ABOUT THIS?
Ghost rider: BMW unveils autonomous motorcycle.
Snakes on a plane: Passenger flew from Germany to Russia with 20 snakes in his bag.
Woman in Texas catches 8-foot 'dream' tiger shark, wild photos show.
STAY TUNED
FOX Nation is coming! - Sign up now and find out about its exciting launch!
On Facebook:
Check out 'FOX News Update,' our new Facebook-exclusive news program!
On FOX News:
Stay with FOX News for team coverage of Hurricane Florence on all platforms.
FOX & Friends, 6 a.m. ET: A look at how drones are used during hurricanes and recovery efforts. A breakdown of how the middle class is fairing under Trump's economy. Karen Pence discusses the administration's plans to provide more support to military spouses. Plus, special guests Judge Andrew Napolitano and Dana Loesch.
On FOX Business:
Mornings with Maria, 6 a.m. ET: Special guests include: Health and Human Services Secretary Alex Azar; Myrtle Beach, S.C., Mayor Brenda Bethune; Cuthbert Langley, Red Cross spokesman; Rep. Scott Taylor; Rep. Jeb Hensarling.
Varney & Co., 9 a.m. ET: U.S. Sen. John Kennedy of Louisiana; Curtis Ellis, former Trump campaign trade and jobs adviser; Rep. Ralph Norman; Juanita Duggan, National Federation of Independent Business president and CEO; Leah Vukmir, U.S. Senate candidate from Wisconsin.
The Intelligence Report, 2 p.m. ET: Kayleigh McEnany, RNC spokeswoman; Rep. Robert Pittenger.
Countdown to the Closing Bell, 3 p.m. ET: Anton Valukas, examiner in Lehman Brothers bankruptcy; Jennifer Thayer, Lowe's vice president of store operations.
The Evening Edit, 5 p.m. ET: Rep. Jim Jordan; Marc Lotter, former special assistant to President Trump; Rep. David Rouzer.
On FOX News Radio:
The FOX News Rundown podcast: Eric Trump is always quick to join his father in heavy praise of this administration's economy. He joins the podcast to also talk about the Trump economy, Bob Woodward's book and the Democrats' search for a clear message heading into the midterms.Apple unveiled its newest line of smartphones, computers and devices at its annual meeting Wednesday, while President Trump continued his threats to tax companies billions of dollars on Chinese imports. FOX Business Network's Hillary Vaughn and president and CEO of the Consumer Technology Association, Gary Shapiro, discuss how a trade war could impact the tech sector. Plus, commentary by FOX News Talk radio host Tom Shillue.
Want the FOX News Rundown sent straight to your mobile device? Subscribe through Apple Podcasts, Google Play, and Stitcher.
The Brian Kilmeade Show, 9 a.m. ET: Special guests include: Monica Crowley on a whistleblower who warned about a covert effort at the FBI to undermine Trump; Ann Coulter on the latest battle over immigration; Wall Street Journal columnist Holman Jenkins on why Americans are surviving President Trump just fine; David Bach on his updated book, "Smart Women Finish Rich." Steve Doocy and Morgan Ortagus on the top headlines of the day.
The Tom Shillue Show, 3 p.m. ET: Legendary character Gary Busey joins Tom Shillue to discuss his new book, "Buseyisms: Gary Busey's Basic Instructions Before Leaving Earth"!
#OnThisDay
1990: "Law & Order" premieres on NBC.
1971: A four-day inmates' rebellion at the Attica Correctional Facility in western New York ends as police and guards stormed the prison. The ordeal and final assault claim the lives of 32 inmates and 11 hostages.
1962: Mississippi Gov. Ross Barnett rejects the U.S. Supreme Court's order for the University of Mississippi to admit James Meredith, a black student, declaring in a televised address, "We will not drink from the cup of genocide."
FOX News First is compiled by FOX News' Bryan Robinson. Thank you for joining us! Enjoy your day! We'll see you in your inbox first thing Friday morning.