Fairfax County Public Schools known for CRT and trans education gets funding from Chinese groups: report
Fairfax County schools have come under fire in recent years for their support of Critical Race Theory and related sexual education materials.
Fairfax County Public Schools' TJ Partnership Fund has received over $1,000,000 worth of donations from Chinese interests since 2014 according to a report from Parents Defending Education. Documents reveal that the 501c(3) nonprofit operating out of Thomas Jefferson High School (TJHS) received funding amounts of more than $500,000, from Shirble HK, and more than $250,000 from Tsinghua University (Beijing) and the Ameson Foundation, respectively.
The Ameson Education and Cultural Exchange Foundation (Ameson) is a "non-profit, non-governmental organization headquartered in DC that is dedicated to promoting cultural exchange and educational cooperation between China and the rest of the world."
NEW COLLEGE OF FLORIDA STUDENTS VOW 'AS LONG AS WE'RE HERE' DESANTIS 'CAN'T CHANGE THE CULTURE OF THIS SCHOOL'
The Shirble Department Store Holding China LTD was "incorporated in the Cayman Islands with limited liability on 5 November 2008. The Company and its subsidiaries are principally engaged in department store operations, property development and provision of property development consulting services in the People's Republic of China."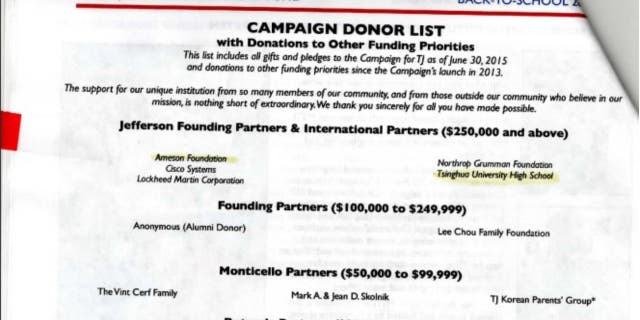 In June 2013, Thomas Jefferson Partnership Fund (TJPF) launched "Campaign for TJ." The campaign was established to raise money for the TJHS renovation project. TJPF is a 501c3, "charitable organization that raises funds to meet TJHS' unique needs as a premier public science and technology high school."
During the preceding school year, Thomas Jefferson High School developed a partnership with Tsinghua University High School in Beijing. According to a 2014 Back-to-School TJ Partnership Fund newsletter, the partnership "will allow TJ to share best practices to assist them as they develop their own STEM models. These relationships help to fulfill a long-term goal of the school, that of sharing TJHS' uniquely successful approach to teaching science and technology with other schools in order to expand educational opportunities for students, no matter where they reside." China's Tsinghua University contributed $300,000 to the capital campaign.
ST. LOUIS DA SHOVED 'AGGRESSIVE' RACIAL EQUITY AGENDAS INTO DAILY PROSECUTION DECISIONS USING SOROS-LINKED ORG
The Campaign for TJ concluded in December 2017, exceeding its goal of $8 million. Another Chinese delegation visited the top STEM school in 2022.
Fairfax County schools have come under fire in recent years for their support of Critical Race Theory and related sexual education materials. Protests from concerned parents occurred after it was uncovered Fairfax County schools allow children to change their gender without parental notification.
CLICK HERE TO GET THE FOX NEWS APP
Fairfax County Public Schools did not immediately respond to request for comment.