Building 'leveled' in explosion that rocks Chicago suburb; 3 missing, 4 hospitalized, reports say
At least three people were missing and four others were reportedly transported to hospitals after a massive, ground-shaking explosion occurred Friday night in the suburbs north of Chicago.
There were no immediate reports of fatalities following the blast, which occurred around 9 p.m. local time at the AB Specialty Silicone plant in Waukegan, the Lake County News-Sun reported. But Chicago's WLS-TV and WSNS-TV reported Saturday morning that three people were unaccounted for.
Emergency response personnel quickly advised the public to stay away from the area.
The plant is directly across from an emissions testing facility, a witness told the newspaper.
TRUCK EXPLODES NEAR BURGER KING DRIVE-THRU
"It was leveled," Megan Hener, who lives six blocks from the site, said.
"It shook our house and shook my insides," she added.
Illinois state Rep. Joyce Mason, D-Gurnee, wrote on Facebook that employees of an unspecified business were inside the building at the time of the explosion, citing information she said she received from Waukegan Mayor Sam Cunningham.
Mason added that first-responders "expect to be working most of the night."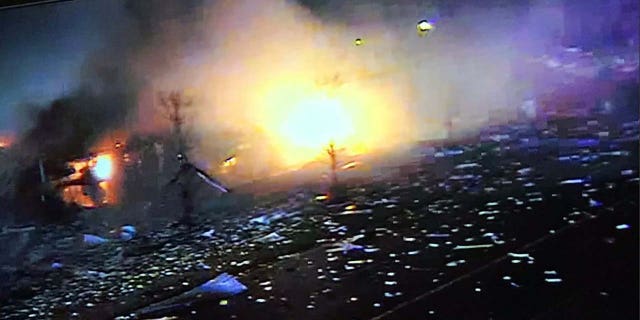 A witness told Chicago's WLS-TV that she "heard a large boom" and saw "debris and sparks flying everywhere." As she drove closer, she saw a building "engulfed in flames" and heard another "large boom."
BUILDING FIRE, EXPLOSION KILLS AT LEAST ONE AND INJURES MORE THAN A DOZEN IN NORTH CAROLINA
The Lake County Sheriff's Office urged everyone to stay out of the area to allow first-responders to conduct operations.
CLICK HERE TO GET THE FOX NEWS APP
"We are aware of a very loud explosion sound and ground shaking in the Gurnee area. We are working to determine the cause," the sheriff's office tweeted.
Steve Lenzi, a spokesman for the Waukegan Fire Department, told the News-Sun that fire officials and a plant manager were trying to determine how many people were inside the building when the explosion occurred.