Chicago shooting leaves 1 dead, 6 others injured after 'altercation' at park: police
Chicago police said the shooting crime scene in Washington Park was extensive
Multiple people were shot following an altercation in Chicago on Tuesday, leaving one dead and at least six people injured, authorities said.
The shooting took place in Washington Park, near a baseball game, after two groups of individuals had an "apparent altercation," Chicago Police Department spokesman Tom Ahern said.
At least four people were taken to the University of Chicago Medical Center, including three people who were in critical condition, Fox 32 reported. One person died from their injuries, police said.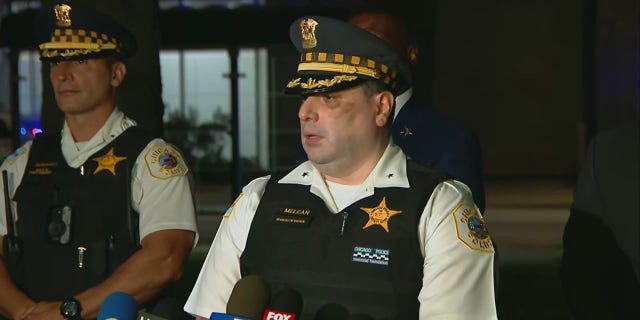 The Chicago Police Department dispatched multiple officers to the 5500 block of South Martin Luther King Drive near Washington Park, authorities told Fox News, and videos from the scene show police vehicles parked on the grass, adjacent to the baseball field.
ILLINOIS OFFICIALS SEND 90 MIGRANTS TO ANOTHER SUBURBAN CHICAGO TOWN WITH LITTLE NOTICE
Chicago Police Department Deputy Chief Fred Melean said the victims were all adults.
The shooting came as the city continues to experience a crime wave. A recent disturbing video shows a woman in Chicago's North Side screaming while being tackled and robbed at gunpoint.
The city also marked its 500th homicide for the year earlier this week after a 28-year-old was killed leaving his mother's home, Fox 32 reported.
CHICAGO MAN GETS 65 YEARS FOR KILLING FATHER OF FIVE IN ROAD RAGE ENCOUNTER
Despite the jarring homicide pace — over two per day — the number of shootings and murders are down from the same point last year, according to the Cook County medical examiner's office.
Fox 32 reported there were 591 homicides at the same point last year and around 550 homicides at the same point in 2020.
Republican candidate for Governor Darren Bailey has described Chicago as a "h---hole" and said its residents are "living the purge."
A recent report predicted that Chicago carjackings in 2022 will be 6 times as high as in 2014.
CLICK HERE TO GET THE FOX NEWS APP
Fox News' Andrea Vacchiano contributed to this report.