Boston bombing survivor starter for Baltimore Marathon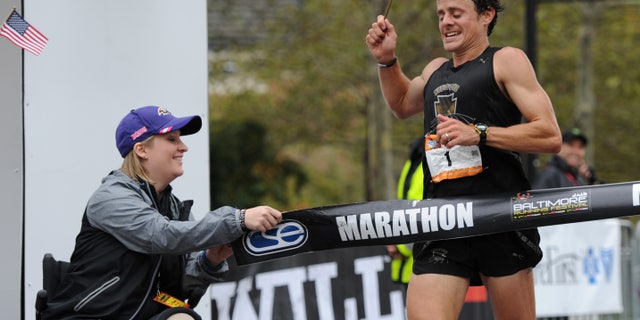 BALTIMORE – Erika Brannock was back at a marathon Saturday, smiling as she held up the tape for the winners.
The 29-year-old preschool teacher lost her leg in the Boston Marathon bombings in April. Six months later, she returned to a race course to serve as the honorary starter for the Baltimore Marathon.
"You can do this, and you will do this," Brannock told the thousands of runners gathered for the start.
Brannock was waiting near the finish line in Boston for her mother to complete the race. Doctors amputated her left leg above the knee.
She spent 50 days in a Boston hospital. Last week, Brannock used a prosthesis for the first time, and she has returned to work part-time.
Her mother, Carol Downing, stayed close as Brannock encouraged the runners from a wheelchair Saturday. She joined Baltimore Mayor Stephanie Rawlings-Blake on a platform.
"I got emotional even before I got up there," Brannock said. "I was choking on my words. It came from my heart."
Brannock used an air horn, and the race was on. Smiling, applauding and waving, Brannock repeated her encouragement for a 5-kilometer race 20 minutes later.
"That was one of the coolest things I've done so far," said Brannock, who is from Towson, Md.
Her days are full with work, doctor's appointments, physical therapy sessions, classwork and public appearances.
"Getting out and being active is the most important thing," Brannock said. "It helps keep a smile on my face."
Still, she said, "there are really horrible days when I just want to stay at home and cry."
With her mother's encouragement, those days don't last long.
Life has changed in many ways, but there are constants. During football season, she wears purple nail polish every day for her beloved Baltimore Ravens.
Six months from now, Brannock is planning on returning to Boston for the 2014 marathon. She's not afraid.
"Honestly, the safest place I can be is there. They've learned so much from that day," Brannock said. "I don't ever want to be afraid to go back there."